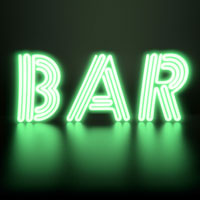 Tale of two Vero bars
STORY BY MICHELLE GENZ, (Week of August 9, 2012)
Perseverance may be paying off for two sets of entrepreneurs on the Vero restaurant scene.
After a baffling months-long delay in the permitting process, a group of three young men is finally opening The Grove this month, a full bar transformed from the downtown wine and craft beer bar, Bodega Blue.
At the same time, Zandra Simm, the last manager of Bodega Blue, is hoping for permits to open a wine bar and lunch spot on the barrier island.
Last week, Simm signed a lease contingent on permitting for a space in Pelican Plaza, according to prospective landlord Cliff Norris. With an unnamed mainland couple as silent partner, Simm says she is hoping for an Oct. 1 opening of VinZ, pronounced "vines." 
The 800-square-foot space is at the rear of the plaza's courtyard and beneath the offices of Vero Beach 32963. The plaza abuts the Village Beach Market.
The space was most recently a wrap-and-ship store. For years, it was home to a gourmet foods shop, Mrs. Thoumy's, which closed in 2001. Simm says the space retains the wiring and gas lines from that operation's kitchen facilities.
"I'm thrilled," Simm says. "It's such a great location."
Bodega Blue closed suddenly at Christmas, following the death of owner Peter Beringer, Simm's boyfriend. Simm became manager of the wine bar Cork and Tapas on Miracle Mile. Soon after, she found another position and was letting Cork customers know her plans when several expressed interest in backing a new venture. 
"They were putting the faith in me," she says. "They said what are you lacking? And I said what is everybody lacking? Money. And they said, well, let's talk."
While the permitting process gets underway, Simm is already envisioning a re-do of the interior space, a task for which she is equipped. Simm first came to Vero five years ago from Broward County to do work for a client of her interior design business.
A year after she arrived, she and a partner opened She Sells, He Shells, a seafood shop on U.S. 1. She eventually left after a dispute with her partner.
A year ago, Simm and Beringer announced plans to take over Bodega Blue, a popular downtown blues bar with craft beers and wine. Then they took off for a cruise to Italy.
Three months after they opened, Simm, who is 50, discovered the body of Beringer, 52, on the beach behind his family's home in the Bahamas. He died of a heart attack, according to family. An autopsy showed he had coronary artery disease. 
With Beringer as sole owner, the business was sold as part of his estate. Simm began shopping around for a space to open a wine bar herself.
"I'm going for an elegant setting," she says of her hoped-for new location. "My vision is similar to Cork, but on the beach, and with a richer feel."
Inside, she says there will be "comfortable lounge seating and an onyx bar lit from underneath."
She hopes that permitting will allow outdoor tables. She says that while her wine selection would be affordable, customers would be able to buy higher-end wine at nearby The Bottle Shop which she would serve for a corkage fee.
She said she doesn't see herself as competing with Kitty Wagner's Blue Star, a wine bar in Central Beach that opened in December. "
She also says her musicians will play softer music, mostly jazz. "Her music does the louder stuff. She's got the crowd for that. I'm really going for the older crowd, the John's Island crowd and the 35- to 40-year-olds."
Simm expects to run the place with her college-age daughter Taylor and a girlfriend, Dawn Kapatos, currently tending bar at Citrus Grillhouse. Kapatos was once married to a sommelier, Simm says.
Thursday Simm began the permitting process for the build-out at an initial meeting with building officials. With any luck, she will not run into the quagmire of issues that arose when Bodega Blue changed hands.
That business was sold four months ago to two owners and the manager of the Stamp, a downtown bar. The conversion from what was once a cheese shop to a full-fledged bar has proved a permitting nightmare, and the originally planned June opening has been delayed until later this month.
Eric Hessler says all the permits were finally issued three weeks ago. He says the bar, called The Grove, will feature live music as well as bar food, wine, beer and liquor.