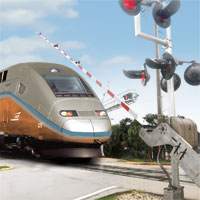 High-speed trains set to blast through Vero streets
STORY BY MEG LAUGHLIN, (Week of August 30, 2012)
Photo Illustration: All Aboard Florida trains from Miami to Orlando will barrel through Vero
In less than two years, a state-of the art, high-speed passenger train is scheduled to barrel through downtown Vero Beach every hour, 12 to 14 hours a day, running between Miami and Orlando.
But for residents of Vero Beach, it will only be a blur, as well as a traffic stopper and potential safety risk.  The train won't stop here.
How beefing-up crossing barriers at the 31 public railroad crossings in Vero Beach will work to ensure safety – and not snarl traffic for extended periods of time – is still being worked out, along with who will be responsible for inspections and maintenance.
All Aboard Florida will travel at 79 mph between Miami and West Palm Beach – with stops at stations in Miami, Ft. Lauderdale and West Palm – and then speed up to 110 mph between West Palm and Cocoa Beach, and up to 125 mph between Cocoa and Orlando. The All Aboard trains will pass through Vero using the old Florida East Coast Railway tracks that parallel US 1 here.
The streamlined trains will cover the 240-mile route between Miami and Orlando in three hours and three minutes – instead of the 4½ hours it usually takes in a car or the five to seven hours it takes Amtrak trains.
What slows Amtrak trains, which curve west south of Vero Beach and proceed to Orlando using CSX tracks, is yielding to freight trains.
But because Florida East Coast Industries owns the tracks the new trains will travel on, the company can require freight trains to yield to the All Aboard passenger trains so they can maintain their schedule.
The company estimates that three million people a year will use the new trains, which will offer coach tickets, as well as business class tickets, complete with cocktails, gourmet meals and Wi-Fi.   Company spokesman Stacey Rinaldi said fares had not been set yet.
"But I can assure you our prices will be competitive with current travel," said Rinaldi.
Currently, it costs about $110 to travel from Miami to Orlando and back by car, with gas costs and tolls. By air, it costs between $150 and $200 round trip.  On Amtrak's Silver Meteor it costs $82 to $150 to get to Orlando and back.
Vero Beach has 31 crossings which will have to be improved, according to civil engineer Ed Bryant of the Florida Department of Transportation. Those improvements will include more noticeable warning signals and impenetrable crossings required by federal law for high-speed rail.
The warning systems for trains traveling at 110 mph must guarantee that crossings are clear of obstacles after gates and barriers come down, which means motorists must have enough time to get out of the way.
The advantage of these barriers is obviously safety. The disadvantages, though, are that the barriers must close in advance to keep motorists from getting trapped as a train approaches, which means traffic is stopped for a longer time.  Another disadvantage is the cost of maintaining the barriers. Federal law requires the barriers and tracks for high-speed trains to be inspected twice weekly.
In Vero Beach in the past decade, according to the Florida Department of Transportation, seven accidents involving motor vehicles and trains have taken place at crossings. Most were caused by motorists gate-running.  Two resulted in injuries. One resulted in a death.
The most recent accident was in March at 20th Street when a barrier arm came down on a car, trapping it on the tracks. In an attempt to get off the tracks, the driver plowed into an on-coming train.
In 2007, two accidents involved trains and motor vehicles in Vero Beach. In one, at the crossing on North Gifford Road, a car maneuvered around the barrier arm and was hit. The driver, in critical condition, lived. In the other, on 4th Street, a truck cleared the train after gate-running, but a utility trailer connected to the truck was hit by the train.
In 2006, there were also two accidents – one at the crossing on Highlands Dr., the other on 12th Street. In the first, the driver said his brakes failed. In the second, the driver ran the gate.
In 2003, a passenger was killed after a car with four people in it followed another car around the barrier arm. The first car made it but the second didn't. Besides the passenger death, two other passengers were critically injured. The accident took place at the crossing on 43rd Street.
In 2002, a car ran the gate and ran into a single car carrying track equipment at the crossing on 4th Street. Another accident took place at the same location five years later. 
But there appears to be little correlation between train speed and accidents, according to Federal Railroad Administration statistics.
From a rail administration study: "The potential danger of a train –vehicle collision -- is a separate issue from train speeds. The physical properties of a train moving at almost any reasonable operating speed generally, if not inevitably, prevent it from stopping in time to avoid hitting an object on the tracks. In more than 37 percent of collisions between trains and motor vehicles at public grade crossings, the train was operating at less than 20 mph.
Start-up costs for All Aboard Florida will be about $1 billion to pay for the trains, a new 45-mile stretch of track between Cocoa and Orlando, four new stations, improved tracks and the impenetrable crossings that meet federal requirements. In Miami, the train will connect with Metrorail and Metromover. In Orlando, it will connect with the SunRail commuter system which, like All Aboard, is scheduled to start running in 2014.
Rinaldi said while no stops in Vero Beach, Ft. Pierce or Melbourne are currently in the works, plans are not set in stone and could change. Also, future destinations will likely include Tampa and Jacksonville.
"We're on schedule for a 2014 debut," said spokesman Rinaldi. "You can count on us to share any new information on our website."