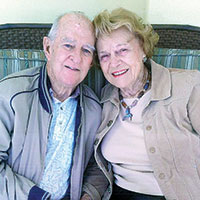 Alex MacWilliam Jr.: 'Brain behind John's Island'
STORY BY MICHELLE GENZ, (Week of December 20, 2012)
Photo of Alex MacWilliam Jr. and wife Jean at Thanksgiving
Alex MacWilliam Jr. never could shake Vero Beach's sand from his shoes.
Growing up in one of only two year-round island families, his own happiness here proved his best selling tool when he turned to real estate in 1949.
Back in the early days, MacWilliam was one of only a handful of agents in town. When he died last week at the age of 88, his firm, now run by his son and son-in-law, had grown to 60 agents.
Deals he brokered gave rise to communities like John's Island, carved out the town of Indian River Shores, and generated much of the citrus holdings of the some of the town's most prominent families.
Apart from his time in the service, MacWilliam rarely left Vero Beach.
 MacWilliam's son, Alex III, better known as Buzz, can't remember him traveling anywhere but to the same spot in North Carolina where he knew other Vero families would be.
"I don't think he's ever even been on a plane," Buzz said, after considerable thought. When his mother, Jean, went to New York and Europe, it was with girlfriends, he said. His dad stayed behind in Vero.
MacWilliam's strong sense of place led one key investor early on to believe he was onto something: Fred Tuerk. 
Tuerk arrived in Vero in 1950 after buying into a waterfront hotel sight unseen. With MacWilliam's help, Tuerk soon bought up four miles of oceanfront.
According to an oral history given by MacWilliam to the Indian River Shores Historical Society in 2003, when a county official proposed a parks requirement that meant Tuerk's holdings would need 16 public access points, MacWilliam suggested to Tuerk that he form a town that controlled its own zoning, thus founding Indian River Shores. MacWilliam served 16 years on the Shores town council.
 "Alex was a leader," says Alma Lee Loy, a former county commissioner. "His attitude was, 'There's so much land, but don't you dare abuse it. You can make a living and you can make a good living, but you better take care of what we have.' "
 "I've known him since I had a working relationship with him in the '80s," says Charlotte Terry, a broker who recently rejoined MacWilliam's firm. "He was an excellent employer. He was very fair and very smart, and ran a very tight ship just like his son does."
Terry called MacWilliam "the brain behind John's Island." Almost single-handedly, he pieced together 300 ocean-to-river acres making deals with myriad owners to sell to Tuerk, and even swapping out spoil islands to the government to get channel right-of-way in the lagoon.
Tuerk had a serious set of brains himself, and a photographic memory, according to MacWilliam. Tuerk was from Chicago and for MacWilliam, he was heaven-sent. A former president of the Chicago Stock Exchange, Tuerk eventually snapped up 3,000 acres on the island and 30,000 more west of town.
The earliest deals came just as MacWilliam built his new office on unpaved Ocean Drive – its open door inviting not just business, but blowing sand and the occasional snake, Terry said.
MacWilliam and Tuerk shared a deep love of the Florida wilderness.
According to his oral history, when an elderly engineer told Tuerk about leaving a high-water marker from the 1926 hurricane – a railroad spike in a cabbage palm deep within the island's jungles – Tuerk called MacWilliam to go on the hunt to find it.  And find it they did.
And when purchasing the last piece of what would become John's Island, it turned out the owner had accidentally built his house just beyond his property line – the seller had told him his land ran from "that palm tree to this one here." Tuerk, who had already bought the land the house was on, had MacWilliam tell him to either move his house or sell Tuerk the bordering property. He sold.
 Tuerk died in early 1967, and when Tuerk's heirs sold his land to Llwyd Ecclestone, the developer of John's Island, MacWilliam put together the transaction.
He also helped sell parcels of Tuerk's 30,000 acres west of Vero to some of the area's biggest names in citrus, according to Buzz MacWilliam. He then represented those families in future citrus deals.
Much as he loved the island, the land deals west of town suited MacWilliam perfectly.
"He wanted to be out there in the groves," says Buzz MacWilliam, who got into the business with his dad around that time. By the 1990s, Buzz had taken over most of the business along with his brother-in-law Joe Beasock, married to MacWilliam's daughter Cynthia. Another daughter, Sandy, is married to citrus grower George Streetman.
Though the elder MacWilliam came to own six lots in John's Island, he opted not to live there. "When John's Island was first started it was just like a cocktail circuit," he told the historian. "I didn't want to live that way. I go to the office every day. I have plenty of things to keep me busy."
MacWilliam was one of eight children. His Irish-born mother had met his Scottish-born father at the club in Riomar where both had come to work from Ohio. Alex MacWilliam Sr. was a landscape architect, a decorated World War I veteran whose doctor suggested going south to ease his injuries. He put him in touch with John Sawyer, an investor here in a new winter golf resort -- Riomar.
MacWilliam Sr. oversaw construction of the golf course, managed the club, married Jeanette, who worked for him there, and settled in to start a family.
Alex MacWilliam Sr. ended up the mayor of Vero Beach for 20 years. "We all campaigned for Mayor Mac in high school," recalls Loy, who was close friends with Alex Jr.'s sister Joan.
Among the senior MacWilliam's accomplishments: setting up the first mosquito control district in Florida – a huge boon to real estate. While he served in the legislature, he got the state to parcel off for the city of Vero Beach the land that is now Riverside Park.
Alex Jr. and his siblings grew up on five acres at the end of Cardinal Drive at Iris Lane.  Every morning, his mother drove the family across the wooden bridge to the mainland public school. "She rode that station wagon," said Loy.
Alex Jr. played football in high school, and met his future wife, Jean Rymer. He signed up for the service halfway through his senior year. His tour in the Pacific over, he came back to Vero, and married Jean. That was 66 years ago.
Together they raised three children: Alex III, Cynthia and Sandy.
"He was a classic dad, a true Catholic and a strict father," says Buzz.  "If we got out of line, he'd bring out the leather belt. When my sisters brought home their first boyfriends, he was meeting them at the door with a shotgun."
Buzz was kidding about the gun – not that his dad didn't have one. MacWilliam was an avid hunter, one of 20 men who leased hunting rights on a ranch near Okeechobee. They called themselves The Swine Club.
"It was about who could get the biggest deer or the turkey with the longest beard, and who could drive the hunting buggy through the swamps and hope you don't get stuck and have to walk back home two miles with dusk coming on," says Buzz. The outings ended with "eating a good steak, drinking a cold beer, and playing poker – that's hunting," his son said.
Weekends, when he wasn't hunting, he golfed, typically at the Vero Beach Country Club.
He tossed the football and threw the baseball with his kids after work – and never brought the office home with him. "Work was work and family time was family time," said Buzz.
At the same time, his working life involved family – both his son and his son-in-law, Joe Beasock.
"In 30 years, we never had a single argument in business," says Buzz MacWilliam. "I got to spend 52 weeks a year with him for 30 years and I'm certainly grateful for that."
In the past two years, MacWilliam's health declined noticeably from Alzheimer's disease. On Monday, Dec. 3, he celebrated his 88th birthday. That Friday, he had a stroke, and the following Monday night, he died.
Loy lamented the passing of another piece of Vero history.
As for MacWilliam, he didn't ever seem aware he was making history. Asked by the oral historian if he had snapped a photo when Llwyd Ecclestone played the first-ever round of golf at John's Island in 1969, MacWilliam shook his head.
"It was just a round of golf," he said. "You know we don't think enough about history ever.

And that's the time we should be doing it."