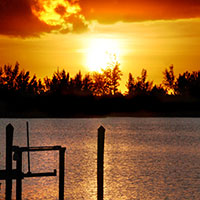 Environmental agency at loss on lagoon pollution
STORY BY STEVEN M. THOMAS, (Week of December 13, 2012)
Chlorophyll levels – a marker for nutrient pollution – increased dramatically in tributaries running into the central Indian River Lagoon between 2008 and 2010, according to the Florida Department of Environmental Protection, and the department has no idea why.
Rainfall was low during that period, which should have reduced nitrogen and phosphorous pollution from fertilizer runoff and other sources.
Yet at one Sebastian River location, the concentration of chlorophyll, a green pigment involved in photosynthesis, more than tripled, from 13 to 45 milligrams per liter.
"We don't have data to explain it," said Xueqing Gao, Ph.D., of the ecologically disastrous increase. "It is a mystery."
Gao is the lead scientist on a just-completed three-year DEP study of lagoon tributaries in Indian River and Brevard counties.
His 600-page report was intended as a companion piece to a study completed in 2009 that set total maximum daily loads – TMDLs – for nutrient pollution in the lagoon.
"Total maximum daily loads are the amount of nitrogen and phosphorus the lagoon can take before it tips over into the dark side," said DEP administrator Jan Mandrup-Poulsen.
Tipping over into the dark side would include the loss of sea grass beds, fish, dolphins, manatees and hundreds of other species in what has been up until now the most bio-diverse estuary in the United States.
At its darkest, it would also mean the loss of a large part of the $3.7 billion the lagoon contributes to economies along its 150-mile length.
The 2009 DEP study found oxygen consuming nutrient loads coming from the main relief canal in Vero Beach needed to be reduced by 81 percent to protect sea grass, which is the foundation of lagoon ecology. It called for similar reductions in the north and south canals.
Gao's study looked at whether greater reductions in nutrients are needed to restore the health of the waterways themselves.
These are Class A tributaries, meant to be swimmable, fishable and beneficial to surrounding flora and fauna.
The study found low oxygen levels in all 11 tributaries, and nutrient impairment in five.
Low oxygen can be the death signal for aquatic ecosystems since fish and other species in the food chain need it to survive.
Excess algae, indicted by high chlorophyll levels, contributes to low oxygen by consuming it in photosynthesis.
"All of the tributaries are impaired and need to have a separate plan to restore them," Mandrup-Poulsen said.
Gao and his associate Kyeongsik Rhew, Ph.D., spent much of the past three years, including some sleepless nights, constructing a sophisticated statistical model to predict how changes in human behavior are likely to influence pollution levels in the tributaries that feed fresh water into the lagoon.
According to the model, nitrogen was indicted as the most likely culprit in low oxygen levels in every tributary. 
In urban areas, nitrogen runoff into waterways comes mainly from excess fertilizer, and the wrong kind of fertilizer, placed on grassy areas in parks, yards and golf courses.
Recognizing the connection between excess nitrogen and high algae levels in the lagoon, the cities of Vero Beach, Indian River Shores and Sebastian passed ordinances this year to regulate fertilizer use and require education for fertilizer applicators.
County commissioners refused to follow suit.
The county commission instead  recently voted to send out an informational brochure intended to reduce water pollution that does not mention nitrogen or the need to reduce its use as a fertilizer component.
Gao said the mysterious spike in chlorophyll in area tributaries may have helped cause the catastrophic 2011 algae super bloom that destroyed 40 percent of the sea grass in the lagoon between Fort Pierce and Cape Canaveral.
In turn, the super bloom and unexplained high chlorophyll levels may have contributed in some as yet unknown way to the even more catastrophic loss of sea grass this year.
Surveys conducted by Dr. Grant Gilmore, an expert on sea grass and fish in the lagoon, found that no sea grass remains between the 17th Street Causeway and Grant, north of Sebastian.
Virtually every blade disappeared between 2011 and 2012.
If it persists, the sudden and unprecedented decline will mark the beginning of an ecological disaster, according to Gilmore and other scientists.
Gao and Jan Mandrup-Poulsen are now awaiting feedback from a workshop held last week in Palm Bay, which was attended mainly by area water quality professionals.
After they receive that input, they will establish TMDLs for the Vero canals, Sebastian River, Eau Gallie River and other tributaries that empty into the central lagoon.
This will be a first step intended to guide eventual action by cities and counties to reduce nutrient pollution.

Hopefully, the rules will not turn out to be irrelevant by the time they are written – too little, too late for an ecosystem already collapsing.