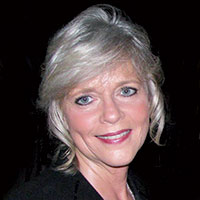 Mental Health Association told to change leaders or lose funding
STORY BY MEG LAUGHLIN, (Week of December 13, 2012)
Photo of Kris Sarkauskas.
Intimidation of employees, the "unethical" diversion of money and a lax attitude toward hiring standards and patient complaints have led three major financial supporters to threaten the Mental Health Association with the loss of hundreds of thousands of dollars in donations unless the agency's board of directors fires CEO Kris Sarkauskas and then itself resigns.
Officials from three organizations, which provide half of MHA's annual budget, said they have lost faith in the agency after articles in Vero Beach 32963 revealed Sarkauskas' lax attitude about checking employee credentials and responding to patient complaints.  They also expressed concern over the nonprofit's high rate of turnover among board members and employees.
The financial backers additionally expressed concern that government money earmarked for patient care was being used instead for salaries and bonuses.
The decision to demand the termination of Sarkauskas and the board – and replacement of them with a slate offered by the financial backers – came as a complete shock, said MHA board chairman Bob Young at last week's meeting.
"We are dumbfounded. We expected you to come to our defense after those crazy articles," he told representatives of the United Way, the Indian River County Hospital District and the Robert F. and Eleonora W. McCabe Foundation.
But officials with those groups, who gave about $600,000 of the $1.2 million MHA budget last year, remained adamant that Sarkauskas and her board must go.
"After going back and talking to former (MHA) board members and staff as well as current staff, in aggregate, it became clear to us all that the problems were there," United Way's Chief Executive Officer Michael Kint said during last week's meeting.
Hospital District board member Alma Lee Loy also addressed Young: "It appears you don't want the leadership that we have offered and are forgetting who you are there to serve ... leaving the Hospital District board no choice but to act."
Lenora Ritchie, the Robert F. and Eleonora W. McCabe Foundation executive director, also expressed support for the decision: "I speak for Ellie ( Eleonora McCabe) and myself when I tell you we are in full agreement."
Hospital District board chairman Tom Spackman, a radiologist and retired chairman of the radiology department at the University of Connecticut School of Medicine, laid out why the funders decided to withdraw the money if the changes don't take place:
When hiring some employees, MHA either didn't do thorough background checks or ignored red flags in employees' records, resulting in the organization hiring an unlicensed therapist to build a therapy staff for clinical care and to counsel patients.
The organization also transferred a therapist – accused of inappropriate touching and a man who had previously lost his license for having sex with a patient – rather than fire him.
"When you have therapists behind closed doors with vulnerable individuals, you need to vet those therapists very carefully," said Spackman.
MHA received hundreds of thousands of dollars from the Department of Children and Families and private donations for patient care. 
But part of that money had been allocated for MHA salaries and bonuses – a practice Spackman called "a disturbing and unethical co-mingling of funds."
In addition, Sarkauskas repeatedly tried to muzzle MHA employees, saying that they were not allowed to talk to board members – an act which Spackman called "management by intimidation."
MHA has no whistle-blower policy. If an employee or board member saw unethical or suspect activity, all that person could do was leave, resulting in a huge turnover. In the past four years, eight key employees and 14 board members have departed, said Spackman.
Young, the beleaguered MHA board chairman, responded to the allegations, but did little to help the association's case:
- About vetting employees and taking appropriate measures with them, Young said, "That newspaper issue with the therapist . . . and inappropriate touching (alleged by a patient) was crazy....  He was just staying on until he found a new job."
- About the clinical director (Irene Acosta) who was not licensed to practice and was working at MHA illegally: "We knew she didn't have a license but she performed magnificently."
- About alleged problems with Sarkauskas intimidating staff and stifling open communication: "Kris took 16 years of her life to bring MHA from nothing to here. The reason no employee could talk to the board was because in 2011, Kris knew that an employee was trying to take over her job with a whole stream of lies." 
"As for board members leaving, they left one by one and it had nothing to do with management," said Young. "They were just too busy."
That's not the way at least one former board member, who spoke up at the meeting, saw it.
 "I was very busy when I resigned in 2010," said former MHA board member Joe Smith. "But I was under the strong impression that MHA was not under good governance....The board agendas were governed by management decisions. The board's governance function was weak, and the organization was run by Kris."
Recently, according to Spackman, the MHA board of nine said that all or some of them would leave in sympathy with Sarkauskas and in protest of her termination. 
To save Sarkauskas, Young offered a compromise to the three funding groups: "We are willing for Kris to drop her CEO title and become the executive director with a serious helper scheduled to come in so we can keep her. She is overworked. She has been hard at it. She has done a fantastic job."
When the United Way, the McCabe Foundation and the Hospital District rejected the proposal, Young made yet another offer: Sarkauskas and the current MHA board would dump the walk-in clinic and start a new nonprofit, keeping themselves in control of the drop-in centers funded by the Department of Children and Families, as well as MHA's  advocacy campaign. The three funding groups could then do what they wanted with the walk-in clinic.
Ritchie of the McCabe Foundation, which gave about $125,000 to MHA in the past year, responded: "We believe MHA needs to be kept intact and not split up."
Spackman of the Hospital District, which gave about $400,000 to MHA last year, repeated that none of the funders wanted to harm MHA because of its important role in the mental health care of the community. The strong hope was to keep the organization intact, he said.
"But we need a new CEO and a new board there," he insisted. "Our decision is to suspend funding until adequate changes have been made."
Still, Young remained firm in his position that Sarkauskas and the current board remain in place.
"Nothing is wrong," Young said. "We have a perfectly effective management result and to write us off and threaten the organization is crazy."
"You are already cutting into reserves. How long do you think you can survive?" Ellie McCabe of the McCabe Foundation asked.
Young responded that he thought MHA with Sarkauskas and the current board could continue without the three funders as long as the association got rid of the walk-in center.
Hospital District board member Burton Lee, a retired Sloan-Kettering oncologist, made a final attempt to get Young to agree to the proposed changes of the three major funders: "Mr. Young, I see it as poor judgment on your part to fight what Lenora Ritchie, Ellie McCabe (of the McCabe Foundation), Tom Spackman (of the Hospital District) and Michael Kint (of the United Way) are offering," he said.
But Young, an unflinching loyalist to CEO Sarkauskas and the current MHA board, would not budge: "Go ahead and wring our necks. Don't give us money. We'll get out and try without it. But there is no guarantee we'll succeed."