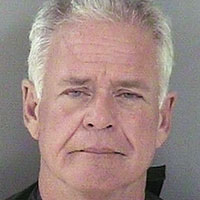 Victim of golf club attack got more e-mail threats in emergency room
STORY BY EILEEN KELLEY, (Week of December 6, 2012)
Photo: Danny Morgan: Charged in golf club attack.
An island Realtor brutally attacked outside Maison Martinique by a former boyfriend continued to receive threatening e-mails from her assailant until he finally surrendered to authorities four days later, according to police.
Even as Vicki Bristol was being treated at the Indian River Medical Center emergency room, she showed police an e-mail she had just received from Danny Morgan that said:  "Hope you had fun tonight because it's not over.  Hope you have eyes in the back of your head."
The attack on Bristol, 64, and her date, Randy Rudish, 49, occurred only 24 hours after the two met at the Blue Star Wine Bar, where Morgan had caused a scene saying rude things to the woman who had broken up with him last summer. The rants got Morgan escorted from the tapas bar.
When Rudish later saw Bristol to her car and asked her to have dinner with him the following night, little did he know that 24 hours later he and Bristol would be huddled on the ground, with Morgan repeatedly slamming a golf club into their slumped bodies.
One witness to the attack estimated that the club struck the couple a dozen times with such ferocity that the iron head of three-iron broke from the shaft.  When police arrived at the Caribbean Court Hotel where Maison Martinique is located, Rudish was still protectively flung over Bristol, covered in blood, a laceration in his head that left his skull exposed among other injuries.
Morgan, 60, who had been renting a trailer in Winter Beach after returning to the area from New York on Halloween night, subsequently eluded police for four days – while continuing to send emails to  Bristol – before turning himself in Nov. 28.  He is being held without bail until his trial on three felony counts of aggravated battery.  A court date has been set for late January.
The attack outside Maison Martinique was not the first time that day that Bristol had encountered Morgan. 
Earlier, she had pulled up outside of Bobby's on Ocean Drive and called the police to report she was being stalked by Morgan, who had just passed her car and waved at Fiddlewood and A1A. She then asked police if they would escort her to the Citrus Grill where she had planned to meet Rudish.
While the two then had a pre-dinner glass of wine at the Citrus Grill bar, a man possibly Morgan stood across the parking area in Humiston Park keeping an eye on them, Rudish later told police.
At Maison Martinique, a wedding party had just arrived for a celebration when screams from Bristol and Rudish sent some customers across the parking lot for safety.
Corey Walsh, a valet, also heard the screams and attempted to wedge himself between Morgan and the couple, who were on the ground, to try and stop the assault. Morgan, who according to Walsh had struck the couple about a dozen times with the club, then swung hard at the 43-year-old Walsh, hitting him in the leg before running off still clinging to the shaft of the club.
Walsh chased Morgan and was able to provide police with the make, color and license plate number of the suspect's car.
Even as he eluded authorities, Morgan continued to e-mail his ex-girlfriend, not only threatening more surprise attacks but suggesting a sensational suicide.
 "I'll make sure everyone knows it through TV and newspaper," he wrote in one e-mail.  "You will be famous."
The suspect's behavior in the wine bar was nothing new, court and police records show.
Morgan has a record of assaults, including an assault in Port St. Lucie his estranged wife, Susan Morgan, and a man who walked her to her home after a night of Christmas caroling just a year ago.  In June,  the State's Attorney Office dropped the charges stemming from that incident.
By January, Bristol  told police she had begun a relationship with Morgan. She told police she had visited him twice in New York this past summer but had subsequently broken off the relationship.
Bristol also told police Morgan had been harassing and stalking her since he returned to the area a month ago. Police reports say in one day, Morgan called her 47 times.
Walsh, the valet at Maison Martinique, brushed off any notion that he was a hero for attempting to break up the attack. 
"He said, 'I only did what anyone else would have done and I did what I should have done,'" said restaurant hostess Ashley Basista.
And Rudish, who threw himself atop Bristol in an effort to shield her, said simply:  "I was in the right place at the right time. He was trying to kill her."