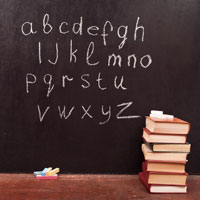 One third of our schools are below Florida's median
STORY BY EILEEN KELLEY, (Week of February 9, 2012)
In a further blow to the reputation of local public schools, new state rankings place more than a third of Indian River County schools in the bottom half of all state schools based on achievement.
Only one local school, Osceola Magnet, is on the list of schools in the top 10 percent of elementary schools statewide.  Osceola was the first magnet school in the county and opened in 1992 with the promise of a rigorous education that focused on math and science.
"We are all here working for the children and that is what we need to focus on. We know that parents want us to do a good job," said Osceola Magnet School Principal Susan Roberts.  "Student have to work hard and be interested in what they are doing to achieve that high mark."
But while Osceola's top 10 percent showing is a boost for the district which recently ranked 30 in performance of the state's 67 school districts, the new report said six of Indian River County's 15 elementary schools are in the bottom 50 percent.
Jody Bennett, the executive director of the core curriculum department for the public school system,  said she was "shocked to see where we fall."
Interestingly, one of the excuses frequently heard for schools with poor rankings – a high minority enrollment – does not seem to be the factor some educators suggest,
Fellsmere Elementary with its 89 percent minority enrollment, St. Peter's Academy, with 95 percent minority enrollment, and Highlands Elementary, with 61 percent minority enrollment, all placed in the top 50 percent of the state's elementary schools.
School board member Karen Disney-Brombach, whose children attended Fellsmere Elemetnary, said parental involvement plays a big role in success.
"Teachers work above and beyond out there," she said of Fellsmere Elementary. "It's like one big family out there."
Disney-Brombach expressed some frustration with the district's overall showing.
"Middle of the pack is not who we are," she said. "We don't see ourselves as middle of the pack. … We don't feel like that is who we are and we will do what we have to do to move ourselves up."
Earning the top billing of all the public elementary schools in the state was West Melbourne Elementary School for Science. In fact, three Brevard Elementary schools placed among the top 10.
Superintendent Fran Adams did not return several calls seeking comment on the individual school rankings.
School board members Claudia Jimenez and Jeff Pegler did not return phone calls seeking comment.