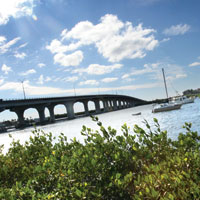 State failure to pass fertilizer regs leaves action up to county
STORY BY STEVEN M. THOMAS, (Week of February 23, 2012)
Now that comprehensive state regulation of fertilizer use to curb pollution poisoning the Indian River Lagoon appears to have died in the Florida Legislature, there may be increased willingness to deal with this on the part of Indian River County Commissioners.
Two of three Indian River County commissioners who recently said they were unwilling to regulate fertilizer use had said they wanted to wait for the state to act.  But now that no state legislation will be enacted this year, Commissioner Wesley Davis says he is more open to county action to control fertilizer runoff.
"I am trying to get hold of Rep. Debbie Mayfield to see whether they are going to take it back up in Tallahassee," says Davis. "It is definitely a pressing problem and we need to figure something out to deal with the dilemma if the state is not going to act."
Commissioners Gary Wheeler and Joe Flescher previously said they are open to considering county fertilizer regulations of some kind. If Davis has changed his mind and provides leadership, it is possible the three could enact an ordinance that will help slow or reverse the decline of the lagoon, which is the aesthetic and economic centerpiece of Indian River County, providing  $800 million in annual economic benefits.
Davis and Commissioner Peter O'Bryan previously had indicated they preferred statewide guidelines to avoid the possibility of differing local regulations that might inconvenience lawn-care businesses.  "The board believes it should be a state level of regulation," said O'Bryan. 
But the chance of state action ended Feb. 6 when SB 604 was voted down in the Senate Environmental Preservation and Conservation Committee. The companion bill in the house, HB 421, was put on hold in the State Affairs Committee two days later.
Nevertheless, O'Bryan and Commissioner Bob Solari remain opposed to a county ordinance.
O'Bryan contends a fertilizer ordinance does not make sense because it would be unenforceable. "Even if we pass an ordinance that requires 50 percent slow release fertilizer, there is going to be a bag of fertilizer sitting in a store that is $10 cheaper because it is not slow release and the homeowner is going to buy that and use it anyway to save money."
O'Bryan says educating the public is the best solution to fertilizer misuse. "In the next week, I plan to get in touch with the Environmental Learning Center to see if they can help develop an educational road show to go around to schools and neighborhood associations to teach people what they need to know about correct fertilizer use."
Solari says passing an ordinance he believes is unenforceable would undermine the rule of law. He also opposes regulation for ideological reasons.
"The county doesn't need to pass another ordinance. I tie these things to our democratic system that recognizes autonomous human beings. Government has passed too many corrosive regulations that dull the intellect of the individual and undermine a democratic society. I believe in the rights and liberty of the individual over some nebulous collective."
Fertilizer contains nitrates and phosphates that feed grass and help it grow. It is widely and sometimes indiscriminately applied by homeowners, lawn care professionals and workers at golf courses and parks. When fertilizer is over-applied and during rainstorms, dissolved nitrogen and phosphorous run off lawns and fields directly into the lagoon or into gutters, sewers and canals that lead to the lagoon.
The runoff causes something called nutrient overload in the waters where Indian River County residents and tourists boat, fish, swim and delight in wildlife such as dolphins and manatees. Instead of feeding lawns, the nitrogen and phosphorous feed the growth of algae that consumes oxygen and makes lagoon water murky and slimy, cutting off sunlight to sea grass and starting a domino effect of ecological degradation.
Martin, Lee, Sarasota and other counties have passed regulations that effectively limit the amount of poisonous chemicals entering rivers, lakes and coastal waterways.
Most local ordinances share three main provisions:  professional fertilizer applicators must be trained and certified in the use of the chemicals they spread by the ton; all fertilizer applied by professionals or homeowners must be phosphorous free and contain 50 percent slow release nitrogen so more of the chemical is absorbed by grass and less runs off; and no fertilizer may be applied during the rainy season when torrential downpours are likely to wash most of the chemicals into rivers and lagoons.
Marine biologists and research scientists who work in and around the Indian River Lagoon say local ordinances are essential to protect and restore the health of the estuary.
In the most recent copy of "Indian River Lagoon Update," a publication of St. John's River Water Management District, environmental scientist Margaret A Lasi, Ph.D. and University of Florida Professor of Aquatic Science Edward J. Phlips, Ph.D. write that reducing the use of fertilizers and pesticides will "protect the lagoon's water quality and sea grasses."
"Fertilizer is one of the largest and most detrimental [pollutants] to the ecosystem," says Warren Falls, managing director of the Ocean Research and Conservation Association in Fort Pierce.
"Without question these fertilizer ordinances are good for lagoon health," says Stephen McCulloch, head of the Marine Mammal Research and Conservation Program at Harbor Branch Oceanographic Institute. "It is common sense."