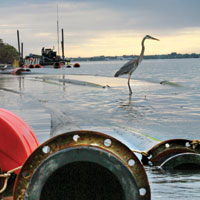 Sebastian Inlet dredging will also help Ambersand Beach
STORY BY STEVEN M. THOMAS, (Week of February 9, 2012)
The Sebastian Inlet district has started dredging 140,000 cubic yards of sand from the inlet channel and a 42-acre sand trap inside the mouth of the channel. 
The dredged sand will be pumped through a 12-inch diameter black plastic pipe directly onto the beaches south of the inlet as a form of beach restoration.
"They have dug a kind of trench in the beach and pushed up a berm between the ocean and the dune," says Martin Smithson, director of the Inlet District.
 "The sand slurry will be pumped into that trench.  After a while the sand will settle out and the water will percolate back into the ocean."
The distribution of beach-quality sand by pumping mimics what would happen naturally with sand moving down the coast if the inlet was not there.
The Beaches and Coastal Systems division of the Florida Department of Environmental Protection is paying for 75 percent of $1.5 million operation. The Sebastian Inlet District is paying for the rest from its ad valorm tax revenue, according to Smithson.
Pumping will take place between now and May 1 when all equipment has to be off the beaches to make way for turtle nesting season.  After May 1, the dredge will move further into the Indian River Lagoon to widen and improve the channel leading to the Intracoastal Waterway.
There is a dogleg in that stretch of the channel that can be hazardous to boaters and the second phase dredging will straighten the channel and make it safer.
"We are going to cut the corner off, so it will be a wider, rounder curve that is easier to negotiate," Smithson says.  Sand from the May dredging will not be beach quality and will be placed in a nearby dredged material management area.