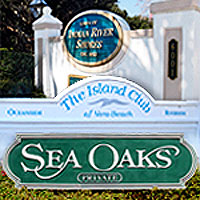 Shores pitches annexation to Island Club, Sea Oaks
STORY BY LISA ZAHNER, (Week of February 16, 2012)
The town manager of Indian River Shores has written to the homeowner associations at Sea Oaks and Island Club suggesting that residents of these communities would benefit from being annexed into the Shores – a proposal that has infuriated Sheriff Deryl Loar and irked County Administrator Joe Baird.
A two-page letter that Town Manager Richard Jefferson sent to Sea Oaks and Island Club on Jan. 10th highlights a selling point of the Shores – its cross-trained police-fire-paramedic Public Safety Department – and infers that these communities in the unincorporated county currently do not get adequate protection.
"The token law enforcement provided by the Sheriff's Department is almost nonexistent," Jefferson said.  "There is one sheriff deputy per shift assigned to patrol from Indian River Shores north to the Brevard County line on A1A.  This deputy also covers from Gifford to Sebastian, which is a major undertaking.
"The odds of having assistance close by in an emergency are remote.  In contrast we have three public safety officers on the road twenty-four hours per day, seven days per week, always close at hand when needed. We also have two ambulances and two fire trucks that are manned and at the ready."
Sources in the Indian River County Fire Department got wind of the letters and expressed concern that annexation of the two private communities would further reduce tax dollars paid to the county's Emergency Services District, despite the fact that the Shores Public Safety Department calls county firefighters for help with every structure fire.
Sheriff Deryl Loar also was disturbed by the letter, saying there is no time of the day the north barrier island is without a deputy assigned to that zone. He conceded that the same deputy does cover the 510 causeway and a small part of U.S. 1 where he loops around to head back over the bridge, said the deputy is not also responsible for Gifford and Sebastian.
"That zone that Sea Oaks is in and all the zones are filled and covered," Loar said. "We have a memorandum of understanding with Indian River Shores and we help them out with a lot of things. If there is a crisis, we are going to respond, 24 hours a day."
"I don't think this is really about the public safety, I think their angle was that if there is annexation, obviously it's about money," Loar said. "That would shore up any potential loss of revenue that the Shores might have. The town manager had to take a look at what he has to sell and it's the Shores Public Safety Department."
County Administrator Joe Baird also learned about the letters and reportedly made several calls aimed at discouraging the Shores from making any further advances toward annexing the communities. He defended the level of service the county provides to residents in Sea Oaks and Island Club.
"I think we have a lot more services to offer, especially in public safety. I think when they said how bad the sheriff's office service is, that's not accurate. He's got a helicopter, crime scene unit and a marine unit," Baird said. "Also, what was downplayed is that we've got three fire stations that respond, including Station 2 with the marine unit. When there's a big structure fire, they can't handle it themselves; they need to wait for us to get there."
"He's got the millage wrong in the letter, and the differential is wrong in the letter, I don't know where he got that from, but it's wrong," Baird said. "It's only $591 difference, less of a difference with a homestead exemption."
"We've had a really good relationship with Sea Oaks with the beach renourishment project," Baird said. "I met with Pamela Dawson and also met with several people from Sea Oaks on their finance board and I think the sheriff did, too."
Baird said the Shores is simply looking for a new source of tax dollars as the town is nearly built out.
"One of the reasons we think is that cities are looking to increase their taxable value without having to add people, without having to add staff," Baird said. "You're seeing a lot of cities do this around the state. It may look good in the short term, but it may not be a good long-term decision."
Shores Mayor Tom Cadden said he found out about the letters after the fact. He said annexation has been an ongoing conversation with members of the Island Club over nearly a decade, but that he did not encourage nor approve any letters being sent out reviving the idea.
Councilman Jerry Weick said he also did not know the letters were being sent out and, as of Saturday evening, was not aware of the content of the letters or the statements made about the sheriff's office coverage.
"I knew there had been discussions going on for a long time, but I didn't know Richard sent out any letters,' Weick said.
Councilman Dick Haverland also said he knew nothing of the letters going out, but he wasn't upset about it.
"I applaud Richard's initiative. I am assuming that this annexation would have no impact on our expenses but merely allow our expenses to be spread over a wider base with no real impact on service levels," Haverland said. "I am surprised that this was done without prior discussion but since council would ultimately have the final "say" I would call this a good effort."
When asked what had been the impetus behind the letters, Jefferson said via e-mail: "We have a very well trained Public Safety Department.
'We have two and three patrol cars on the road 24 hours, seven days a week. During their patrol they pass by both subdivisions, front and back of each as they circle down Old Winter Beach Road," he said. "In my mind it was counterproductive to have both the sheriff's department and our department patrolling the same area
 "In this difficult economic times we are both trying to serve the residents as best we can while conserving our tax dollars.  I believe this is a win, win situation for all concerned," he said.
If Island Club, which is contiguous to the Shores, turns out to be not interested, Sea Oaks could not be annexed.
"We are only able to annex contiguous subdivisions, so if Island Club is not interested any thought of annexation would be concluded," Jefferson said.