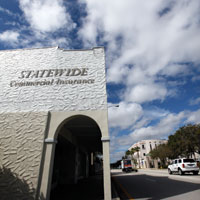 The case of the purloined customers
STORY BY LISA ZAHNER, (Week of February 23, 2012)
Just about every business owner dreams of building a company and a client base large enough to allow them to slow down and let someone else run the show. For Jerry and Claudia Wahl, who live in Orchid Isle Estates, that dream has turned into a nightmare.
The manager that a court found betrayed them – Troy Visser of Seagrove, who started a competing firm while still working for the Wahls – has been ordered to repay some of the money he made off purloined clients. But the damage to their company, Statewide Insurance, remains a permanent scar.
Visser, in the meantime, denies the allegations, and says he is appealing the court ruling.  He contends the case was judged on "conjecture" and that no client lists, computer files or documents even exist.
The Wahls founded Statewide Insurance in 1994 and over the years had built up a book of premium revenues of about $19.5 million. Their office is located at 1450 20th St., Vero Beach.
"Statewide is a boutique insurance agency specializing in the sale of commercial condominium and apartment building insurance, including flood rebate insurance policies to condominium associations throughout the State of Florida," it says in the Feb. 7 judgment. "Statewide enjoyed at least a 90 percent renewal rate on all flood insurance policies written to its existing clients."
The Wahls hired Visser in May 2007 to manage their company, and from a starting salary of $80,000 per year as operations manager, his compensation was increased to $195,000 in 2009 and $213,000 in 2010.
"Beginning in February 2010, Visser was unhappy with his bonus and wanted to negotiate a higher salary. On May 12, 2010, without any prior notice, Visser e-mailed his immediate resignation. There is evidence that Visser contemplated his move prior to his resignation and violated his duty of loyalty," court documents state.
For nearly two months prior to his departure, Visser, a Vero Beach-area resident since 2007, was apparently paving the way to leave Statewide and launch a competing business, Universal Condominium Insurance.
"On March 24, 2010, while still employed with Statewide, Visser incorporated defendant Universal and over the next few months set up the business. Unbeknownst to Statewide, beginning in March 2010 and continuing through the date of his resignation in May 2010, Visser accessed Statewide's confidential client list by computer and specifically reviewed and gathered information regarding declarations pages, schedules, elevation certificates, appraisals and mitigation forms for Statewide's existing flood insurance clients."
The documents and computer files Visser allegedly gathered contained information unavailable to the public.
"No such documents exist.  This was conjecture," Visser said Monday.
"In violation of the company's computer usage policy, Visser admittedly scrubbed his computer and deleted all e-mails from his computer, as well as from the server. His resignation also coincided with the largest insurance renewal period," court documents state.
The trial brief filed by Visser's attorney, Aaron Van Johnson, says, "Mr. Visser was not authorized to have his own book, and despite having brought in approximately four million dollars ($4,000,000.00) worth of business, only once was Mr. Visser ever compensated, via commission, for any of the business he procured for Mr. Wahl's book."
"Within two weeks after his resignation, Visser was actively soliciting Statewide's existing clients," the judgment handed down by Judge Cynthia Cox states.  Cox ruled that the Wahls produced enough evidence to meet the civil court criteria to prove torturous interference with an advantageous business relationship, misappropriation of Statewide's client lists and civil theft of trade secrets.
Visser disagrees. "We intend to prove this in the appeal."
Visser declined comment on how a judgment could have been handed down based on what he and his attorney are asserting were unsubstantiated claims that potentially could make him  the subject of a criminal investigation.
As part of the evidence against Visser, attorneys for Statewide produced correspondence from Visser to Statewide's clients soliciting them to switch their policies to his new company, citing that he was "uniquely familiar" with their account.
"The court does not find credible Visser's claims that he obtained all of his information online and accumulated detailed client lists and information in less than a few days. The only way that Visser was "uniquely familiar" with Statewide's accounts was because he had been an employee of Statewide who had access to confidential client information and their various databases," court documents state.
"In addition, there was no way for him to know their renewal dates had he not obtained that information from Statewide. Furthermore, there was no evidence that the client list was available to third parties or to the public at large."
Statewide's business plummeted from $19.5 million to $9.2 million in just one year's time after Visser abruptly departed and founded Universal.
On Monday, Visser questioned the drop in the value of Statewide's portfolio. "There is disagreement over the size of that figure. The $19 million is what they put into evidence, but that's in dispute," he said.
But court documents state Visser admitted that 70 percent of Universal's revenues in the first year he ran his own company came from Statewide clients.
"There were a total of 12 associations/clients and 251 policies that Statewide has lost to Visser and Universal totaling over $1.7 million in premiums or at least $187,011 to date," according to court documents.
Judge Cox, after a non-jury trial, awarded the Wahls $166,184 in compensation for the loss of revenue. She also issued an injunction ordering Visser to stop marketing to or doing business with current or former clients of Statewide.
"Defendants shall not interfere with, disrupt or attempt to disrupt any past, present or prospective relationship, contractual or otherwise, between Plaintiff's clients, independent sales contractors, employees or agents. Defendants shall not take any action which may harm Plaintiff's business, its relationship with its clients, or engage in any actions which may further the business of any competitor of Plaintiff," the document states, adding Visser must also return, within five business days, all records and proprietary information the court found he took from his former employer.
Vero Beach trial attorney Louis B. "Buck" Vocelle said as of Friday, his clients, Jerry and Claudia Wahl had received no files or data from Visser, a full 10 days after the judgment was handed down.
"The court (Judge Cynthia Cox) heard testimony over five full days of trial about Mr. Visser, a highly compensated and seemingly trustworthy employee, his taking and removal of statewide's trade secrets, his breaches of duty of loyalty and the damage caused to Statewide's commercial insurance," said Vocelle, the co-counsel for Statewide Insurance.
"The court determined Mr. Visser's actions against statewide to be intentional, willful and unjustified. Hopefully, this decision will be of benefit to other employers facing like situations and deter similar conduct by unscrupulous employees," Vocelle said.
Vocelle appealed the judgment Friday, seeking not only the damages Judge Cox awarded, but also attorneys' fees and for Visser's business to be shuttered and his license to sell insurance to be revoked. Vocelle claims Visser lied on his application to gain a license to open the Universal office while he was still working for Statewide and for the Wahls.
Jerry and Claudia Wahl declined comment at this time due to a potential pending criminal investigation into the theft of trade secrets. Judge Cox's ruling clearly states that the theft may be criminal, as provided for in Section 812 of the Florida statutes, as cited below:
"Any person who, with intent to deprive or withhold from the owner thereof the control of a trade secret, or with an intent to appropriate a trade secret to his or her own use or to the use of another, steals or embezzles an article representing a trade secret or without authority makes or causes to be made a copy of an article representing a trade secret is guilty of a felony of the third degree, punishable as provided in s. 775.082 or s. 775.083."
As of last week, State Attorney Bruce Colton's white-collar crime division could not confirm that its investigators were working on anything related to Visser or Universal.
Assistant State Attorney Lev Evans said he knew nothing about the case, but did say that, unfortunately, situations like the one involving Statewide and Visser are "all too common."
Visser's company website www.universal-condo.com is quite impressive and includes a professionally produced video explaining the services offered by Universal and touting his company, stating, "No one knows Florida condominium insurance better than Universal."
The site offers a blog about condo insurance topics, with the most recent post published just last week, entitled, "Understanding Florida Condo Insurance Discounts & Mitigations"
In the trial brief, Visser and his attorney assert that Statewide Insurance had no reason to expect that its clients would continue to do business with them and that the business relationships through which Statewide makes money are those with "the broker or carrier who pays Statewide a commission percentage of the premium paid by the newly insured."
According to Visser's arguments, his departure and decision to start his own agency came as a last resort, after nearly one year of attempting to resolve disputes over compensation and escalating differences with Jerry Wahl.
"Even more troubling was a conversation Mr. Visser had with Mr. Wahl on Friday, May 7, 2010, where Mr. Wahl indicated he wanted to hold off from paying Mr. Visser his June semi-annual bonus until the parities had come to an agreement," the trial brief states. "It was at this time that Mr. Visser lost confidence in his ability to successfully negotiate with Mr. Wahl, and it was this same date that Mr. Visser signed a lease on a commercial space."
Visser said he and Johnson will appeal Judge Cox's ruling prior to the 60-day deadline. Visser said he intends to remain in business and that he has not been disciplined by or even contacted by state insurance licensing authorities.
"This is a civil case only, it has no bearing on any licenses or licensing," Visser said Monday. "This has no effect on our existing clients or on our book of business."