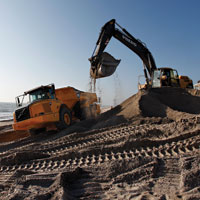 Beach renourishment about to resume
STORY BY EILEEN KELLEY, (Week of January 5, 2012)
A parade of dump trucks – hundreds a day – carrying sand will once again make its way across the Wabasso Bridge and onto the barrier island for the area's latest, and potentially last for the foreseeable future, beach renourishment and dune restoration project.
Beach renourishment and dune restoration projects are done during the winter months so not to interfere with the sea turtle nesting season.  By this time next week, work should be underway.
Beginning Jan. 9, the county will close the Treasure Shores Beach Park because it will serve as a staging area for the renourishment and dune restoration.  The park is expected to remain closed until March 15. 
Other parks in the northern part of the county, Golden Sands, Wabasso Beach and Sea Grape Trail will remain open during that time, officials with the county said in a prepared statement.
The project will dump 110,000 cubic yards of sand over a 1.2 mile stretch from Sea View to just south of Treasure Shores. The work is supposed to be the last phase of the total 6.6 mile project that has cost millions of dollars more than previously anticipated.
The cost stands at roughly $15.1 million for the overall Sector Three project. The last phase of the project will cost roughly $2 million.
The area just south of the project – particularly around the Vero Beach Disney Resort – suffered the effects of strong waves and storm surges over the summer. The impact created walls of sand towering well above the head of a six-foot person.
The sand that will be laid down during this project is expected to act as a feeder beach where will be pulled out to sea and then tossed back to shore at the hardest hit areas such as that near the Disney resort.
Once the project is completed, engineers will monitor the area for the next three years to make sure the project does not negatively impact the natural reefs, wildlife and the turtles.