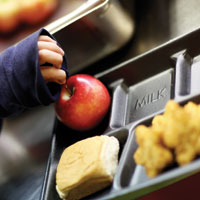 At Beachland, one child in three gets a subsidized lunch
STORY BY EILEEN KELLEY, (Week of January 19, 2012)
The line behind the little girl snakes out the school cafeteria doorway. She loads her tray with a baked chicken sandwich, some grapes and milk and moves through the lunch line so another child can grab her lunch, and then another and another.
Chances are better than one in three that the first girl who picked the chicken sandwich and grapes at Beachland Elementary qualifies for either a free or reduced price lunch.  Ten years ago, it would have been one in five.
"I am not surprised at all," said Carol Wilson, principal of Beachland Elementary which has 38 percent of its pupils enrolled in the program.  Wilson said roughly 19 percent of the students got free lunches when she started at Beachland 10 years ago.
And unless a pupil shares with another that they are getting their lunch free or at the steeply discounted rate – 40 cents instead of the regular $2.25 – it is difficult to tell who is paying what for their lunch as little money is ever exchanged. When students pass through the lunch line, they punch in a six-digit code on a keypad and then move along.
Nationally, 21 million children now qualify for free or reduced price lunches. That's up from 18 million children in the 2006-07 school year.  Then the recession hit, crippling families' bank accounts and shuttering businesses.
Since December 2007, the Indian River County area has lost 6,500 jobs. That's a 12.8 percent job loss, according to the state employment statistics.
"There is hunger in every county in the United States of America," said Judy Cruz, the executive director of the Treasure Coast Food Bank.
When Cruz was a little girl, she was always reminded to eat all the food on her plate because there were children starving in China. What's happened nationally and locally is frightening, she said.
"There are people starving right here and it is just unbelievable," Cruz said.
Of the 29 public schools in Indian River County, 18 have at least half of all their students qualifying for free or reduced price lunches. 
Today the district's average for subsidized or free lunches stands at 60 percent.  During the 2008-09 school year, the percentage of students who qualified in the school district was 45.7 percent. Going back to the 1999-2000 school year, the district number was 40.29 percent.
Helping to drive up the overall percentage of children enrolled in the subsidized meal program are schools like Fellsmere Elementary, where all but 27 students out of school population of 709 students are enrolled in the program.
Behind Fellsmere's 94.50 percent is Vero Beach Elementary, where 86.26 percent of the children qualify, and Dodgertown Elementary, where 82.3 percent qualify.
Beachland Elementary, which serves both island children – about 280 out of the school's 599 pupils – and those from the mainland, had the second lowest percentage of children enrolled in the program behind Osceola Magnet. At Osceola, 142 of the school's 570 pupils are eligible for a free lunch and 39 are able to get it the reduced rate.
Educators say it's hard to teach when students are hungry.
"You just cannot concentrate if you are hungry," said Wilson. "If children's basic needs are not being met, like eating, then they cannot learn."
In 1946 Congress passed the National School Lunch Act. Its intention was to feed school children while reducing the farm surplus after World War II. 
School cafeterias across the county now serve about 32 million lunches a day to school children – two-thirds of which are either free or sold at reduced rates.
The current income guideline states that a family of four would qualify for free lunches if their income is less than $29,005. An income of less than $41,348 – or about 185 per cent of the federal poverty level – qualifies a child for a reduced rate lunch.
In spite of the relative anonymity of the program, not all who qualify take the offer, especially when it comes to participating in the reduced rate portion of the program.
According to Lisa Jones, the district's food and nutrition services operational technology manager, only 9.35 percent of children who qualify for the reduced rate lunch actually take it. And even fewer, 6.94 percent, accept the reduced rate breakfast – 30 cents instead of the regular $1.25. 
Conversely, 85.25 percent of the children who qualify for the free breakfast accept it and 67.65 percent of the children who qualify for the free lunch accept it, Jones said.
Beachland's Wilson said she's just happy that students and their families have an option as difficult as it may be for some families to accept.
"I think it can be difficult sometimes for families who have not had to take advantage of the programs out there, but then all of a sudden find themselves in dire economic straights and their whole world has changed," Wilson said. "We want them to know that it is really pretty confidential and it is handled very discreetly."
Families are told about the program when they are given the school's orientation packet at the start of the school year or when they enroll a child mid-year.  Families are automatically made eligible if they are qualified and participate in the food stamp program.
"Hunger never sleeps," said Cruz of the food bank. 
Cruz's organization works with more than 250 organizations in the four-county Treasure Coast area to feed the area's poor.
 The food bank now provides 104,000 meals a week. Two years ago, that figure was 42,000, said Cruz.
"If we were a for-profit business, we'd be celebrating with the amount of people we are serving," Cruz said. "It has more than doubled and it is just unbelievable. The face of hunger has changed. There are people that are working and still through no fault of their own do not make enough to make ends meet and feed themselves and their families."
Enter the Back Pack Buddy program. 
The food bank provides nearly every school in the district with cereal, granola bars, Beef-a-Roni, spaghetti and meatballs and juices and other foods. These items then packed into backpacks and sent off home with poor children on Fridays so they eat over the weekend.  The local back pack program was made possible by an Impact 100 grant to the food bank a few years ago.
Despite the effort of the food bank, school workers found that the back pack program and the free and reduced lunch and breakfast program were not enough for many elementary children, especially those with large families and older siblings. 
"You could just tell. These kids can be easily identified. They are irritated easily and become panicky when there is a day off from school approaching. They are really dependent on that lunch and breakfast and so are their families," said Cruz.
The food bank has now set up a pantries in 12 schools where students can take their Back Pack Buddy back pack and stock up on food and hygiene items to share with their families. 
Now every school in the county with the exception of Fellsmere Elementary has either school pantry or a back pack program, said Cruz.  A food bank mobile pantry that operates through the town of Fellsmere supplants the back pack program there.
Cruz said her organization is trying to get the Fellsmere school to embrace the Back Pack Buddy program.
Cruz and others at the food bank are taking on another ambitious goal: fighting children's hunger over the non-school months. She said her organization is currently working with the U.S. Department of Agriculture to create a program to feed school children over the summer months in Indian River County.  Cruz is hoping the program rolls out by the time the school lets out this summer.
"Children are vulnerable and don't have a say," Cruz said.  "I think it is appalling when children are hungry and must go to bed hungry at night."
---
The Treasure Coast Food Bank is teaming up with Holy Cross Church on March 9 for a free luncheon and discussion on hunger in the community. The event is from 11:30 to 1 p.m.  To make reservations or learn more about the event and the Food Bank, call 772-489-5676 or go to stophunger.org