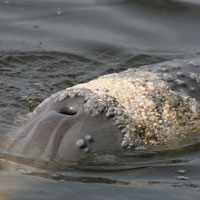 Scott guts water protection funding, endangering lagoon
STORY BY STEVEN M. THOMAS, (Week of January 5, 2012)
Photo of A bottlenose dolphin in the Indian River Lagoon afflicted with a severe fungal infection.
Governor Rick Scott's draconian cuts to water protection budgets might seem halfway reasonable if not for a majority of first-born dolphins dying from toxic overload, if not for last summer's deadly Indian River Lagoon algae bloom – the worst ever in extent, severity and longevity – and if not for the near doubling of polluted waterways in Florida between 2008 and 2010.
In action the Miami Herald called "foolhardy" and dangerous to the state in a December editorial, Scott in 2011 slashed Florida water management district budgets by 40 percent, cutting more than $700 million from the amount available to monitor and clean-up pollution in groundwater, rivers, lakes, stream and estuaries, including the lagoon that is Vero Beach's aesthetic and economic centerpiece.
"We cannot afford to continue ignoring water quality," says Vero Beach Mayor Pilar Turner. "The lagoon is responsible for $800 million a year in revenue for our community."
"I think the cuts are insane, and you can quote me on that," says Richard Baker, president of the Pelican Island Audubon Society.
"Scott's cuts to water quality protection dwarf all of the cuts made over the past 20 years by all local and state agencies," says Jim Egan, executive director of the Marine Resources Council.
"No one can understand it," says Warren Falls, managing director of the Ocean Research and Conservation Association (ORCA) in Fort Pierce. "The waterways are why people move to Florida. Governor Scott is tearing down the very thing the tourism industry and the towns along the waterway are built on. I think the long-term ramifications of the state cutbacks will have a devastating effect on the waters and economy of Florida."
Scott is also pushing to weaken water quality regulations that now require waterways be clean enough to swim and fish in, according to a wide range of environmental organizations.
"They are reverting back to a standard that says waterways no longer have to be swimmable or fishable," says Falls.
According to the Florida Department of Environmental Protection, more than 1,900 miles of state rivers and streams were polluted in 2010, up from approximately 1,000 miles in 2008.
Despite that dramatic increase, Scott and the legislature have fought tooth and nail to keep the Environmental Protection Agency from imposing new regulations on nitrogen and phosphorous pollution, the main offenders in Florida's lakes and streams and in the Indian River Lagoon.
After working with the state for years without seeing improvement, the EPA in 2009 finally mandated controls on the offending chemicals but since then the state has struggled to substitute its own standards in place of the EPA's, cloaking what environmentalists say is a failure to fight pollution in the language of states' rights and local control.
On Dec. 8, a so-called environmental regulation commission appointed by Scott approved a set of water pollution standards that scientists say is woefully inadequate to protect Florida's ecology.
Complaints about Scott's gutting of environmental protection come from a bipartisan range of politicians as well as environmental organizations.
State Senator Paula Dockery, R-Lakeland, U.S. Senator Bob Graham and Nathaniel Reed, an environmental advisor to six Florida governors and two presidents, came together at a recent Florida Conservation Coalition rally to castigate Scott for decimating water quality funding.
Dockery said Florida's future economic development depends on clean, safe water for drinking and recreation and that the state's quality of life is more important than relaxing pollution standards to benefit businesses.
According to the Sarasota Herald Tribune, Graham called for a "re-emphasis on protecting Florida's water and other natural resources  . . . and warned that recent changes to state law and policy have 'reversed 40 years of Florida's progress in water and land conservation.'"
Reed worked for President Richard Nixon, creator of the EPA, and helped Gov. Claude Kirk clean up Florida's coastal waters in 1970s, a time when, as he writes on his blog, "The St. John's River was the recipient of raw sewage, industrial wastes, Navy shipyard caustic chemicals and tons of nutrients," and untreated sewage poured into Florida's bays and estuaries.
He said at the rally Scott has "eviscerated" environmental protections. "The developers paid for and got what they wanted. And it is a disgrace to state of Florida."
Egan says last summer's algae bloom in the lagoon, caused by excess nitrogen and phosphorus feeding the growth phytoplankton, was unprecedented, lasting longer and extending over a wider area than ever before, blocking sunlight, consuming oxygen and killing sea grass. Visibility in the lagoon, which ran clear not that long ago, was reduced to poor or very poor levels.
"The health of the lagoon depends on that bloom being a fluke," says Egan.
"I was in China last summer where there is little regulation and the pollution was unbelievable," says Edith Widder, a world renowned marine biologist and founder of ORCA. "You could not see the sky. Everything was brown, the water was opaque and 75 percent of lakes, rivers and streams were polluted.
"After seeing that, I was feeling pretty good about our relatively clean water and blue skies and then I came back and found out that Gov. Scott had changed the regulations so that Florida's waterways no longer have to be clean enough to swim in."
Egan says he thinks Scott's penchant for catering to business interests is behind the dangerous changes he has made. "It just goes to show you that a sound concept of trying to reduce needless regulation to benefit the economy becomes absurd when taken to the proportion he has taken it to."
Scott has also touted his slashing of water district budgets as tax relief for citizens, since the cuts allowed reduction in millage rates in some districts, but the Miami Herald pointed out in its editorial "the savings for most property owners was minuscule."
The paper went on to say Scott's anti-water-protection rampage makes it clear he lacks "serious commitment to this most vital resource."
Audubon of Florida Executive Director Eric Draper issued a statement saying Scott's "cuts serve only the purpose of allowing politicians to claim tax cuts. The agencies involved and governor are not being completely candid in telling the public how these cuts will affect water supply [and] environmental protection."
Widder, Baker and others point out a polluted lagoon would not only devastate the fishing and boating industries but damage Vero Beach's tourism economy and decimate property values.