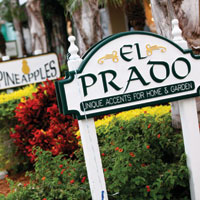 Ocean and Cardinal Drives: Updating the vision
STORY BY LISA ZAHNER, (Week of January 26, 2012)
Photo: A view down Ocean Drive in the beachside retail district.
The City of Vero Beach recently dusted off a seven-year-old vision plan for what Ocean and Cardinal drives could be, giving the community an opportunity to talk about what draws people to the beachside  retail district.
Some say it's the feel of old Florida, a trip down Memory Lane for an ice cream with the grandkids. For others, its good food and drink in equally savory company.
Shopping with attentive merchants does the trick for those weary of malls, the mass-produced and the impersonal chain-store mentality. The smell of festival street food, the sound of a live band and ocean breezes lure others to discover the shops and galleries that make up Ocean and Cardinal drives.
City planners and the volunteers will update the shelved plans in the months ahead and devise a way to implement them while accentuating the district's positive features.
Most people see the retail district as needing just a few tweaks and not a major facelift.
"There's a lot more to lose than there is to gain," said Indian River Shores resident Lionel Evans, a citrus broker who keeps an office on the third story of the old Merrill Lynch building on the corner of Beachland Boulevard and A1A.
Evans' memory of Vero goes back generations and he hopes, despite the winds of change, that Vero doesn't experience an identity crisis.
"It's not Miami Beach and I don't want to see it become like Miami Beach. And it's not Daytona Beach. I like Daytona Beach, but it's just a different market," Evans said. "They've got a great jewel here, a great base to build on."
Locals like Evans who frequent Ocean Drive want the city to strike a balance. That balance would retain the area's unique character, but also enhance the commerce of the vibrant mixed-use business district.
More business on Ocean Drive not only helps pay storefront rents and provide jobs; it also generates much-needed tax dollars.
Young people, the under-25 set, might not shop in Ocean Drive's posh boutiques, but they could pump money into the area if there were tempting places to spend it.
Karina Craig, 18, works part time in an Ocean Drive restaurant, but that's about the only time she spends there. "My friends go to the beach, that's it," she said. "There's not that much that's open late around here and lots of people ask me where they can find a club and I tell them Joey's."
Vero is rich in tradition, and that's a good thing for the Vero Beach High School senior. But she said a surf shop, or a dance club with music that wasn't "oldies" couldn't hurt if businesses want to attract more young customers. The fact that Ocean Drive can be pricey, she said, also keeps young singles and couples off the beachside.
"When you go over the bridge, everything goes up $5," she said.
Visitors Rip and Cathy Voorhees of Orlando said they don't mind paying a little more for the service they get in Vero's oceanfront shops and restaurants. They have been coming to Vero at least once a year for 30 years – since their kids were little – and they're even considering retiring here.
Voorhees and a local friend spent the day shopping. Their husbands were served cookies, cupcakes and candy to keep them occupied while the women tried on shoes. They then headed to Waldo's restaurant at the Driftwood Resort for dinner.
"It looks great, I wouldn't change much. The whole concept is great.  It's not a tacky, trashy beach, but it's charming," Cathy Voorhees said. "It's not as snooty as Palm Beach but not as run-down as Daytona."
Rip Voorhees said if he was doing the planning he would add some variety in the hotels and motels on the beach.
That's one goal of the plan – to bring some boutique hotels to the beach through redevelopment incentives.
Planning Director Tim McGarry said that since the Planning and Zoning Commission got up to speed on what was done in 2005 with the vision plan and then in 2007 with the city's master plan, the impetus is now on him to revamp the documents and organize a workshop of all the stakeholders. "It's really on my back at this point.  There's a lot of work to do," he said.
In addition to scouring the plan for outdated items or for things out of synch with current laws, McGarry will draft an ordinance for what's being called the overlay district. He'll craft a separate sign ordinance for discussion, since a few recent large and colorful signs emblazoned with corporate logos have met with an upturned nose from some residents on the island.
The signs obviously met city code.  And while many beachside residents think the code is not tough enough, some small business owners feel is too restrictive.
"I can't even put a flag out," said Susie Wilber, who owns the Laughing Dog Gallery with husband and business partner, Jeff Wilber.
Laughing Dog, which moved to Cardinal Drive in 2005, sits on the outskirts of the area that would be impacted by the overlay district. To compensate for not being in the thick of things down on Ocean Drive, the Wilbers host parties and openings for some of the 350 American artists featured in the gallery.
"There's not a lot of reason to walk around. I think people would walk to Cardinal if there were more reasons to come," she said. "We need a lot more going on out in front of the businesses."
Wilber said events have been a successful tool in getting people to Ocean Drive. "We stay open late for Sunset Saturday, but everything is over once the music starts," she said. "The farmer's market has been great for us; it brings a lot of people here."
Overall, Wilber said she has confidence in the leadership of the planning commission that a positive result will come from resuscitating the vision plan.
"I was delighted when Kimley-Horn got involved.  Keith Pelan has a vision for what can be done and I think he knows what the businesses need," she said.
Woven through the pages of the wish book that is the vision plan are glimmers of vibrant, picturesque oceanfront communities often featured in travel magazines? Lush landscaping, tasteful signs, decorative building facades and architectural homogeneity could beautify Vero's oceanfront, creating postcard-ready vistas to welcome tourists and locals to the area.
Is the manicured, designer and hip, new-urbanism feel what locals and tourists really want or expect from Vero?
Chef Kitty Wagner, proprietor of some of Vero's most trendy eating and drinking establishments – most recently her new place, the Blue Star Wine Bar on Bougainvillea Lane – said her views have changed on that over the years.
"When I first got here, I was one of those people. I was one of the ones who wanted to change everything," Wagner said. "I love the aesthetic because it works, it's the old mixed with the new.  If you try to pretty it up, you're going to lose Vero."
Wagner praised the Vero Beach Public Works and Parks staff for doing an "amazing job" maintaining public areas and making the most of the landscaping that's been installed with topiary and creative trimming of the trees and bushes.
But Wagner said she likes the laid-back atmosphere of Vero's oceanfront, and said her clientele prefers the understated to a stuffy, over-choreographed look.
"I don't want Vero to look just like other cities. A great place, you shouldn't be able to duplicate it," she said. "Right now, it's not cohesive, but it doesn't look like a planned development."
Oceanside Business Association Vice President Al Benkert attended the vision plan and master plan sessions last decade.
Making the vision plan a reality, he said, would have crowned the city's recent redevelopment victories but it slipped down the priorities list.
Benkert lauded Royal Palm Pointe and Sexton Plaza as huge successes. The triumphs in the battles over Ocean Park and Humiston Park accomplished much in the way of laying the groundwork for a more business-friendly Vero.
"The city was on a roll in Vero, in not only maintaining but improving the environment. There was a lot of concentration on it, back in those days, the city council's main thing and we were seeing the results in real estate sales on the island," he said. "Then the whole utility thing blew up and has been taking most of the city's time."
The vision plan provided for pedestrian-friendly walkways and a more cohesive atmosphere running all the way from the offices and galleries on Cardinal Drive to the foaming surf of the ocean.
"We really would like to see more of a two-street shopping zone than a one-street. We've got things on Cardinal, but the action is on Ocean Drive," Benkert said.
Increasing the mixed-use nature of the oceanfront zone from Cardinal to the beach – keeping merchants thriving and getting more people to live down there – are two major goals of the planning efforts.
The topic of parking came up in the recent planning meeting, but there's no consensus about parking, or a lack thereof.
"There is no lack of parking, we did not find any real parking issues," said McGarry. "If redevelopment does become successful, there could be some parking issues."
Benkert said the city is "flat wrong" if it says there are no parking problems. He said the recent move to increase parking fines on Ocean Drive is proof that parking is a commodity during the day anywhere near the beach.
"The kind of clientele we have, I'm talking about our Monday through Friday clientele, wants to be able to park and walk right up to where they're going," Benkert said.
Wagner said the parking space is adequate, except for a couple of very hectic times of the day, but the strict parking enforcement on the beach creates a pressured atmosphere that seems at cross-purposes with the aim of getting people down to the oceanfront to stroll around, linger and spend money.
"I actually have people who set a timer on their phones and they sit and watch the time so they can go move their cars or whatever so they don't get a ticket," Wagner said.
The planning commission did not delve deeply into specific proposals of the master plan and vision plan earlier this month, but merely spent a few hours getting the current commission members, led by landscape architect and Chairman Pelan, up to speed on what was done previously.
Three former members of the vision team, Susan Smith, Ben Bailey and George Lawrence, gave their impressions of the process and what came out of it.
Smith said she recalled some heated discussions, but that, in the end, the plan was wholeheartedly supported by the group.
Bailey and Lawrence talked about the other cities they had visited, which the team held out as shining examples with regard to aesthetics and signage – Naples and Carmel, Calif. All three former members discussed parking to some extent, with Bailey admitting it was "the 800-pound gorilla in the room."
More lofty concerns facing the commission are setbacks, what to allow or not allow on sidewalks and how high the buildings should go. Allowances for third stories on buildings on the west side of Ocean Drive would encourage owners and developers to build boutique hotels, condominiums or at least office buildings with retail or restaurants on the ground floor.
The city will consider whether to make any enhancement regulations mandatory or simply voluntary, with incentives for compliance. None of that was decided at the last meeting.
But the nitty-gritty of the plan will be unpacked and discussed in the coming months at public meetings where residents and business owners can show up and be heard.