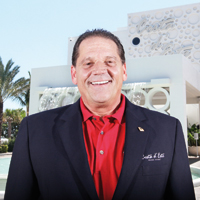 New Englander taking Costa d'Este to'the next level'
STORY BY MEG LAUGHLIN, (Week of July 19, 2012)
Photo of Ed Riley
Oceanfront hotel Costa d'Este has a personality different from other Vero beachside hotels.
The architectural style is urban South Beach, with a deco repetition of circles and curves and a charging waterfall of a fountain.
The differences continue inside: sheets of amber Plexiglas filled with oval cross sections of bull horns, plaited metal curtains, and petrified wooden tables resembling African drums. Sea grass embedded in the elevator walls. And, what's that music playing – Haitian compas, reggae with an Afrobeat undercurrent? Steel drum?
Nothing Palm Beach, New England or British colonial about this hotel, owned by singer Gloria Estefan and husband-producer Emilio. Forget country estates, B&Bs and   flowery chintz.  The hotel has all of the spicy cultural mix that is the French, Spanish, African Caribbean, as well as Central and South America.
Which gets to the question at hand: Why did the Estefans recently choose a 58-year-old New Englander, who refers to himself as "a country kid at heart," as their choice to bring this hotel to the next level of international hip?
Ed Riley leans back in his office chair and considers the question. After all, he readily admits his idea of a great vacation is traveling around in an RV with his wife, stopping at camps in the Northeast and getting out their little charcoal grill. Besides that, he doesn't even speak Spanish.
He recalls sitting around a table with the Estefans in their Miami Beach office about six months ago. The management company's choice for the job, he needed the Estefans' blessing to begin.
He doesn't remember if it was Emilio or Gloria who asked him: "What makes you think you're the right fit for this job? Why should we entrust this job to you?"
Exactly.
Riley grew up in a huge family – with nine sisters – in the Vermont mountains.
"Think streams, deer and rolling green lawns," he said. 
He graduated from college, in western Massachusetts. 
Over the years he has worked in sales and marketing at a Hyatt in Nashville, Tenn., the Copley Plaza in Boston, and a Double Tree Hotel in Houston. He has run upscale hotels in Vermont, Massachusetts and New York. He even owned his own inn in Vermont.
"Great fine dining and a wonderful, cozy tavern," he said.
But what did this have to do with managing a Latin-flavored, international hotel with Ropa Vieja on the restaurant menu? How could he tell them he knew he was the right choice?
"How to convey my love of cultures, my progressiveness? How could I show that I knew I was the right person to bring this hotel to the next level?" he asked.
Riley's first job out of college in the mid 1970s was as a pool boy at the Fontainebleau Hotel in Miami Beach. He loved the ocean, the deco grandeur – even the sand and the heat. But it was a little early for Gloria and Emilio's fame, a little early for the international hub that Miami Beach would become in the 1980s. So, he couldn't make the connection there.
He mentioned how much he loved New York City with its mix of ethnicities and all of the culture – the museums, the theater, the architecture, and the opera.  He loved that Costa d'Este was so sensual, he said, even down to the incense and the flickering mystique of candlelight in the lobby at night. But he didn't think he had gotten to the essence of their questions.
So, he went back to the question about why they should "entrust" him with the general manager's job.
His reply began: "You are not just entrusting me with a job. You are entrusting me with much more – not only with a valuable piece of real estate but with the lives of our guests and our employees.  I can't begin to tell you how seriously I take that responsibility."
He started in March.
Since then, he has brought in a new executive chef, a new food and beverage manager, and a new director of operations. Not because problems existed before, he said, but because the hotel is growing, "moving to the next level."
"Sometimes when you are new football coach you need to change your offensive and defensive assistant coaches because you're going in a different direction," he said.
He has kept the human resources director and marketing director, as well as the comptroller, chief engineer and recreation manager.
On a Chamber-of-Commerce day last week, he walked past the pool where his wife Sherry was meeting him for lunch. They were celebrating their daughter's good news of a scholarship to George Washington University.
While hotel guests marveled at the sea and sky, the free foot massages by the pool, the offerings of free ice and frozen grapes, and even someone walking around cleaning their sunglasses, Riley did a quick visual once-over from the top of the building to the bottom of the pool.
The seagrape hedges are perfect – just enough disorder to be organic. The palms are pruned as they should be – five to seven fronds sweeping upward. Story after story of window glass is meticulously cleaned. And, the pool is the color of the blue-blue sky.
The clientele is varied: New Englanders, Floridians, Argentines, and Brazilians. Buff, tan couples. Families with small children. A father carries a toddler on his shoulders. A daughter helps a mom with a cane. Riley speaks to everyone as he passes.
One woman in her 40s stops him to volunteer how great the service has been.
The menu is expanding, becoming more international.
On this day there are two kinds of ceviche: tuna with avocado, cilantro and orange juice reduction; lobster with coconut milk and lime.  Also: perfectly made Cuban sandwiches and what Riley calls "the best paella you will ever have." Sherry and Ed Riley have the fresh grouper, sautéed in spices and citrus.
Riley recalls when he was just out of college in Miami Beach, walking from hotel to hotel, asking about work. When the Fontainebleau told him he was on, he thought the world had landed at his feet.
"I feel the same way, now," he said.