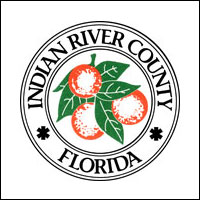 County quickly agrees to budget cuts that keep it in black
STORY BY STEVEN M. THOMAS & DEBBIE CARSON,
(Week of July 19, 2012)
In contrast to the city of Vero Beach's troubled budget process, Indian River County is on track to produce a spending plan for fiscal 2012-13 with a minimum of fuss and a maximum of staying in the black, despite a sixth straight year of declining revenue.
This year's smooth budget process continues a trend established under County Administrator Joe Baird and Budget Director Jason Brown.
If anything the budget exercise is shaping up to be even more streamlined than in previous years.
Last year, despite substantial budget cuts, there were few complaints from departments, agencies or programs funded by the county. But elections Supervisor Leslie Swan and Sheriff Deryl Loar did fight with Baird and the board to get more money they said they needed to effectively run their departments.
This summer, perhaps because it is an election year and politicians like to be seen as fiscally responsible and controversy-free when facing the voters, Baird said he has received perfect cooperation from constitutional officers.
At a press conference Friday morning where budget details were released Baird credited the sheriff, property appraiser, tax collector, clerk of the circuit court, and supervisor of elections for trimming their budgets to help the county hold the line on taxes.
He repeated the kudos later in the day in front of a sold out room of Indian River County Chamber of Commerce members and community leaders during the State of the County Address.
"This couldn't have been accomplished without the constitutionals," he said of the county's $252-million fiscal 2012-13 budget, which is down $6 million or 2.4 percent from fiscal 2011-12.
He pointed out that, while attending a meeting of 12 other administrators from various counties, he was the only one who had complete support from the constitutional officers.
At the press conference, Baird singled out Loar for special praise. "The sheriff's budget accounts for 57 percent of the general fund so the impact is huge," he said.
Loar cut his budget nearly $1.4 million according to budget documents, a reduction of 3.52 percent.
"This is the first time in 30 years I have seen a sheriff agree to the full budget cut that was requested," said Baird.
The budget makes cuts across the board, with all county departments and constitutional officers reducing expenses to keep pace with tax revenues that are still falling in the aftermath of the worst real estate collapse in history.
"Property values in the county were down 3.6 percent over the past year," said Brown.
Since property taxes are tied to property values, and the County Commission has declined to increase the property tax rate to offset the decline in value, the county expects to collect $3.4 million less in property taxes next year.
"That is a 4.7 percent decrease," said Baird.
Since fiscal 2006-07, annual property tax revenues are down more than $33 million, from $103.3 million to $69.4 million.
During the same period, Baird and Brown have cut the county budget by 46.9 percent to stay in the black.
"There are no tax or fee increases in the budget and there will be one fee reduction, for certain types of building permits," said Baird.
The county is saving money by eliminating nine positions in human resources, golf course operations, lifeguard staff, library staff, storm water management and traffic planning and engineering.  Five of the positions are open slots that will not be filled.
The other four jobs were eliminated Friday morning.
The county is reducing expenses further by retiring a land acquisition bond, privatizing some services, working to limit benefits such as sick and vacation leave and cutting vehicle allowances.
The county incurred a substantial new expense from a state Medicaid mandate that will add $790,000 in costs next year.
"It is tough," Baird said at the news conference. "We saved $629,000 by eliminating nine positions but the state is adding more than that in new Medicaid costs."

On a positive note, Baird told the chamber audience some areas of the county economy have begun to turn around, pointing to a 5.2 percent increase in sales tax revenues as well as a 15.5 percent increase in tourist tax dollars.