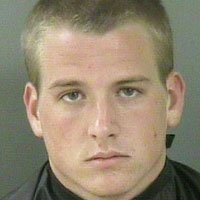 The meteoric rise and fall of 21-year-old phenom Dustinn Keeling
STORY BY MEG LAUGHLIN, (Week of July 12, 2012)
Dustinn Keeling, a university dropout with only 13 college credits who amazingly had talked his way into the presidencies of both the Haiti Clinic Foundation and the North County Republican Club before the age of 21, was in the Indian River County jail this week, charged with looting the accounts of both organizations.
Keeling was arrested first in Vero Beach last week and charged with 12 counts of grand theft and forgery for stealing over $20,000 from the Haiti Clinic Foundation – a Vero Beach nonprofit that offers medical services to the poverty-stricken residents of a shanty town in Port-au-Prince Haiti – and forging documents to cover his tracks.
Then this week, Keeling was served with yet another arrest warrant – this time by the Sebastian Police Department for looting the accounts of the North County Republican Club in Sebastian. The scenario for stealing from the Republicans appears hauntingly similar to what he allegedly did at the Haiti Clinic, according to court documents and police records.
The first person to blow the whistle on Keeling was Leah Facto, 64, a retired math teacher and board secretary for the North County Republican Club.
In late fall, she questioned Keeling's insistence on secrecy with club bank accounts. The reaction from fellow club members was mixed: A few listened to Facto. Others, diehard fans of Keeling's, called her a troublemaker.
The battle over Keeling ultimately involved not only the North County Republicans but also the Republican Executive Committee in Vero Beach and an audit committee of local Republicans.
"It has been a long, hard road to get to the truth," Facto said Monday, after being told by Sebastian police Det. Todd Finnegan that more charges against Keeling were imminent.  "But finally everything is coming out. Finally."
Facto's suspicions about Keeling began last year because prior to his becoming president of the North County Republican group, board members had access to bank accounts to monitor transactions.
But Keeling opened a new account at Seacoast National Bank, only allowing access to treasurer Erica Klipstine and himself. 
Facto told the Republican group that was unprecedented and it worried her. At club meetings, she and a few other members repeatedly asked that the board find a way to see what was going on with the club's money. The reaction was mixed because Keeling was so beloved.
In early January, Keeling's attorney Gene O'Neill handed Facto a letter after a Republican club meeting that warned her to "cease and desist" lying about his client, who, according to the letter, was a fine young man about to go to medical school.
"Leah was the hero here, trying to do the right thing, but she was cast as the bad guy," said Bob Flickinger, a Sebastian businessman and member of the North County Republican Club.
About a week after she got the letter, Facto went to Wells Fargo Bank where the club had an account that Keeling had tried to close. She learned that because her name was on the signature card, she could look at the history of transactions after Keeling became club president.
What she saw, she said, seemed to bear out her suspicions.
The account was $519 overdrawn, with numerous checks written to benefit Keeling that had nothing to do with the Republican club. One check for $300 was made out to Keeling's grandmother from whom he had apparently borrowed money.
Facto took the findings to the club at a Jan. 9 meeting.
Ted Pankiewicz, a member of the Republican Executive Committee as well as the North County Republican Club, was convinced of wrongdoing on the part of Keeling and gave the Wells Fargo information to the executive committee in Vero Beach.
Tom Lockwood, the executive committee chairman, called Haiti Clinic officials to warn them that they might want to look into the financial transactions of Keeling, the organization's president.
The executive committee called in Keeling and Klipstine, the North County club's treasurer, for questioning.
Keeling produced a letter from the bank manager at Seacoast, where monies had been transferred. That letter, which authorities said turned  out to be a cut-and-paste phony from Keeling, said any errors with the Seacoast account were the fault of the bank.
The executive committee asked Keeling to bring in statements backing up the letter. He said he was traveling to Haiti Clinic in Port-au-Prince and had to postpone the meeting.
When he returned from Haiti, he said he had contracted a tropical disease and was in bed at Indian River Medical Center. 
Republican club members who called and visited the hospital were told that no one named Keeling had been admitted.
Meanwhile, despite actually visiting the gut-wrenching slum of Cite Soleil in Port-au-Prince and seeing open sewage pits, dirt-caked naked children, starving and diseased – which the clinic was desperately trying to help – Keeling continued to steal from  clinic accounts, authorities say.
In February, both Keeling and Klipstine attended a meeting of the audit committee set up by the Republican Executive Committee to investigate financial transactions. Chief investigator CPA Jeff Smith, who is now Indian River County Clerk of Court, identified about $6,000 in withdrawals that were unaccounted for. 
According to people there, Klipstine broke down crying when confronted with the information, and said, "I told Dustinn to put the money back, but he didn't do it."  Klipstine didn't return calls from Vero Beach 32963.
The last week of February, members of the executive committee met with members of the audit committee and North County club members to discuss what to do.
Facto, Flickinger, Joe Flescher, the county commissioner on the executive committee board, Pankiewicz and Jeff Smith, along with a few others, said they needed to go to Sebastian police.
But executive committee Chairman Lockwood and committee member David Nolte, Indian River County property appraiser, cautioned that the better route might be to simply get the money returned. 
"Keeling's attorney suggested restitution as a possibility and we needed to consider it," said Nolte.
"We saw restitution as a possible solution because we wanted to minimize the debacle," said Lockwood.
"I questioned their motives. Were Lockwood and Nolte trying to avoid an embarrassing situation going public?" said Flickinger.  "Absolutely not," said both Lockwood and Nolte.
Ultimately, the executive committee decided to let the North County Republican Club decide whether to keep things quiet and try to get the money back or go to police. The club unanimously decided to go to police, and Det. Finnegan began following leads.
"Ted Pankiewicz, Jeff Smith, Joe Flescher, Bob Flickinger and me – along with a few others who later joined us – were determined to put the rule of law before other considerations," said Facto.
But to get to that point required a lot of courage.
"Things got unbelievably nasty," said Pankiewicz, a retired police officer. "Keeling supporters were making up awful things about us that had to do with cheating on spouses and lying and conspiring.  But the truth is finally coming out, thank goodness."
Still, some in the Republican hierarchy are having trouble dealing with the fact that they were tricked by a young man whom they saw as a rising star.
"We won't know for sure that Dustinn Keeling is guilty until the judge brings down the gavel," said Nolte.