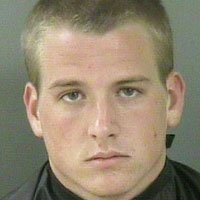 Mom: Dustinn 'good kid' who fell in with the 'wrong crowd'
STORY BY MEG LAUGHLIN, (Week of July 19, 2012)
Photo of Dustinn Keeling
Who is Dustinn Keeling, the 21-year-old charged with looting tens of thousands of dollars from the North County Republican Club and the Haiti Clinic?
Who is this youth, with no college education or job history to speak of, who gained the admiration and support of prestigious movers and shakers in Vero Beach Republican circles – people who placed him in trusted positions.  Who is this young man who, according to authorities, betrayed these influentials, got caught and landed in jail.
Is he the "church-going kid from old Indian River County families," as his mother tells it, who got in with "the wrong crowd" at the North County Republican Club – "the party crowd, the drinking crowd, when he was too young" – and was led astray?
Or was the son of Shalayn Gregory – married and divorced six times – the product of a troubled childhood, a boy so anxious to gain the approval of people he admired that he constructed a web of lies about a wealthy father, a trust fund, and ultimately needed the money he is accused of stealing to keep his fabricated life-style going?  "All he ever wanted was approval and love," his mother said.
Despite being distraught about her son's travails, Gregory talked about her son Friday. "Dustinn is a good kid who made a mistake," she said. "Besides, anyone in their right minds should know better than to put a 19-to-20-year-old in charge of adults."
In hindsight, that's probably a pretty astute point by Dustinn's 43-year-old mother, Shalayn Gregory.
Dustinn was the middle child of her  three living children. The biological fathers of her oldest daughter, who is 23, and her youngest son, who is 15, were not among the six men she married.  She did, however, marry Dustinn's father, Phillip Keeling, who was a maintenance manager at a local golf course. They divorced when Dustinn was 4.
After that, records show that Dustinn's father, Phillip Keeling, suffered from medical conditions, including phobias, and went on disability.  He did not respond to a request to talk to Vero Beach 32963. Other family members and friends were reluctant to talk on the record.
With each new father, the kids were counseled to call him Daddy so-and-so, using the new husband's first name. For example, Norman Hamilton was called "Daddy Norman."
The custom was intended to make them all feel more like a family, said Gregory. There were five new families while Dustinn was growing up, and sometimes, Dustinn lived with his mother and her new husband.  Other times, she said, he lived with his father.
Besides the frequent marriages and divorces and protracted paternity suits, public records show four arrests for Shalayn, whose last names have been Stevens, Botsko, Keeling, Hamilton, Putnam, Oliver and Gregory.
Two arrests in the summer of 2011 were for battery and violating a domestic violence injunction with an ex-husband.   Two more, over a decade before, were for writing bad checks. All charges were dropped and she paid fines for the bounced checks.
She has also sued people and companies several times in Indian River and Brevard County for auto negligence, property negligence and injuries and she is has been a defendant in a case for debts owed.
Shalayn Gregory concedes her life has not always been smooth-going.
 "But Dustinn was not around when I was abused by some of my husbands, arrested, or in court. He was with his father and his family and it was a good, healthy environment for him," she insisted.
"Do not think for a second that my mother's mistakes had anything to do with my brother's problems. He, alone, is responsible for what has happened to him," said Dustinn's half sister, Kristen Hamilton, 23.
To make her point, Hamilton added: "I have never been in any trouble; my 15-year-old brother has never been in any trouble, and Dustinn was never in any trouble – until now."
Dustinn, 21, and his mother, 43, bear a strong resemblance to one another.
Both are tall, slim, blue-eyed blonds with great smiles.
When Dustinn Keeling was born in February 1991, his mother was embroiled in a bitter paternity suit with her first husband, Lawrence Botsko, over Kristen.
After Botsko, who owns a construction company, paid over $60,000 in child support and attorney's fees, DNA testing showed he was not her biological father.
"Still, Kristen, Dustinn and the youngest were really decent kids, under the circumstances," he offered.
Dustinn Keeling spent a lot of time with both sets of grandparents in the country, riding horses and playing with family dogs.
He went to Glendale Elementary, Oslo Middle and Indian River Charter High School.  Then, he transferred to Vero Beach High School. He wasn't a great student, but he was friendly and well-liked, his mother said.  "Not one of my children ever failed a grade, which is more than most parents in Vero Beach can say," she said. 
Furthermore, said Gregory, her kids have always lived in "beautiful homes" and been "well-groomed and well-dressed," thanks to her.
Dustinn lived with her for about six weeks before his arrest in early July. During that time, she said, he repeatedly did something that brought him happiness as a kid: He cleaned, cooked dinner, served and cleaned up.
On the day before he was jailed,  he made herb-roasted chicken, garlic mashed potatoes, and asparagus.
Not knowing he was about to be arrested, his mother said they talked about his future over dinner. "I told him to join the Navy to pay for college," she said, "and he agreed that was a good idea."
When she talked to him in jail a few days ago, she told Dustinn she was selling her belongings to get him a good lawyer.
"He thanked me for not turning my back on him," she said. "He told me I was the best mother a child could ever have."