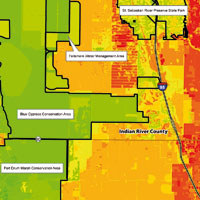 Governor to water district: Sell off 'surplus' parks and preserves
STORY BY STEVEN M. THOMAS, (Week of July 12, 2012)
Illustration: St. Johns River Water Management District is reviewing 90,000 acres of conservation lands in Indian River County for sale or alternate uses.
Governor Rick Scott has ordered the St. Johns River Water Management District to review all of its conservation lands and make recommendations about which lands should be sold or traded away by the end of the year.
"Everything is on the table," says Robert Christianson, director of operations and land resources for the agency.
That includes state parks, land bought with money approved by voters specifically for land conservation, and lands bought under the Florida Forever program – which may not be forever, after all.
Over the past 30 years, St. Johns has accumulated 600,000 acres of wetlands and other environmentally critical property to preserve waterways and manage the water supply in the 16 Florida counties it serves.
Indian River County has the second-largest amount of St. Johns owned land – 90,000 acres – and all of it is being considered for possible disposal, including pristine wetlands around Blue Cypress Lake and other ecologically irreplaceable parcels most people assumed would be protected forever.
Christianson says environmentalists and other district residents should not be alarmed by the review. As he explains it, the process is science-based and only marginal conservation lands no longer needed for water management purposes will be recommended for sale or alternative uses.
But he admits that, regardless of the results of the scientific review of land importance, disposal decisions will be policy driven.
That policy comes straight from the office of a governor who conservation organizations and politicians in both parties say has been a disaster for clean water and environmental protection in Florida.
"This is the first time we have done a systematic review of lands for disposal and we are doing it because of a direct communication from the governor's office," says Christianson.
State Senator Paula Dockery, R-Lakeland, and Nathaniel Reed, an environmental advisor to six Florida governors and two U.S. presidents, including Richard Nixon, creator of the EPA, are among Scott's critics. 
Reed helped Gov. Claude Kirk clean up Florida's coastal waters in 1970s, a time when, as he writes in his blog, "The St. John's River was the recipient of raw sewage, industrial wastes, Navy shipyard caustic chemicals and tons of nutrients," and untreated sewage poured into Florida's bays and estuaries.
He said recently Scott has "eviscerated" environmental protections. "The developers paid for and got what they wanted. And it is a disgrace to state of Florida."
The land disposal review has been harshly criticized by former members of the St. Johns Water Management District Board, according to a report in the Daytona Beach News Journal: "'The acquisition of these lands is so important to our state,' said Saundra Gray of DeBary, who served on the board in the 1990s. 'As hard as we tried to get these pieces of land, and as completely as they were vetted, this is incredible.'"
Former board member Reid Hughes called the review "very, very dangerous," according to the News Journal. "This is an attempt to put a damper on our great heritage of [protecting] endangered lands."
The land review is part of a pattern of behavior on Scott's part.
Shortly after taking office, he fired all five water district directors and slashed water districts' spending statewide by 40 percent. That led to the firing of many of the most experienced and knowledgeable staff scientists.
The current review is taking place without the input or expertise of those veterans.
At the same time, Scott slowed funding for new conservation land purchases to a trickle.  Florida Forever, once funded at $300 million a year, received only $8 million last year.
"St. Johns Water Management District received zero dollars from Florida Forever in the past two years," says Christianson.
Now, after decimating district budgets, firing a majority of scientists and cutting funding for new conservation lands to almost nothing, Scott has put in motion a process that could turn back the clock, getting rid of conservation lands already acquired.
"It is very worrisome that this will set a dangerous precedent," says Richard Baker, University of Florida biology professor emeritus and president of the Pelican Island Audubon Society. "If they sell just one acre anywhere in the state, then [when it comes up again] they will say it has been done before, and our conservation lands will begin to erode.
"Have they lost touch with the need to protect our water resources? Do they know our springs are drying up? People donate lands for conservation. If they cannot be assured their lands will be preserved, these donations will dry up too. So much for Florida Forever."
St. Johns River Water Management Districts Land Assessment 2012, the program's official name, began quietly in December 2011, when Scott sent his directive via the Florida Department of Environmental Protection to the state's water districts.
The first phase was the "scientific" review of all lands owned by districts, which ranked their conservation value from 1 to 12, with 12 being most valuable for St. Johns statuary purposes of flood control, water storage, water management, conservation and protection of water resources, and preservation of wetlands, streams and lakes.
According to Christianson, the rankings are meant to "assist in policy-making," but a high-value designation does not exempt lands from disposal. "There is no cut-off," he says. "Legally, every acre is on the table."
The second phase of informing the public and beginning policy-driven decision making about which if any  lands will be disposed of started in June.
According to Baker, almost all of the 50 or 60 people who attended a public information meeting in Palm Bay last week were opposed to the idea getting rid of carefully selected conservation lands for what many see as short-term political purposes.
"Pretty much everyone who spoke was against the idea," Baker says.
"I think it is fair to say the initial reaction is pretty negative," says Christianson. "There is strong sentiment that these lands are an important element in the fabric of conservation lands in this part of Florida. People enjoy recreating on them and feel they are important to maintain. They are concerned we may overstep and get rid of something important.
"At the same time, I think in the course of the workshops people are beginning to understand we are going about it correctly."
Christianson cites several safeguards he says will ensure wise policy decisions, starting with the scientific nature of the review process and the public workshops, which will be conducted in three phases between now and December as policy decisions develop and are finalized.
He notes that it takes a supermajority, or six votes, on St. Johns' nine-member board to dispose of land and that any money raised can only be used to purchase other conservation lands.
At least five of the current board members were appointed by Scott, however, and several others are up for reappointment in the near future. It is probably safe to say they will not be allowed to continue on the board if they oppose Scott's policies.
"The governing boards of the districts will have an opportunity to review their staff's recommendations and hopefully make wise decisions," says Vero Beach environmental consultant David Cox, who is concerned about the review process. "Those decisions will then either be supported or overridden by the governor.
"If you ranked Scott on a number basis the way they are ranking these lands, you would have to go into negative numbers to characterize his record on the environment."
Cox says he is not reassured by the claim that money raised by land sales will only be used for land acquisition.
"Lottery proceeds are supposed to be set aside for education, but year after year the state raids that cookie jar for other purposes," he says.
The same is true of the multi-billion-dollar settlement Florida received from tobacco companies in 1998. The money was supposed to be used to discourage kids from smoking and help smokers quit, but Florida used only 29 percent of settlement funds spent in the current fiscal year for anti-smoking efforts, using 71 percent for other purposes.
"There can be a gap between the stated policy for a fund and how it actually gets spent," Cox says