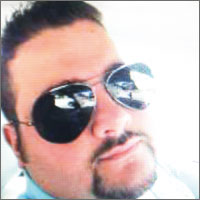 Kish:'I didn't tell truth.'Vero airline scheme crashes
STORY BY MEG LAUGHLIN, (Week of July 12, 2012)
Photo of Vincent J. Kish
After a month of soaring high with a plan to bring a commercial airline to Vero Beach, 25-year-old Vincent J. Kish from Boynton Beach belly-flopped when potential investors dropped him from further consideration a few days ago.
"They walked away after they read an article about me that scared them off," he said.
The article, which questioned Kish's credentials, appeared in Vero Beach 32963 last week, and pointed out numerous inconsistencies and misrepresentations in Kish's various resumes that had not been checked by government officials or others advocating his airline plan.
In the article, Vero Beach Airport Director Eric Menger said he thought it was too early to question Kish's resume because it might "undermine" Kish's attempt to get investors.
In the resumes that caused his downfall – both oral and written – Kish claimed he held several airline positions he never did as well as university diplomas he never earned. He also made himself 10 years older than he is, apparently to account for years of falsified experience.
"I didn't tell the truth. I learned a lesson. My investors walked away and I'm walking away with my tail between my legs," said Kish.
Vero Beach City Manager Jim O'Connor defended the fact that city officials did not check out Kish's background. "It is not the role of city officials to kill a good idea,"  he said.
If Kish got investors, O'Connor said, the city  would still be willing to negotiate with him.
"The 32963 article about his background did make us pause. But if he gets legitimate aircraft and pilots, a few problems in his resume probably wouldn't stop us," said O'Connor.
When asked if he was concerned about Vero Beach residents flying with an airline run by someone with a history of falsifying information, O'Connor responded: "If Vincent Kish can get the permits from the FAA, it's not up to us to judge him."
But investors apparently did.
 Vero Beach Mayor Pilar Turner said she wasn't surprised the scheme fell apart. She received a letter from Kish several weeks ago, and said it make her skeptical.
"There was no background information – no credentials. I questioned his credibility," she said.
More than once, said Turner, people have presented themselves to local government and omitted information or lied about their backgrounds.
"We get a lot of crazies here. It's time we asked more questions and verified backgrounds," she said. "Commissioner (Bob) Solari has repeatedly said this."
Indian River County Commissioner Bob Solari, a former Vero City Council member, said "I do know that if staff is spending time with a person, then taxpayer money is being spent.  Before we proceed with anyone, we need a fair degree of clarity about who that person is."
Meanwhile, although Kish has given up his plans for a Vero Beach commercial airline, he says he will present his proposal to a major airline to see if it might be willing to start commercial flights in Vero Beach.