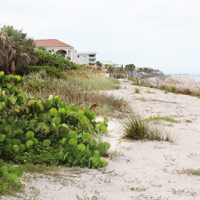 New home set for Ocean Drive will be largest in Central Beach
STORY BY STEVEN M. THOMAS, (Week of July 26, 2012)
Photo: New oceanfront home set to change look of Ocean Drive.
Katherine McConvey, founder of a billion-dollar company that provides material and logistics to AT&T and other telecommunications firms, is preparing to build one of the largest homes Vero has ever seen on Ocean Drive in Central Beach.
The city of Vero Beach approved the site April 19 and the county is close to issuing a building permit for an 18,000-square-foot home, which is slated for completion in June 2013.
McConvey bought adjoining oceanfront lots from two different sellers in November, paying $2 million for each lot, $4 million total. The lots are midway between the Spires and the southern end of the city boardwalk.
The 1.4-acre parcel is 312 feet deep and has 200 lineal feet of ocean frontage.
Kay Brown of Premier Estate Properties was McConvey's Realtor.
"Katherine bought a fabulous piece of property and she is going to build a fabulous house," says Brown.
The 18,000-square-foot flat-roofed foot house is purely modernist in design, evoking the Bauhaus style with simple lines and a minimum of ornamentation. It will include 5 bedrooms, 5 full bathrooms, 2 half-baths, upstairs and downstairs laundry rooms, media room, office, living room, family room and kitchen as well as numerous patios and terraces.
The 168-foot-long 2-story structure will be built on pilings between the 1981 and 1987 coastal construction control lines; 6,500 cubic yards of fill will be brought in to raise the lot and put the house above the reach of anything but a 100-year flood or storm.
Designed by celebrated New York architect Jared Della Valle, the house will sit back about 75 feet from Ocean Drive behind a hedgerow of trees and other plantings. A 3-bedroom, 3 ½-bath, 2-story guest house in the same architectural style will be located between the main house and road.
There will be two large swimming pools with patio islands and a number of fountains.
The dunes behind the house will be stabilized and enhanced with approximately 4,000 native plants, including 68 saw palmettos and 700 dune sunflowers. The backyard will be connected to the beach by a wooden walkway/bridge extending over the dunes.
McConvey founded KMM Telecommunications in New Jersey in 1991 as a Woman's Business Enterprise. According to its website and other sources, the company does more than $1 billion in business annually with locations in 18 states, including Florida.
Starting as cable-cutting company, supplying packages of precut wire to telecoms for specific installations, the business expanded to include a wide range of additional services such as product sourcing, inventory planning, material warehousing, contract and project management, and supply chain information technology systems integration.
Customers include Verizon, BellSouth and AT&T.
In 2006, McConvey and Jared Della Valle founded Alloy LLC, a real estate development company in New York City. The company has designed and developed a number of award-winning projects including energy-efficient single family residences, affordable housing complexes, mid-rise condominium towers and loft conversions.
According to the company website, McConvey is the financier, Della Valle the creative engine. His work adheres to core modernist aesthetics elevated by imaginative twists that thankfully do not drag it across the line into post-modernism.
The Bauhaus style seen in the Ocean Drive residence is one of the most important and enduring influences in modern architecture.
Born out of a search for efficient housing construction in the aftermath of World War 1's devastation, it stripped away superficial elements and superfluous impulses, tapping into the archetype of shelter and exemplifying the ideas that form follows function and that structure is design.
The lots where the house will be built were cleared of underbrush and debris several weeks ago and construction is scheduled to begin this month.
"The plan examiner sent the prints back to the architect today with a couple of notes," said a spokesperson for the county building department Friday.
The notes request technical specifications for several systems, including an air-conditioning unit and a handrail. The examiner's letter says he is prepared to issue a permit when he gets the required information.