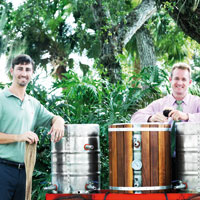 Orchid Island Brewery seeks to tap craft beer market
STORY BY EILEEN KELLEY, (Week of July 5, 2012)
Photo of Orchid Island Brewery's Alan Dritenbas (left) and Alden Bing.
If cities like Boulder and Bend can do it, can Orchid Island Brewery become the next sensation on the national craft brew scene with a beer called Ruby Red IPA?
An architect and commercial banking lender with years of experience brewing beer in a garage think so, and hope to be selling beer on the island in the next few months.
Architect Alan Dritenbas of Edlund, Dritenbas Binkley and island resident Alden Bing are hoping to strike it big with a name and flavor deeply engrained in our barrier island's roots: grapefruit.
Most of the dozens of beers that they developed in Bing's Central Beach garage are infused with citrus, either grapefruit, lemon, lime or orange.
"This is us. This is our history," said Bing.
Make no mistake, Bing and Dritenbas' products are not fruity copy-cats of the giant beer sellers. As craft brewers, they strive to develop a quality beer and believe in quality over quantity.
"Everything we brew, we brew the hell out of it until we are happy with it," said Dritenbas, 29. He keeps copious notes on each batch in a little black book. They have experimented and refined dozens of different beers.
Standing in Bing's garage one day last week, Dritenbas cracked open several beers that he and Bing, who is also 29, have been refining. As artists tend to do with their work, the two took turns sharing the back story of the brew and throwing in vignettes about their life-long friendship.
By naming their business Orchid Island Brewery, Dritenbas and Bing look to enhance the region's history as a citrus giant while heightening awareness of the craft beer movement.
Beer lovers gave Dritenbas and Bing a warm welcome last fall at a craft brew festival in Fort Pierce and then in Vero Beach in February when the Rotary Club kicked off its first craft brew and wing festival.
Internet beer bloggers also took notice giving accolades to Orchid Island Brewery.
Some well-heeled investors, impressed by their brews, offered to help finance the brewery.
Dritenbas and Bing declined the offer, saying their route for now will go from garage to local brew pub before they set their sights on getting a full-scale manufacturing license.
The craft brewery scene took off in the early 1980s and then hit a wall, with many brewers shuttering their facilities. As the movement makes a comeback, Florida is getting into the scene.
On a per capita basis, Vermont with its 21 craft breweries is king, offering one craft brewery for every 29,000 residents in the state. According to the Brewers Association, Oregon has a second place per capita ranking with 121 craft breweries followed by Montana, Colorado and Maine.
Florida still ranks near the bottom of the barrel – No. 44 – with 39 craft breweries in the state.
Still, it is a start and growing, said Matt Webster, a former Colorado mortgage broker whose line of craft beers with Tequesta Brewing Company are well received.
When Webster moved to South Florida in 2000, finding a store that carried Sierra Nevada Pale Ale was considered edgy.
"You come down here from Colorado and you are like, 'Where did all the beer go?'" Webster said of the dearth of craft beer available in the area. "In downtown Denver, you can sit on a street corner and throw a rock and hit three breweries."
That has changed since Webster arrived in Florida, making it a "double curse" as he now tries to keep up with the demand.
When the 40-year-old opened his brew pub inside the already established Corner Café in Tequesta on election night 2008, he figured it would take him about three to five years to outgrow his spot at the café. It happened within six months. He has since moved to a spot next door and plans to expand again.
Webster said the town, on the northern edge of Jupiter is delighted to have a local brewery and fears that one day he'll have to move because he has outgrown the area.
Tequesta Brewing Company now sells beer on tap at 115 different places including several places in Vero Beach.
Dritenbas and Bing have spoken to Webster about his business and have been talking to the beer distributors around the area about possibilities should Orchid Island Brewery become a hit.
For now, they are thinking local and small with the hopes that Vero Beach's islanders will embrace the notion of a local brew pub just as locals did in Tequesta.
Until the brew pub licensing matter is closer to being finalized, they are not disclosing where they hope to set up shop on the island. Both say they intend to keep their day jobs as well.
If all pans out, they anticipate brewing the equivalent of about 50 gallons or 1½ barrels on site at a time, and offering at least three different choices on tap. Their hope is to quench the thirst of beer connoisseurs by offering various IPAs, Stouts and a seasonal collection of beers for the casual beer drinker. Alcohol content will likely range from 3.5 percent to 10.5 percent.
It takes about three weeks from cracking the grain to get the beer to the tap, said Bing.
"We have an appreciation for beer and our history here," said Bing.
Bing and Dritenbas' friendship dates back to preschool in Indian River County. As youngsters, they scampered through the orchards tossing grapefruits at each other.
After graduating from Vero Beach High School, they both went to Florida Atlantic University and earned their college degrees.
The notion that one day they would become brewers was born in Fort Lauderdale during a pre-wedding, guy-only get-away where they got to brew their own beer before Bing got married four years ago.
They've been hooked since.
"It's a lot of fun," said Bing.
Once the pressure of the licensing aspects of the deal abates, they will enjoy it all the more. "It's going to be pretty exciting," said Bing.