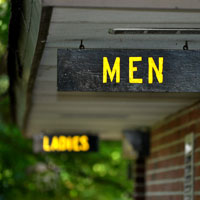 Sex charge highlights problems in some county parks
STORY BY EILEEN KELLEY, (Week of July 12, 2012)
The recurring problem of men trolling for other men in county parks drew attention anew late last month when a physical therapist was arrested for the second time in six years for exposing himself in a public restroom on Wabasso Causeway.
Christopher Boyden, 48, who goes by the name Bhaja Boyden at Compass Medical on 14th Street where he is a physical therapist and administrator, was arrested when a 34-year-old man accused him of snapping photographs of the alleged victim as he used the restroom, and then sat naked in an open restroom stall masturbating.
Boyden, who six years ago pled guilty to a similar charge, this time pled not guilty and is asking for a jury trial.
Officials say incidents of indecent exposure – while receiving little attention – are far from rare in county parks.  "It happens every day.  Every day," said Beth Powell, a conservation land manager with Indian River County.  "It's a terrible problem and it has been going on for years."
One place where primarily homosexuals engage in sex in public is the Oslo Riverfront Conservation area, she said, but it is happening at all the county parks and conservation areas.
On the barrier island, the county park near the former tracking station off A1A is a particular problem area, Powell said.  "It's a problem that no one wants to talk about."
A few years ago the sheriff's office stepped up its patrols and sent undercover officers to try and blunt the problem, said Jeff Luther, a spokesman for the sheriff's office who also worked some of those cases.
Powell said it helped, but has not stopped the problem all together. She said she still sees the same cars trolling the parks that she saw five years ago.
"My biggest fear is a child running ahead on a trail and being exposed to that," she said of people having sex right along the trails, or in the public restrooms.
In the latest charge against Boyden, the victim claims that after calling 911 and confronting Boyden, the suspect began deleting the photographs he allegedly took with his cell phone. Boyden, a Sebastian resident, denies the charge.
His arrest comes six years after he pleaded guilty to charge that he masturbated and exposed himself to a sheriff's deputy outside the causeway restrooms.
In that case, Boyden pled guilty to the misdemeanor charge and asked a judge for leniency before being sentenced.
In a letter to Judge David Morgan, Boyden at the time described his crime as a moment of selfish behavior which caused harm to many in the community. He apologized and said he took responsibility for his actions.
"I cannot undo what I have done, however I can only change my behavior looking forward," Boyden wrote. "I recognize my responsibility and that I have an opportunity to change. In having this insight, I recognize deeply how I have hurt others, family; friends in my community, my changing can only help to rectify the broken trust and concern."
Two nurses and an elderly man that Boyden has helped in the past also wrote letters on Boyden's behalf.
Morgan sentenced Boyden to 30 days of house arrest, counseling and placed him on 12 months' probation, at which time he was not allowed to go near public parks.
Now, Morgan again is presiding over Boyden's latest case.