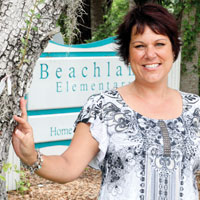 Caroline Barker returns to Beachland as new principal
STORY BY EILEEN KELLEY, (Week of June 28, 2012)
Photo of principal Caroline Barker
They each sit in their respective seats: The principal in a sturdy chair behind a desk; the assistant principal on the other side.
The hang on each other's words as they talk about days gone by when the two gathered in their respective spots, and reviewed the day's events long after the children and other staff called it a day.
In this office and in this very same chair, Caroline Barker would be groomed to one day to take the seat behind the big desk at Beachland Elementary school.
 On July 1, it will become official as principal Carol Wilson starts her retirement and Barker becomes the principal of the barrier island's only public school.
As the women sat in their respective chairs late last week, both admitted they were on the verge of tears.
Wilson has already started dismantling her office. She vowed not to take much with her as she ventures off into the world of travel and retirement, but she's having a hard time parting with treasures she's collected over the last decade.
"I already have about four or five boxes, said Wilson. "It seems so surreal. Sometimes, I feel really happy and other times I feel sad."
Wilson offered to leave a photo of the two of them, a photo where they dressed in costumes as a way to celebrate and get young people thrilled about learning.
Barker reminds her that she, too, has a copy of the photograph and intends to display it in the principal's office when she moves in after July 1.
Wilson and Barker's professional relationship date back six years when Wilson hired Barker to be her assistant principal. That's when the mentoring and the daily recaps inside the principal's office began.
Wilson was so confident in Barker and her abilities to take it to a next level, becoming a school principal, that she encouraged her to apply for the job when she announced her retirement recently.
Superintendent Fran Adams agreed and made it official.
"It's good to mentor somebody whom you know understands what it takes to do this job," Wilson said. "I've seen her desire to step up to the next level."
Barker was transferred to Treasure Coast Elementary in Sebastian for the last school year when the superintendent shuffled assistant principals around the district.
"It will be like coming home," said Barker.
Like many Northern transplants, Barker stumbled upon Indian River County 18 years ago when she left her home on Long Island for a chance to chase a dream and become a teacher in an area that was hiring.
Barker told another New Yorker who had come down to Indian River County for a teaching job that she'd give it a shot in the south for a year and then return to Long Island to find a teaching job.
She never returned north.  Instead, four days into her new life in Florida, she met the man that she celebrated 14 years of marriage with just last week.
Caroline and Will Barker have two children, a son Thomas who just fintwo children, Thomas who just completed fifth grade at Beachland and Lydia who will be a second-grader at the school this fall.
Barker's daughter is thrilled to have her mother back at the school.
"It's cool," said Lydia while accompanying her mother to the school one day last week.
Barker got choked up when talking about what she learned from Wilson.
Teaching just isn't about academics, said Barker, it's also about helping young people develop good and strong character. "She taught me the Beachland way," said Barker.
Back in New York, Barker spent her early career as a bookkeeper after being trained in accounting. It was volunteer work at her church with young people who were struggling academically that brought her to the realization she wanted to become a teacher.
She went back to school and specialized in special education. She is a certified behavior analyst and earned a master's degree in educational leadership at Nova Southeastern University.
Prior to Wilson hiring her to be Beachland's assistant principal six years ago, Barker was a student specialist at Thompson Elementary, a job that in many respects is akin to that of a dean of students or a guidance counselor.
She taught students with varying exceptionalities as a special education teacher at Thompson Elementary and Oslo Middle School.
"I'm really looking forward to being back at Beachland," said Barker. "It's nice. It's very familiar."
Many students and their parents have reached out to her to welcome her back to the island.
"It's really heart-warming," Barker said.
For parents and neighbors of the school who don't know Barker, they will get a chance to meet her July 12 when the school district will once again present a plan to ease the traffic snarls on Indian River Drive and Beachland Boulevard at parent pick-up time.