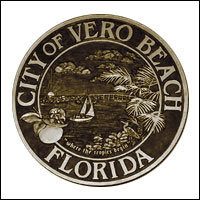 O'Connor seeks an ex-city manager to help with cutbacks
STORY BY LISA ZAHNER, (Week of June 7, 2012)
Vero Beach City Manager Jim O'Connor, anticipating a struggle as he seeks to carry out badly needed municipal staffing and benefit cuts, is looking to fill the open human resources director position with an ex-city manager "who has gone through this recently and built up their armor."
"I am looking for someone who would be prepared to take the hits and deal with what they're going to be dealing with," O'Connor said in an interview with Vero Beach 32963.
The retirement of Human Resources Director Robert Anderson – whether completely voluntary or not – gives O'Connor the opportunity to bring in someone who can be counted on to be a hard-nosed ally in dealing with labor unions in carrying out overdue reforms at City Hall.
O'Connor was looking for such a person last week at a conference of Florida's city and county managers. The event was attended by a several hundred active and retired city and county managers, or managers with substantial experience who, as O'Connor characterized it, are "in transition."
"I talked to about five people, from Central Florida down to Palm Beach County," O'Connor said after the conference.
"I focused not so much on retired city managers, but on possibly a manager in transition, someone who has gone through this (budget and staffing cuts) recently and who has built up their armor," he said.
O'Connor said he's hoping to have one or two of the people he met visit Vero very soon.
At this stage, O'Connor declined to name names, but said he was impressed with the credentials of a female candidate.
Why would someone who has been a city manager consider taking a job as a head of a very small department with the City of Vero Beach?
Anderson's salary of $110,000 plus benefits, temporarily reduced to $104,595 this year due to budget cuts, might look pretty attractive, as would the promise of potentially greater job security. If done well, O'Connor said, the job could be a long-term gig for the right person.
"I have talked to some of the people about having a contract because they were concerned that the job would only be for a limited time, but if the person is really good, I'm still going to need an HR director when some of this is said and done," he said.
The Florida City and County Managers Association lists 21 "Members in Transition" on the group's website. There are only 295 city or county manager jobs in all of Florida, and only nine open manager or assistant manager positions are currently posted on the group's jobs page.
Though the average tenure of a city manager in Florida is six years, that number is skewed upward by a small cohort in sleepy towns who have held onto their posts for a career.
The more typical shelf life of a city manager slogging it out in a politically volatile place like Vero Beach is three to five years. Even in good financial times, as cited in a 2005 issue of State and Local Government Review journal, the "The odds of remaining for more than a decade in a single community are infinitesimally small."
Anderson had held the job of human resources director for eight years and, according to employee sources confirmed by Councilwoman Tracy Carroll, he would still be there had he shown greater enthusiasm about helping O'Connor carry out the council's policy directions.
The new director could oversee both the human resources and risk management departments, as O'Connor said he does not intend to replace retired Risk Management Director Barbara Morey.
Instead, O'Connor said he hopes to drastically reduce the city's risk exposure by proposing a switch from the current self-insured health plan to one managed by benefits professionals, such as the Florida League of Cities, or to a full-scale Blue Cross-Blue Shield plan.
Significant changes in employee health plan requirements, O'Connor said, make in-house management of health insurance – where costs have soared – look more and more untenable going forward.
Health plan costs for Vero Beach city employees, retirees and their dependents were projected to be close to $7 million this year, or about $9,300 per person. That cost is roughly $1,500 more per person than Indian River County expects to pay.
"I'm not sure it's possible for a person in the city to keep track of all the changes to the laws and regulations and requirements for minimum employee health insurance benefits," O'Connor said.

As national health care legislation is phased in over the next few years – or overturned, as the case may be – what the city must provide to employees is a continually moving target.
In addition to citywide budget cuts, union negotiations and the reform of pensions and benefits, three other challenges await the new head of human resources:  performance reviews, the sale of the electric utility to Florida Power and Light, and the downsizing of the water utility.
Last fall, supervisors began conducting annual employee performance reviews. Though police officers have been reviewed all along and a handful of department heads in the past had conducted their own reviews, most city employees only had one probationary review when they transitioned to permanent employment.
The first round of performance reviews, which will be completed in September as all employees' anniversary dates cycle around, were very basic and did not include measurable goals and objectives. O'Connor said the next version of the city review form will be more of a management tool.
"It will be the new person's job to implement and coordinate the reviews," he said.
If and when the electric utility is sold, the city will offload up to 113 employees and their records to FPL. Some who are eligible will retire and some will transfer pension benefits to the FPL plan.
The new human resources director would oversee that transition and also ensure that the promised FPL "buyout" of pension liabilities is handled properly.
Finally, the city's water and sewer utility is set to trim its workforce from 71 employees to about 40 over the next couple of years to implement the GAI Consultants' "optimization plan" designed to keep the city's utility competitive and deliver on the promise of providing lower county rates to the Town of Indian River Shores without raising the rates of city water and sewer customers.
Some water and sewer employees may retire. Others could be placed in other city departments or with the county utility as it expands to accommodate the south barrier island customers in 2017, but a good many will get a pink slip, delivered by the new human resources director.
By the time all that arduous work is done, O'Connor, who was 62 when he was hired last summer, might be ready to retire, opening up the city manager's spot for someone who has earned the confidence of Vero's elected leaders.