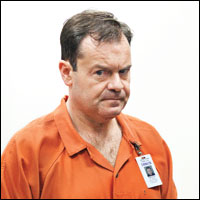 Beachside lawyer Richard Brown again pleads guilty
STORY BY EILEEN KELLEY, (Week of March 22, 2012)
Photo of Richard Brown
Disgraced beachside attorney Richard Brown's face was blanketed with a look of confusion, appearing as if he wasn't certain where he was when he quickly glanced at a crowd filling the last two rows of seats in the back of the courtroom.
But late last week, a shackled and bedraggled-looking Brown, clad in an orange jail jumpsuit and slip-on sandals, stood in the same spot he has stood many times since last spring when he faced a judge on a litany of 30 charges that could land him behind bars for a very long time.
When Brown, 45, last stood before Judge Robert Peg in December, he withdrew his guilty plea and asked to go ahead with a trial where is accused in of bilking clients out of more than $400,000.
On Friday, Brown changed his mind again and pled guilty to the charges. He will be sentenced April 27.
Brown appeared to have been banking on a trial to clear his name when in December he was allowed to recant his first guilty plea after learning his attorney mistakenly told him that he faced no minimum jail time. In fact, at the time, Brown actually faced a minimum sentence of 20 months.
But over the course of just a few months, more charges were filed against Brown when an out-of-area 32963 reader contacted prosecutors and said Brown victimized her by forging a signature on a $100,000 check meant to go to accident victim Christopher Holland's family to pay off medical bills. Brown told family members the settlement was only $10,000, and they'd receive just $5,000 of that.
Brown pleaded guilty to the latest charges Friday as well as the others.
"Did you (take) $90,000 of that settlement for your own use?" Assistant State Attorney Lev Evans asked Brown.
"Yes, sir," Brown replied.
With money laundering, insurance fraud and theft charges hanging over head, Brown now faces a minimum of eight years in prison. The maximum sentence under Florida guidelines for his crimes totals 130 years – up significantly from when he first pled guilty – although it is unlikely he'll receive such a harsh sentence.
"Are you aware of all the charges," Evans, the lead prosecutor in the case asked Brown.
"Yes sir," Brown replied.
Evans then asked Brown if he understood that he faced a minimum of 99 months in prison.
"Yes sir," Brown said.
As Brown was ushered from court, his victims stood in a semi-circle around the prosecutor for a de-briefing on the morning's events.
"I view this guy as a chronic thief and I don't want him out (from behind bars) to rip off the other 20 million people in the state," Evans told the group of 10 people.
The group consisted of mostly victims, along with Brown's ex-wife, Natalie, who have religiously attended Brown's hearings over the last year.
Brown's sentencing hearing will be a chance for victims to speak their minds and tell the judge how their lives have been impacted by their thieving and – now disbarred – lawyer.
Evans cautioned them that judges have some leeway with sentencing guidelines and can decide that paying victims back may be more prudent than incarcerating them for years.
That's when Brown's ex-wife spoke up saying he hasn't paid any of the court-ordered child support to his daughter.
The victims can apply to the Florida bar to be compensated for their losses.
Evans again cautioned them not to assume Brown would ever be able to personally pay them back for the money he admitted to stealing.
"It looks as if he was spending it as quickly as he was stealing it," Evans said.