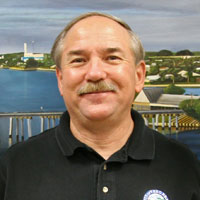 Coment, three others vying to be Vero city attorney
STORY BY LISA ZAHNER, (Week of March 1, 2012)
Photo of acting City Attorney Wayne Coment.
The man who is chosen out of the four finalists of the Vero Beach City Attorney post could come in with a salary of $120,000, a contract and an attractive benefit plan and moving expenses, if needed.
Acting City Attorney Wayne Coment applied for the job. He's hoping the only move that would be required would be one from his office to the permanent office of city attorney.
"There are many aspects of my legal as well as business professional experience that make me uniquely qualified for the position of city attorney, especially at these important and exciting times for the City of Vero Beach," Coment said.
"However, I believe the most important aspect that clearly sets me apart is the professional and practical experience and knowledge that I have acquired from having successfully provided effective legal services to the City of Vero Beach for more than 10 years."
Coment took over a year ago after former City Attorney Charles Vitunac departed amid controversy and his pending termination after the City Council lost confidence in his legal advice.
Coment was seen to be loyal to Vitunac, but over the past year has handled the job with few major complaints from the council – few in public, anyway. In private, council members indicate Coment has not vigorously protected the City Council legally because he was sore at them, individually and as a body, about actions taken to fire Vitunac.
An Indian River County resident for 13 years, Coment cites his attention to detail and his high level of patience as key to the job, as well as his background in the relationships and personalities involved in city business as selling points for the council to keep him.
"It is better to get it right in the first place than to fight about it in court later," Coment said.
If Coment doesn't get his old bosses' job, he could be looking for a new job himself later this year as the city weighs whether to shrink the size of the legal department.
Currently, the city employs Coment and Assistant City Attorney Peggy Lyons, plus one full-time clerk and has an attorney position open. The 2011-12 budget for the department is $537,000, down from expenses of $634,000 last year due to Vitunac's retirement.
A full $180,000 of this year's $537,000 budget goes to city contributions toward employee pension, health and life insurance. In addition to that, the city is set to pay transactional attorneys, the firm of  Edwards Wildman of West Palm Beach, about a half million to navigate a deal with Florida Power and Light for the sale of the electric utility.
In theory, should Vero shed its electric utility sometime soon, it would remove some of the workload from its staff attorneys.
According to City Manager Jim O'Connor, prior talk about the need for only two attorneys instead of three has not yet gelled into a proposed budget.
"No, I have not proposed a budget for that department yet. We are in the preliminary stages of the budgeting process," O'Connor said.
"Personally I think the staff is fine with two full-time attorneys," Councilwoman Tracy Carroll said.
Meanwhile, one of the final four applicants – a hometown boy – has been angling for the position, touting his ties to the community and his knowledge of Vero's people and problems.
Jim Wilson attended the Rotary Brewfest on Saturday at Royal Palm Pointe, where he pressed the flesh with Vero Beach City Council members and city staffers.
"I got a chance to meet Mr. Wilson and to introduce him to Jim O'Connor. Mr. Wilson actually knows a substantial amount of people in this town because he grew up here," Carroll said. "He would have substantially less of a learning curve, grew up with and went to high school with (Assistant City Attorney) Peggy (Lyons) and he actually worked for the city before.
"For him it's coming home," Carroll said. "I think he's the favorite at this point."
Currently the city attorney for West Melbourne, he previously served 12 years as St. Augustine city attorney. Locally, he worked as an assistant county attorney for Indian River County from 1984-1987, for Vero's legal department from 1987-1991 and then as the Orchid town attorney from 1991-1995.
Wilson also worked for both the State Attorney and the Public Defender in the 19th Circuit, which serves the Vero Beach area. He is a native of Vero Beach and a Vero Beach High School graduate.
Carroll said she has a great deal of respect for Lyons, who recently went from part time to full time, and that she's looking for someone to work with and complement Lyons to complete the city's legal team.
"The job of the city attorney is to represent the wishes of the council and the needs of the city, and where a lot of his work will be with the staff, there is a check and balance to make sure the city staff is doing what's required by the state laws," Carroll said.
In addition to Coment and Wilson, finalists include Daniel Collette of Ohio and Fred van Vonno of Stuart.
Hancock County, Ohio Attorney Collette worked for Palm Beach County for eight years as assistant county attorney with a focus on land use and water utilities issues. He is a member of the Florida Bar with 15 years' experience in Florida practice.
Van Vonno works for a law firm which has represented Florida Power and Light in the valuation of its utility facilities. Previously, he served for 13 years as an assistant county attorney for Martin County.
Minimum requirements for the job include a law degree from an accredited law school, Florida Bar membership, at least 10 years municipal law experience, trial experience and a willingness to relocate to Vero Beach. All of the finalists exceed those minimum criteria.
The recruiting and screening of candidates is being done by Vero firm HR Dynamics, the same people who handled the city manager search which netted Jim O'Connor from Winchester, Va. More than 50 people applied for the city attorney job.
The Vero Beach City Council was set to interview the four finalists individually Tuesday, setting them up in separate rooms and rotating around in 45-minute intervals – the employment equivalent to speed dating for a city attorney. Should the search proceed similar to the way the city manager was hired, the final two might be interviewed in a public meeting.
At one point, there were five finalists, but Gary Oldehoff, a private attorney with 18 years' experience representing Sarasota and Martin counties, dropped out of the running last Wednesday.
The issue of the employment contract did not prompt much discussion at the last council meeting, but it could be seen as a step backward in reining in expenses with related to employee compensation and benefits.
Carroll said Councilman Craig Fletcher, who was appointed by the council to work with HR Dynamics on the selection process, indicated that several of the candidates emphasized the importance of a contract with severance and moving expenses as a condition of leaving their current employers to sign on with Vero.
Coment said he would take the job without a contract.

"It is not necessarily important in that I have confidence in my over 10 years of proven effective service to the City of Vero Beach and its citizens, and have no doubt that I can continue to exceed the requirements and demands of the office. I think the more important consideration is the level of support from the City Council," Coment said. "Whether the employment contract is in the form of a formal written agreement or not, the city attorney is an at-will employee, as it should be. The client always has a right to legal counsel of their own choosing."