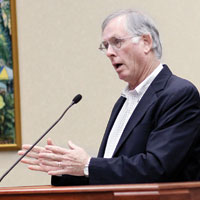 Search firm for City Attorney doing well off Vero taxpayers
STORY BY EILEEN KELLEY, (Week of March 22, 2012)
Photo: David Johnson of HR Dynamics answers questions.
The search firm responsible for screening Vero Beach job applicants – which effectively gave the nod to a man who had been arrested twice on prostitution charges – has been paid more than $17,500 by city taxpayers over the last two years.
David Johnson's company HR Dynamics stands to make another $5,000 for its recent services that helped put Daniel "K.C." Collette briefly in the top spot to run the city's legal department.
The news about Collette's prior arrests didn't become public until after  the Vero Beach City Council  voted on 4 to 1 on March 6 to give him the $120,000-a-year job.
The council then backpedaled last week and voted not to continue negotiating a contract with Collette after news of his arrests became public. Instead, members voted 3 to 2 to appoint interim city attorney Wayne Coment to the job permanently.
Coment was one of five finalists out of more than 50 applicants.  A fifth person decided to drop out before interviews were conducted.  
As acting city attorney, Coment made $102,203. 
Mayor Pilar Turner and Councilwoman Tracy Carroll did not support Coment. Carroll was one of two council members who also didn't support a motion by Turner to stop negotiations with Collette after his arrests came to light. Craig Fletcher sided with Carroll by supporting Collette last week.
"I still think Mr. Collette is the best person for the job," Fletcher said.
Coment has been at the helm of the legal department since taking over the job in an acting capacity about a year ago. Still, council members decided they wanted to do a national search and pay HR Dynamics $5,000 to help lead it.
Johnson admitted to the council he probably should have looked deeper into Collette's background before the March 6 vote.
Many members of the City Council were under the impression Collette had been thoroughly vetted. Fletcher even asked prior to the vote if background checks had been done.
Johnson answered in the affirmative March 6.
The actual responsibility for performing a criminal background check, however, falls to the city's human resources department.
Carroll said Monday that it's clear there was a breakdown of communication between Johnson's company and the city's human resources department. She said the best way to avoid something like this happening again in the future is to have a policy in place that applicants are subjected to criminal background checks and must submit completed applications before any vote is taken.
Johnson last week said that that he may have misspoken at the meeting because no criminal background check had been done on Collette, and he noted Collette also had not filled out an application that clearly asks about past arrests until after he was tapped for the job.  Johnson said the delay in getting Collette to complete a city employment application, which would have red-flagged dthe arrests, was caused by "distance," even though Collette was in Vero Beach City Hall for his job interview in February.
Employment applications were filled out by many of the initial 50 plus applicants, including nearly all of those from out of town.
Collette told Vero Beach 32963 he informed Johnson that he had been arrested and the details of it were out there for the world to see on the internet.
Johnson said he felt his hands were tied by privacy laws, but the laws would not have prevented his asking Collette about his arrest and doing a background check.
Some were outraged by the events leading up to the Collette decision.
"Taxpayers should get a full refund," wrote Linda Hillman in a letter to City Council last week. "This is an injustice and a complete waste of time and money spent on this adventure. Where was the consultant's head? How can he give the thumbs up to the city to hire this man?"
Hillman's letter was one of four the city received after news of Collette's past broke.
"I am appalled," wrote resident Betty Reeves in a letter to council.
Reeves' letter asked Council to reconsider giving the job to Collette and to negotiate a discount with HR Dynamics for "incompetent service."
Johnson claimed he did internet searches but limited them to Ohio. "I should have spent more time on Google in Palm Beach," he said.
Prior to the vote to stop negotiations with Collette, Johnson told the council he was no longer comfortable promoting Collette for the job. "Knowing what we know now," he said.