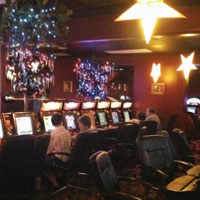 The Pyramid: A look at cut-throat world of arcades
STORY BY MEG LAUGHLIN, (Week of March 15, 2012)
The Pyramid, an adult arcade, on US 1 in Vero Beach is closed.
No more senior citizens gathering to play slot machines, drink free Coke and talk.
No more complimentary hot lunches or the thrill of pushing the magic button and watching the bats or cherries line up on the screen for credit on a gift card or a cash IOU. 
A "for rent" sign now is pasted to a dark window where The Pyramid arcade once operated.
"A lot of us wonder what happened. The Pyramid just disappeared over night." said former customer John Hood, 78.
Behind the "disappearance" is a Byzantine tale that affords a rare look into the clandestine, cut-throat world of adult arcade ownership. The situation and resulting lawsuits also raise questions about just what arcade/café owners report to the state for taxable income, long a concern of arcade critics.
For starters, the Canadian couple who owned The Pyramid sold it on Dec. 30, 2010, along with two other arcades, to MH Gaming in South Florida and Conihasset, an investment company near Boston.
The sale price for the three arcades – Pyramid in Vero Beach, Starlight I in Melbourne and Starlight II in Sebastian – was $1.6 million.  MH Gaming paid $600,000 of the money up front and signed a contract to pay the remaining million dollars over the next few years to JM investments, owned by a Canadian couple Joanne Gervais and Marcel Gravel, who live in Melbourne.
But, what appeared to be a lucrative retirement nest egg for the couple turned into a nightmare of lawsuits and counter suits.
The lesson: If you get into the get-rich-quick business of adult arcades, be prepared to play hardball.
While Conihasset bragged on its web site about its strong revenue growth from the three arcades, the Massachusetts holding company and its subsidiary MH Gaming were not paying rent on The Pyramid in Vero Beach or the Starlight arcade in Sebastian.
The president of Conihasset, Richard Bailey, would not discuss the apparent discrepancy between the good news on his company's web site and what was going on with their unpaid bills.
In October, 2011, the realty company for The Pyramid space, David Jay Realty of Boynton Beach, sued MH Gaming, saying it was $33,808.84 in arrears on rent.
In January, another realty company, Bay Street Sebastian of Boca Raton, sued MH Gaming saying it owed $19,516.73 in rent for the Starlight II arcade in Sebastian. Bay Street also sued JM Investments, saying the 2010 rental contract with the company obligated it to pay rent, if the new owner didn't.
The lawyer for seller JM Investments, Maurice Arcadier of Melbourne, wrote the lawyer for Bay Street Sebastian and said his clients, Gervais and Gravel, "are retired, have no income and their assets have been 'taken' by MH Gaming."  Arcadier called MH Gaming and Conihasset "the true culprits in this fiasco."
In December, 2011, JM Investments (Gervais and Gravel), sued MH Gaming for breach of contract because the gaming firm quit paying the monthly amounts toward the million dollars they were owed.
The buyer still owed more than $900,000, according to the contract. MH Gaming and Conihasset responded that they weren't paying the money because JM Investments lied to them about the arcade profits. 
As proof of the "fraud," they compared income amounts on handwritten ledgers from the arcades, supplied to them, to the monthly profit amounts that JM Investments turned into the Florida Department of Revenue, for which they paid a four percent sales tax.
The handwritten ledgers from JM Investments (Gervais and Gravel) showed that in the first three months of 2010, the three arcades pulled in $1,353,064, and in 2009, in three months, $1,402,742. 
But their tax filing for the same three months in 2010 showed an income that was $79,306 less and the filing for the same three months in 2009, showed an income that was $66,765 less.
Name your poison, new owners, MH Gaming and Conihasset, said.
The company's view: Either you, JM Investments, lied to us on the ledgers about how well you were doing to get an inflated S1.6 million out of us, or you lied to the Florida Department of Revenue to keep from paying what you legally owed in taxes. Either way, said the new owner who countersued, you've committed "fraud."
For years, adult arcades have been a thorn in the side of state tax collectors.
A 2008 report from the Florida Senate said they "appear to be illegal gambling halls ...operating without any rules, regulations, or industry norms."  As a result, said the report, "no method currently exists to identify how much revenue the senior arcade amusement centers are remitting to the state."
Which is to say: The difficulty in discovering an arcade's true income means owners, who so desire, can usually get away with cheating on taxes.
But the arcades' new owners MH Gaming had the ledgers and tax returns to put former owners, JM Investments, between a rock and a hard place. With that information, it not only quit paying what the sales contract required, it demanded more than a million dollars in damages.
JM Investments owners retaliated, according to MH Gaming, by going to the arcades and telling customers that the new owners had problems with paying bills and would probably be closing. 
That cost the company customers and a "run on the bank of over $25,000 in a week," said MH Gaming, because customers holding gift card credits and IOUs at the arcades cashed them in, en masse.
MH Gaming called the alleged action of JM Investments  "a 'message' of the kind of pressure (the former owners) could easily invoke."
Former Pyramid customer Hood remembered "something close to panic" at  The Pyramid as customers rushed to cash in.
"You've got to move fast when you hear rumors about closing because these arcades can be fly-by-night and not pay their debts," said Hood.
The next move in the war was MH Gaming's:  Employees turned in immigration information on Gervais' two sons who had worked at the arcades, saying that as Canadians, the young men, both in their 20s,  were in the US without the proper visas. When it turned out to be true, US Immigration barred the young men from the U.S. for 10 years.
In its countersuit, MH Gaming pointed to this visa mistake as further proof of how deceitful JM Investments was.
In late December, a circuit court judge evicted MH Gaming from the Pyramid space for failure to pay rent. Hood and his fellow players found another adult arcade with different owners.
"I wish I could walk away, entirely," said Hood.
Currently, the Bay Street lawsuit to collect past rent money is ongoing.