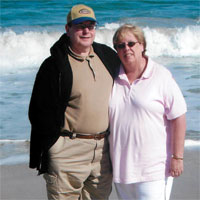 Suit: Doctor's failure to respond led to death
STORY BY MEG LAUGHLIN, (Week of March 1, 2012)
Photo of Arthur and Catherine Bollman.
The Bollmans were thrilled to start their life together in Vero Beach.
No more upstate New York winters. A queen palm in the front yard, a lake in the back and two screened porches.
Newlyweds in their early 60s, they couldn't wait to settle into their new home.  But on March 2, 2010, disaster hit and three weeks later Catherine Bollman was dead.
Now, Arthur Bollman is back in New York, alone and grieving, while a medical malpractice lawsuit against prominent vascular surgeon Pranay Ramdev works its way through the courts in Vero Beach.
On a rainy March day almost two years ago, Arthur Bollman was on his way back to New York to move some of the couple's belongings to Florida, and Catherine was shopping at the Indian River Mall with her new neighbor when she tripped and fell in the parking lot. At about 11 a.m. on March 2, 2010, she arrived at the emergency room of Indian River Medical Center in an ambulance.
She was diagnosed with a fractured right elbow, dislocated right shoulder and a dislocated left knee.
An emergency room doctor popped her knee and shoulder back into place, and an orthopedic surgeon arrived and evaluated her, recommending she be transferred to an emergency trauma center in Ft. Pierce for further evaluation.
Why that decision was made is unclear because the hospital record repeatedly said her vital signs were stable. Her injuries "were neither life threatening nor required transfer to a trauma hospital" and her treatment was "within the capability of Indian River Medical Center," the lawsuit says. 
At about 4:30 p.m., she was re-evaluated because of "decreased sensation in the left foot with poor distal pulses." She didn't have a pulse below her left knee, and she couldn't move her toes, which pointed to an alarming disruption of blood flow in her left leg below her knee – a condition, says the lawsuit, that "is both limb and life threatening if not treated urgently."
A routine bypass procedure restores blood flow, and must be done within six hours of a leg blockage or a patient is in serious danger of amputation and death, say the plaintiff's medical experts in the lawsuit.
According to Indian River Medical Center records, emergency room doctor David Gillis called Pranay Ramdev and asked him to come in immediately: "Discussed the (patient) with Dr. Ramdev who is on call for vascular surgery. He said to go ahead and transfer to Lawnwood for further evaluation. I told him of the possibility of a vascular injury to the left leg and he said to just send the patient," wrote Gillis.
About a half hour later, a concerned Gillis called Ramdev again. After the second call, he wrote in the hospital record that he "reiterated (to Ramdev) the time from injury to the time of decreased pulse and sensation in the left leg."
"I asked him to see the patient again and he said to transfer the patient to the trauma center," wrote Gillis.
At 7 p.m., Catherine Bollman arrived by ambulance at Lawnwood in Ft. Pierce. But – because of a lack of communication, according to the lawsuit – it was another 21 hours before a trauma surgeon operated on her leg to restore the blood flow below her left knee.
Because a total of almost 24 hours had passed from the time the occlusion was diagnosed, much of the tissue in her leg was dead, causing irreversible infection, according to Bollman's medical file. A few weeks later, a surgeon amputated her leg below the knee. 
After that surgery, Catherine Bollman went into organ failure and died two days later.
At first, the medical malpractice lawsuit included others as defendants. But in recent weeks, all of the defendants but vascular surgeon Pranay Ramdev were dropped from the suit.
The Bollmans' attorney David Spicer in West Palm Beach said he dropped everyone but Ramdev from the suit because a recent appellate ruling in a very similar case said that a malpractice claim could only arise "out of the rendering of or failure to render medical care or services." 
Only Ramdev, according to the hospital record, did not go to Indian River Medical Center and treat Bollman, which now makes him the sole defendant in the case for an alleged "failure to render medical care or services."
Neither Ramdev nor his attorney returned calls from a 32963 reporter seeking comment on the case.
In a written response in the court file, Ramdev said that Catherine Bollman's "own negligence and carelessness was the sole cause of the alleged injuries" and that he "is not responsible for her alleged injury or damage."
Ramdev has sterling credentials, according to Florida Department of Health records: He graduated from Dartmouth Medical School, did his residency and internship at the University of Rochester in New York, and completed a fellowship at Harvard Medical School
When he came to Vero Beach in 2002, he founded VIVA – Vascular, Interventional and Vein Associates.
"Dr. Ramdev is the most experienced minimally invasive/endovascular surgeon in Indian River County," says the VIVA website.
Why he refused to treat Catherine Bollman remains unclear.
Arthur Bollman is living in snowy upstate New York, but plans to come to Vero to live soon.  "I was so lucky to find Kay late in life," he said. "Without her, I'm lost."