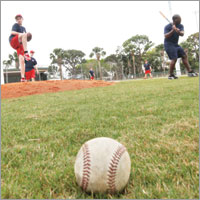 Boys of spring bring life to Sports Village
STORY BY STEVEN M. THOMAS, (Week of March 1, 2012)
Springtime in Vero hasn't been the same since the Los Angeles Dodgers abandoned Dodgertown, but  things are looking up at the rebranded Vero Beach Sports Village, and some of the excitement is back as April approaches.
The number and type of teams using the 67-acre facility where the Dodgers trained for 60 years is up this year and new fields under construction will increase use further, according to Pat O'Conner, president of Minor League Baseball.
"The complex is trending in a very positive way," O' Conner said. "The first two months of 2012 were better than the same period in 2011 and much better than in 2010."
New life was breathed into the county-owned facility in November, when famed former Dodgers owner Peter O'Malley and two former Dodgers pitching stars joined forces with Minor League Baseball, which has run the complex as a training facility for youth, high school and college teams for the past two years.
The complex's Presidents Day Little League tournament doubled in size this year, from approximately 25 to 50 teams, and the number of high school and college teams coming to the Sports Village for spring training is up 50 percent
"We will have 104 teams from 23 states and Canada," says a Sports Village insider. "Our spring training is geared toward teams from up north that come here to enjoy the weather and the wonderful campus. There will be 15 or 20 teams here each week from Feb. 25 through April 27.
"I want people in Vero Beach to feel free to come out and walk around and see everything that is happening," said O'Malley.
The complex hosted its first professional umpire training school this year, a Minor League Baseball sanctioned camp that brought 50 students and instructors to the Sports Village for 28 days beginning on Jan. 8.
The facility got another big boost when one of South Korea's eight professional baseball teams held a month-long training camp here from Jan. 15 to Feb. 15.
The SK Wyverns, an elite team from the city of Inchon named after its industrial conglomerate sponsor, had the best record in the Korean league three of the past five years, coming in No. 1 most recently in 2010 with 84 wins and 47 losses.
Seventy players and coaches stayed at the Sports Village for a month, taking advantage of the weather and training facilities.
"That was a nice piece of business," said O'Conner.
In addition to five regulation baseball fields, facilities at the Sports Park include two half-fields, 12 batting and pitching tunnels, major league training rooms, weight rooms and locker rooms, four tennis courts, a volleyball court, a competition-size swimming pool, a conference center and an 89-room motel-type lodging complex with a cafeteria/restaurant.
Five new fields about to come online will open the complex to additional age groups and sports.
A cloverleaf of four fields with 60-foot base paths suitable for girls' softball and youth baseball is nearing completion just south of Holman Stadium.
"That is something from day one we realized would be needed to expand our business model by gender and age," O'Conner said. "With the new fields, we'll be able to program the little fellows and girls' softball all the way up to college level."
The $2.49-million project, which includes restrooms, a concession stand and lights for night games, is being funded by the county and built by Bill Bryant and Associates, a Vero Beach general contractor that beat out eight other companies in a juried competition to win the contract last spring.
"We are building the entire complex," said Bryant General Manager Robert Paugh. "The design team includes Kimley-Horn and Associates, Rob Atkins Architecture and ML Engineering, along with Minor League Baseball consultants.
"Some of the features include picnic shelters, bleachers, batting cages and well-lit fields for nighttime playing. The concourse between the fields is expansive and capable of accommodating a large quantity of people for tournaments. The concession building includes a second-story viewing area overlooking the fields for refereeing, judging and scoring games."
The new fields will be inaugurated with a USSSA youth baseball tournament April 27-29, according to complex employees.
O' Conner said a new international soccer field capable of hosting lacrosse, field hockey and rugby as well as soccer will open in May or June, adding more programming opportunities for the complex.
The new venues will benefit the county as well as the complex.
"By adding those fields, the Sports Village can attract a whole new set of teams," said County Commissioner Peter O'Bryan when the contract with Bill Bryant and Associates was signed.  "Parents and grandparents and other followers tend to travel with youth and girls softball teams and while the teams stay at the Village those people will be staying in local hotels and eating in restaurants and shopping and buying gas. If you can host tournaments with 16 to 20 teams on a regular basis, you are drawing a lot of people to Vero Beach who will give the economy a boost."
The county and complex could get a further boost in April.
O' Malley is trying to regain control of the Los Angeles Dodgers, a franchise plagued with financial and public relations problems in recent years.
"We should find out if Mr. O'Malley's bid was successful sometime around April 1," said O'Conner.
O'Malley thinks his prospects of buying the team with undisclosed partners are good, and said if he succeeds the historic spring training camp could be called Dodgertown again if that is what the Vero Beach community wants.
Regaining use of the big league franchise trademark would add impetus to plans O'Malley has for a Dodgertown baseball museum and guided tours of the venue where Jackie Robinson, the man who integrated major league baseball, first played, and where generations of Dodger greats tuned up their skills and partied each spring.
"Dodgertown will always be a treasure for the good people of Vero Beach and throughout baseball and anything I can do to help Dodgertown flourish is high on my list of things to do," said O'Malley when he joined the management partnership as chairman and CEO.
Meanwhile, things are not going great for the Dodgers in their new location.
Though they started out with strong attendance in 2009, those early numbers have fallen drastically. Last year, home-game crowds at Camelback were down 42 percent from 2010.