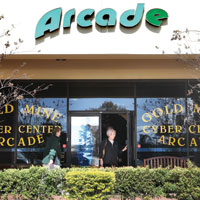 Local gambling arcades' ties to cancer charity raise questions
STORY BY EILEEN KELLEY, (Week of March 1, 2012)
On paper, the Children's Cancer Cooperative and its leaders who present checks to hospitals and other organizations – such as a Sebastian cancer society that received $15,000 – seem like Godsends.  According to a key administrator of the cancer charity, it gave away $2 million derived from internet cafés in Florida in just the past year – an increase of $500,000 from the year before.
But IRS tax filings suggest the story is a quite a bit more complicated.  The federally tax exempt cancer group – which appears linked through sister companies to more than a dozen Florida strip mall slot palaces as well as a for-profit management company – says that it received a mere $310 in donations last year. 
So where does the $2 million figure come from?  How much do the internet cafes, which include the three Gold Mine Arcades here in Indian River County, actually take in?  How much do they really pay out?  What, if anything, do they pay in taxes?  Who are the people running these gaming business and the Children's Cancer Cooperative, and how much are they making off these ventures?
Answers to these questions are hard to come by.  Filings are sketchy, and phone calls to the principals go unreturned.  No one here in Indian River County seems to know anything about the company behind Gold Mine Arcades LLC except that it is headed by a man of mystery from South Carolina named Harold Dukes.
But 75-year-old Dukes – who also is founder and president of the Children Cancer Cooperative – is seeking to expand his operations in an already crowded sea of internet cafes and adult arcades located in tired storefronts  along the Treasure Coast.  These cafés claim to sell internet time,  but refuse to allow anyone under the age of 18 entry.
That's because inside their dark gaming rooms, scores of mostly elderly people sit at terminals with screens that resemble Las Vegas-style slot machines, hoping that a line of fruit will pop up on their screens and they'll go home winners.
Internet café owners, their managers, their attorneys and their high-powered lobbyists maintain they are not running gambling halls.
Others, including Gov. Rick Scott, the Florida Sheriff's Association and most county commissioners in Hillsborough County believe otherwise.  Hillsborough County recently banned simulated gambling devices, forcing dozens of internet cafes – including a number of Gold Mines – to temporarily shutter their businesses.
As it turned out, many of those that closed reopened in new locations after opponents of the ban filed a lawsuit against the county, said Chris Brown, a Hillsborough County Sheriff's Office attorney.  As the Hillsborough lawsuit plays out, along with a similar lawsuit in Seminole County, the sheriff's office in Hillsborough is not enforcing the recent ban.
Nor does the Indian River County Sheriff's Office show any interest in the internet cafés here.
Many questions surround the arcade boom in Florida, including why Dukes and Melissa Barfield, the board secretary of the cancer cooperative, which shares space at a children's arcade and bingo hall in South Carolina, developed such a strong interest in Florida.
Hillsborough commissioners have tried unsuccessfully to find out just how much money the cafes and cancer charity take in. One commissioner wondered what the gross was for internet cafes if they can claim to donate $2 million a year to the cancer charity.
Despite the increased attention to his gambling business, Dukes doesn't appear deterred. He's about to open another internet café in St. Lucie County. A fifth one is in the planning stages for the city of Fort Pierce, said Kori Benton, a planning specialist with the city.
Ask Barfield, the woman who stands and poses for pictures with Dukes as they present over-sized checks to cancer charities, what her connection to the gaming halls is, and she tells a variety of stories.
In Hillsborough, she first told commissions the charity gets money from the cafes, but later testified the only money it receives comes from another company, Arcola Systems, which she said develops software for internet cafes. "We don't run them," she said during a public hearing before the Hillsborough ban.
But Arcola Systems does not show up as a donor on the Children's Cancer Cooperative tax returns, and its connection to the cancer charity – or to Dukes – could not readily be determined. 
A call to the Children's Cancer Cooperative South Carolina phone number listed on its website was not returned. The answering machine message also seemed odd as it did not mention cancer, children, or any sort of charity. Instead, the message just said: "Melissa Barfield."
While Florida public officials are suspicious of Dukes and Barfield, their counterparts in South Carolina are not.
Nearly two years ago, the South Carolina General Assembly recognized Dukes and Barfield for their commitment to the Children's Cancer Cooperative saying the group is a top provider of financial help to pediatric patients and their families.
The resolution spoke of Dukes and his "abundance of blessings from God" and noted he established the cancer cooperative as a "means to bless others as he has been blessed."  The resolution recognized only Dukes and Barfield.
"(Barfield) serves as Mr. Dukes' assistance (sic) and manages all internal documentation and meeting arrangements with the hospitals and individuals that seek assistance from the cooperative," states the resolution.
In addition to the cancer cooperative, Barfield and Dukes are also listed in the top management spots for another limited liability corporation, CCC Administration, a for-profit company. That company lists the exact same people and their positions as the non-profit cancer cooperative, which claimed to have had only $1,687 in operating and administrative expenses last year.
All of these entities except Arcola provide as their address the arcade and bingo parlor, Music in Motion, in Summerville, S.C., which Dukes opened more than a decade ago.
In appearing before the Hillsborough commissioners in December, Barfield said the internet cafés give the cancer charity money each week.  "We have donated almost $2 million just alone in Florida this year," Barfield said. She urged the board not to ban simulated gaming devises because doing so would ultimately hurt the cancer charity.
"Then, I will not be able to donate just the way I do," Barfield said.
During the public hearing, Barfield appeared to want to distance herself from Dukes and the internet cafes, saying she strictly works with the software provider, Arcola Systems. "I wouldn't want to affiliate the charity's name or any other name, I wouldn't want to associate anybody's name with something that was not run legally."
When a commissioner asked for a clarification and wanted to know what internet cafes were making donations to the charity, Barfield said:  "It's the software company. I work strictly with the software company."
Those statements fly in the face of her opening remarks during the public hearing: "My affiliation with these internet cafes are they donate to us. We get a percentage of their weekly revenue. It comes to the Children's Cancer Cooperative. In turn, I turn around and I give the money back to the state of Florida."
Little information is available about Arcola Systems other than it provides software for internet café's sweepstakes.
The Children's Cancer Cooperative lists the Arcola logo on its website on a page devoted to Shriner's Hospital and The Wolfson Children's Hospital in Jacksonsville among other known agencies.
Corporate business records list Arcola as a foreign corporation, with a home base in Minnesota.  Its software is said to be used in roughly 120 internet cafes around the state.   A former aide to Florida House Speaker Dean Cannon, Julie Fess, is now a registered lobbyist in Tallahassee for Arcola Systems.
"I have built these relationships in the state of Florida with these hospitals and charities and I give back to the community locally and statewide," Barfield said in Hillsborough.
Barfield then reiterated how she's given away $2 million in 2010, a boost of roughly $500,000 from the year before. "I mean it's a growing industry," she said.
"If I ran general calculations, in my estimation that means that your total – the amount that we're bringing in to generate those types of charitable contributions, the proceeds from the industry must exceed nearly $200 million," said Hillsborough Commissioner Kevin Beckner.
Before Hillsborough's vote, Commissioner Sandra Murman, who pushed for the ban, had a few choice words about internet cafes which are not regulated by the state. "They are predatory operations that are unregulated and untaxed."