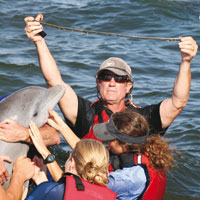 Stephen McCulloch: Rescuing wild bottlenose dolphins
STORY BY STEVEN M. THOMAS, (Week of March 22, 2012)
Photo: Stephen McCulloch with a baby dolphin rescued near Sebastian Inlet. E. MURDOCH, Harbor Branch Oceanographic Institute
Stephen McCulloch, founder and program director of the Marine Mammal Research and Conservation Program at Harbor Branch Oceanographic Institute, turned down the chance to attend West Point and took off on a six-month hitchhiking trip across the United States when he was 17.
His travels eventually took him south from Virginia to the Florida Keys where he got on what he calls "the dolphin trail," capturing and training marine mammals for public display.
Later, after a change of heart he does not readily discuss, McCulloch became a leader in the fight to understand and protect wild bottlenose dolphins.
Today, he leads an exhilarating array of research and conservation programs from his headquarters in the picturesque former home of Harbor Branch Founder J. Seward Johnson, including a dolphin rescue and rehabilitation project that has saved three animals so far this year.
McCulloch and his team of four full-time state employees and 20 trained volunteers are on call 24 hours a day, 365 days a year to aid endangered dolphins in the Indian River Lagoon and throughout the state.
"We go wherever we are needed," says Dr. Juli Goldstein, Harbor Branch's chief veterinarian.
"The phone usually rings when you are sitting down to dinner or putting on your pajamas," jokes McCulloch. "But we are ready to go whenever a call comes."
The Harbor Branch team has responded to more than 250 dolphin and whale strandings in the past decade and conducted 34 interventions to rescue animals that were injured or entangled in fishing line or other human debris.
"Threats to wild dolphins are increasing," says McCulloch.
The threats include fertilizer-polluted runoff that causes algae blooms and marine mammal diseases and increasing amounts of dangerous, non-biodegradable trash in Florida waters.
"Between 1999 and 2009, there was an average of five dolphin interventions each year in the southeast region of the United States," McCulloch says. "Last year, there were seven and so far this year we have responded to three."
The most recent rescue operation took place March 9 near Marco Island off the west coast of Florida.
"Local residents first reported an entangled dolphin in their area about eight months ago," McCulloch says. "Starting in December, a local eco-tour guide began documenting his sighting of the dolphin and providing images confirming the severity of the entanglement. We received the final go from National Oceanic and Atmospheric Administration's (NOAA) Marine Fisheries Service to intervene in early March."
Working in concert with experts from National Marine Fisheries, Sea World, Mote Marine Laboratories and other partner agencies, McCulloch and Goldstein led the intervention, with McCulloch calling the shots on the water and Goldstein assisting in evaluating the animal's health after fishing line cutting into its tail fluke was removed.
"He seemed like a pretty cool customer," McCulloch says of the dolphin, dubbed Seymour by the rescue team. "We took him back to the dock to X-ray his tail and do some other diagnosis to make sure the injury did not go down to bone and that he was healthy otherwise."
The 10-hour operation ended with the release of the dolphin, newly equipped with a satellite tag that enables researchers to keep tabs on their energetic patient.
"He has not been swimming circles," says McCulloch. "Even with the injury, he is very mobile and has been moving around a very large range."
Besides McCulloch and Goldstein, the Harbor Branch team includes stranding coordinator Steve Burton and stranding research technician Kenny Kroll.
The well-equipped group is funded by sales of four specialty license plates, a program that provides $1.5 million a year for marine mammal research and conservation's activities, including dolphin rescue.
It has six boats, including a big Zodiac with twin 140-horsepower motors that McCulloch tows behind an F-350 turbo-diesel truck to locations where dolphins are in trouble. There are also lighter boats for shallow water, two Sea-Doos and a marine mammal ambulance for transporting animals back to Harbor Branch's state-of-the-art dolphin hospital.
"Our hospital is one of the premier facilities in world and the only one of its kind on the entire East Coast of the United States," says McCulloch.
"The marine ambulance backs up to a hoist where the animal is lifted, weighed and measured. There is a clinical lab here where we can pull the animal up and get blood. Dr. Goldstein can prescribe drugs for wound management and start the rehydration of the animal, which is often our first line of defense.
The centerpiece of the rehabilitation and care facility is the circular salt-water pool Johnson built for his own use when he founded Harbor Branch back in the early 1970s.
"It works perfectly for dolphins," McCulloch says. "It is 60 feet in diameter and 5 feet deep, which is plenty of room for a dolphin to exercise and gain muscular strength and prepare for the wild. "
Johnson's former house between the pool and the harbor resembles the aft portion of a ship. McCulloch's office, decorated with art created by famed marine artist Wyland, overlooks the pool, enabling the prolific researcher and conservationist to keep an eye on animals under care.
Volunteers who work at the facility shower before entering to keep out contamination.
"With animals sick or injured to begin with, our standards for food preparation, water filtration and staff cleanliness are more stringent than at any marine park you will find," McCulloch says.
"The water is maintained as an optimum environment for dolphins. The PH is kept right at 7.2, which is exactly what a dolphin's eye is. The water turns over about every 90 minutes and it is filtered 10 ways from Sunday by a very state of the art filtration system.
McCulloch and his associates were instrumental in saving and rehabilitating Winter, the dolphin with the prosthetic fluke made famous last fall by the Morgan Freeman movie "A Dolphin's Tale."
"Harbor Branch played a key role in Winter's rescue and transport," McCulloch says. "Dr. Goldstein and I were involved in stabilizing the animal and developing the initial treatment plan with the medical staff at Clearwater Marine Aquarium. We were also a part of the research committee to develop the prosthetic tail fluke with Hanger Prosthetics."
McCulloch's skill at marine mammal interventions has been called on around the world from form Texas and South Carolina to Turkey and Taiwan, but he constantly emphasizes the cooperative nature of the work he is involved in.
"Rescuing dolphins is very much a group effort that relies on the expertise of our research partners and volunteers," he says. "We could not do it alone."
Co-managed by McCulloch and Goldstein, the Stranding, Health and Rehabilitation Project is a component of the Marine Mammal Research and Conservation Program, which in turn is a part of Florida Atlantic University. The program operates under a letter of authorization issued by the National Marine Fisheries Service. It trains future scientists as it helps injured animals.
Since it is paid for by the state, the project operates primarily in Florida. If McCulloch and Goldstein are called on to work out of state, they are funded by NOAA or other agencies or use their own funds and vacation time.
"Our primary research area is the Indian River Lagoon and our primary area of stranding responsibility is from the Sebastian Inlet to Jupiter Inlet," says McCulloch. "But we have operated throughout the Southeast region."
After more than 40 years on the dolphin trail, McCulloch describes the marine mammals as wild animals with a captivating smile. "They are animals of grace, beauty and power that evoke emotion, imagination and fascination. Like any wild animal, they are best admired from a distance and deserve respect. Scientifically, dolphins are best described as sentinels of ocean and human health. They are to the sea what we are to the land.
McCulloch says the highlights of his career are those moments when a rehabilitated dolphin is returned to the wild.
"The true measure of the success of our efforts is seeing that dolphin months or years later, living and thriving in its natural environment."