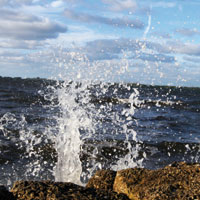 Student appeals for rescue of lagoon fail to move Commission
STORY BY STEVEN M. THOMAS, (Week of May 10, 2012)
Commissioner Wesley Davis was unmoved by a group of Sebastian Middle School students that presented a research project called "Mission Possible: Lagoon Rescue" to the Board of County Commissioners last week.
After the seventh-graders outlined the problem of fertilizer pollution in the Indian River Lagoon and proposed a solution that includes fertilizer regulation, Davis said he opposed board action to protect the lagoon from the runoff that the students, scientists and other political leaders say is poisoning the estuary, killing sea grass, fish and dolphins, and putting the county's economic and aesthetic centerpiece in danger.
In February, after a statewide fertilizer bill faltered in the legislature, Davis indicated he was prepared to take action.  "I am trying to get ahold of Rep. Debbie Mayfield to see whether they are going to take it back up in Tallahassee," he said. "It is definitely a pressing problem and we need to figure something out to deal with the dilemma if the state is not going to act."
Now, Davis says he never spoke to Mayfield but has nevertheless decided to wait for state action, even though he admits there is nothing in the pipeline in Tallahassee to deal with the looming ecological disaster in the lagoon.
Davis joins Commissioners Bob Solari and Peter O'Bryan in opposition to a county ordinance to rescue the lagoon. 
"I know some of your commissioners and I think they are afraid to do anything that might be perceived as anti-business," says Jacqui Thurlow-Lippisch, mayor of Sewall's Point, a city on the lagoon that passed a fertilizer ordinance in 2010. "They know what the right thing to do is and I think they will eventually get the political courage to do it."
Solari says passing an ordinance he believes is unenforceable would undermine the rule of law. He also opposes regulation for ideological reasons.
"The county doesn't need to pass another ordinance. I tie these things to our democratic system that recognizes autonomous human beings. Government has passed too many corrosive regulations that dull the intellect of the individual and undermine a democratic society. I believe in the rights and liberty of the individual over some nebulous collective."
He responded to the students' thoughtful and heartfelt presentation by warning them of the dangers of totalitarianism.
Davis, O'Bryan and other commissioners have said they want a statewide ordinance to avoid "a hodgepodge of local regulations" that might inconvenience landscaping contractors who operate in more than one jurisdiction.
In fact, the state has already acted by issuing a model fertilizer regulation ordinance that allows cities and counties to require professionals receive training in how to handle poisonous chemicals, mandates low or no-phosphorus fertilizers with slow release nitrogen, and bans the application of fertilizer during the rainy season when storms wash the chemicals directly into the lagoon.
The model is designed to avoid the hodgepodge of regulations commissioner say they fear and versions of it have been successfully adopted by a growing number of governments along the lagoon, including Sewell's Point, Stuart, Martin County, the city of Vero Beach and Indian River Shores. The Sebastian City Council is expected to pass the model ordinance later this month.
Thurlow-Lippisch says she hasn't seen any former lawn care workers standing on street corners with tin cups in the aftermath of fertilizer regulation going into effect in Sewall's Point. "The fertilizer and lawn care companies are doing just as well as they ever did. They are still in business. The only thing some of them didn't like was that we required them to take a day-long class offered by the University of Florida, which I think cost $25.
"After they took it, they said, "It was great. We learned so much.'"
In Sarasota County, where fertilizer regulation has been in place since 2007, landscaping companies say new environmentally-friendly rules benefit them.
Michael Juchnowicz, owner of Gardenmasters of Southwest Florida Inc., has 10,000-plus lawn-care customers. According to the Sarasota Herald-Tribune, he now uses 200 tons less fertilizer each year and his customers' lawns are as green as ever.
His chemical costs have dropped as a result of regulation while his business has stayed strong.
Juchnowicz says he would continue with practices now required by ordinance even if the ordinance was repealed because it's "the smart thing to do."
"Fertilizer regulation is a great idea," says Neil Lagin, who has been in the lawn care business in Indian River County since 2000. "It should have been done a long time ago."
Solari's unenforceability argument is another red herring, according to multiple officials.
"An ordinance would help get compliance," says Vero Beach Mayor Pilar Turner. "On the West Coast [of Florida], the existence of an ordinance has had a great response and vendors no longer stock products that would be harmful. I believe it will have a great effect here, as well."
"You would probably get 90 percent compliance just by passing an ordinance," says Commissioner Joe Flescher, who has concerns about enforceability but believes most citizens are law-abiding.
The state model ordinance has a clause that allows for enforcement provisions if they are needed.
The board's failure to pass the model ordinance even as cities across the county adopt it is hard for lagoon advocates to understand in part because passage is mandatory.
Florida cities and counties are required to regulate fertilizer use by the end of 2013. All the commission is accomplishing by delay is allowing pollution to continue for another 18 months before passing what it could pass now.
Fertilizer contains nitrates and phosphates that feed grass and help it grow. When fertilizer is over-applied and during rainstorms, dissolved nitrogen and phosphorous run off lawns and fields directly into the lagoon or into gutters, sewers and canals that lead to the lagoon.
The chemicals also enter waterways when grass clippings that have sucked up the organic chemicals are swept or hosed into sewers and ditches.
The runoff and clippings cause something called nutrient overload in the waters where Indian River County residents and tourists boat, fish, swim and delight in wildlife such as dolphins and manatees.
Instead of feeding lawns, the nitrogen and phosphorous feed the growth of algae that consumes oxygen and makes lagoon water murky and slimy, cutting off sunlight to sea grass and starting a domino effect of ecological degradation.
Students cited the death of nearly 100 dolphins over a two-year period and last year's catastrophic algae bloom in the lagoon as evidence of need for regulation.
According to Jim Egan, executive director of the Marine Resources Council, last summer's ugly algae bloom was unprecedented, lasting longer and extending over a wider area that ever before, and it was unquestionably fed in part by fertilizer runoff.
"People are over-fertilizing their lawns by 500 percent and much of that fertilizer is ending up in the lagoon," says Rob Moir, PhD., founder of the Ocean River Institute, a nonprofit organization dedicated to helping people and groups make a difference where they live and work through environmental stewardship and science.
"All the signs are pointing to the fact that the water quality in the Indian River lagoon is severely impaired," says Heather Stapleton, education director at the Environmental Learning Center. "Runoff is the number one problem."
"I fish on the lagoon and I do see a drastic difference in the water quality," says Flescher.
Pollution comes from other sources besides fertilizer, but scientists and environmentalists say fertilizer runoff is a major cause of lagoon degradation. Most agree regulating the type and application of fertilizer is smart policy that would help protect and heal the lagoon.
"Local regulations are needed," says Eric Draper, executive director, Audubon of Florida.
"Without question fertilizer ordinances are good for lagoon health," says Stephen McCulloch, a research scientist at Harbor Branch Oceanographic Institute. "It is commonsense."
Commissioners Flescher and Gary Wheeler say they are open the idea of passing the state model ordinance.
"Something needs to be done but I am not sure what," says Wheeler. "I would be interested in looking at a proposal if someone brings one forward."
"I was intrigued by the student's presentation," says Flescher. "I think the DEP model is a workable product and I am leaning toward it. I will be putting it on the Board's agenda in the near future for further discussion and possibly initiating the staff to draft something.
"This is for the safety and integrity of the lagoon and I don't think it comes under the heading of big government simply creating more rules."
"We cannot afford to continue ignoring water quality," says Mayor Turner. "The lagoon is responsible for $800 million a year in revenue for our community."