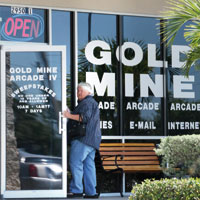 Three arcades violate state regulations
STORY BY EILEEN KELLEY, (Week of May 24, 2012)
Photo: One of the four area Gold Mine arcades.
A South Carolina man – who has muscled his way into Florida's adult arcade business – appears to be breaking state regulations by running three of his four arcades in this area without the required number of machines.
Although the arcades appear to violate state regulations, it's not likely he'll get in trouble. That's because the state does not send out inspectors to determine whether the approximately 300 adult arcades in Florida meet state operation standards.
In fact, Harold Dukes, the arcade owner, appears to have stripped his Sebastian arcade, the Gold Mine Arcade on US 1, of all but 10 of its arcade machines and shipped them to his Oslo Road and 27th Avenue Gold Mine Arcade, his latest Indian River County venture.
That arcade also appears to violate state regulations because it only offers customers 30 arcade machines even though state regulations require the arcade to offer a minimum of 50 machines.
In Sebastian last Friday night, an old man steadied himself with his walker as he shuffled from one end of the Sebastian arcade to the middle bank of computer terminals. He then sat down and swiped his card into a machine.
Like a New York Stock Exchange ticker, numbers rose and fell along the bottom of his computer terminal as he played internet games and his points changed at rapid-fire speed. For long stretches, the man's terminal was in constant motion with fruit and lines filling the screen of the Las Vegas-style slot machine game.
After a while, he pulled out a small bottle and tilted his head back to refresh his dry eyes. As the night wore on, the Sebastian arcade filled with more customers, most taking seats at the 60 or so working internet terminals and not at the arcade machines.
In Sebastian, the arcade machines, those that pay out in gift cards – not cash like the internet games – have been relegated to a far wall in the arcade.
Adult arcades, commonly called penny arcades, have been around a long time in Florida. Only in the last decade have their numbers swelled. Internet sweepstakes cafes have edged into the already crowded field of competition more recently in strip malls across the state.
While arcades are subject to minimum state regulation, the more profitable internet cafes operate in Florida in a legal twilight zone.
Dukes is credited with introducing the area to internet sweepstakes machines when he brought them several years ago to his Oslo Road and U.S. 1 arcade business – the only one that does not appear to be violating arcade regulations.
How well they do is a matter of marketing and understanding the new system. Some older patrons are diehards to the old standby penny arcades that they have known for years. Others like the added thrill of a random sweepstakes while playing the games on the internet.
Even if a rush of people wanted to play the arcade machines in Sebastian, they would be in for a long wait.
Dukes' Sebastian arcade has just 10. Of those, only eight worked on a recent visit to the arcade tucked into a U.S. 1 strip mall.
A Vero Beach 32963 inspection of Duke's Gold Mine Arcades indicates he violates state statutes in three out of four of his local businesses by not having the required minimum of 50 arcade machines.
"Owners that do this have violated the law, there is no question about it," said Gale Fontaine, the president of the Florida Arcade Association.
Dukes is not alone in operating arcades without the required number of 50 machines. Still, he appears to be flouting the regulations by opening some of his arcades without even the required number of machines to get a permit.
Arcade and internet café business flourish in the state because Florida's murky laws provide loopholes in the gaming laws.
Officials estimate more than 300 arcades and between 900 to 1,000 internet cafes operate in the state, creating a multi-billion dollar industry with little to virtually no state or local oversight.
Some local law enforcement agencies have taken matters into their own hands and raided facilities, including two owned by Fontaine, the gaming association president.
Indian River County Sheriff Deryl Loar told 32963 during the last legislative session that until there are clear state guidelines in place, he has no intention of raiding the adult arcades and internet cafes in the county. Vero Beach does not allow cafes or arcades in the city.
Penalties can be tough when local authorities act.
When Fontaine was arrested, she faced more than a decade in prison after Broward County sheriff deputies raided her Pompano Beach adult arcade in 2005 and charged her with conducting an illegal lottery, a charge later dropped during her trial. She was also charged with possession of illegal slot machines and running an illegal gaming hall.
A jury acquitted her, but it came at a cost. Fontaine told 32963 she spent $250,000 on legal fees and expert witnesses during her trial.
Fontaine said the recent attempts by state lawmakers to regulate or even shutter internet cafes and adult arcades is a slap at senior citizens who tend to patronize the facilities more than younger people.
"Not everyone who is over 60 is ready for an old age home," said Fontaine, 62.
"We say, 'Hey, you need to retire here, bring your money (to Florida). Stay here.'" said Fontaine of the state's ability to attract residents in their golden years.
Like Fontaine, Dukes' Goldmine Arcade operations appear to have a loyal following.
"This time it got me; next time, I'll get it," said a small woman with a tiny voice as she walked away from the internet terminal and out of the door of Duke's Gold Mine Arcade on Oslo Road and 27th Avenue recently.
Many other players said good-bye and told her they would see her around as she headed out the door.  Moments later more people came in and fellow regulars greeted them by name.
When that facility opened last fall, it did so illegally, according to state guidelines, by only having 30 arcade machines – the machines that came from Duke's Sebastian venue.
Duke's newest operation in St. Lucie County opened in March. A recent visit there indicated the operation featured just 28 arcade machines, 22 less than the state-required minimum.
"There are specific rules that need to be followed," said Fontaine. "And one of them is you have to have 50 (arcade machines)."
Of the 300 or so adult arcades in Florida, about 50 belong to Fontaine's association, which she said calls for strict adherence to the state regulations.  "If you are not following the rules, you cannot be a member," she said.
One of those requires operators of the adult arcades to get a permit for the specific number of arcade machines on the premise each year and to pay the Department of Revenue $30 for each machine, even if it exceeds 50 machines.
Arcade owners are also required to pay 4 percent of the gross sales from the arcade machines to the state Department of Revenue.
There is no revenue-sharing requirement on the internet machines from the business owners' standpoint, although customers are told it is up to them to pay taxes on their winnings.
When asked if there are routine examinations or on-site visits to ensure compliance of the state rules, officials with the Department of Revenue said no.
"That would not be someone's specific duty," said Lynn Moeller, a legislative and cabinet service specialist with the Department of Revenue.
Moeller said that if an owner attempt to get a permit for fewer than 50 arcade machines, it would be denied.
When told of 32963's findings about Duke's operations, Fontaine seemed discouraged.  "I don't want bad operators out there," she said.
Those that skirt the rules like Dukes and others who refuse to pay out, or close up shop in the middle of the night, do nothing but weaken the credibility of owners who say they follow state guidelines and are fighting to stay in business, Fontaine said.
"I don't want to have spent my life's savings for nothing," she said.