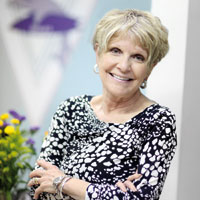 Beachland principal Carol Wilson to retire
STORY BY EILLEN KELLEY, (Week of May 10, 2012)
Photo of Carol Wilson.
There will be a noticeable void when the school bell rings at the start of the next school year as Carol Wilson, the principal of the island's only public school, is set to retire after 10 years leading Beachland Elementary.
Wilson said she's thought of retiring for some time.  Later this month, she turns 64.
"It's time," Wilson said. "It's the hardest decision I have ever had to make."
Wilson has been with the Indian River School District for 28 years.  Prior to becoming a principal at Beachland, she was the principal of Fellsmere Elementary.
Wilson's last day with the district will be June 30. The last day of school for students is June. 1.
Being surrounded by children, Wilson said, is something she knows she will surely miss. "There's no other job in America where kids come up to you and hug you each day," she said.
Wilson said she went into the school year thinking that she needed to at least consider the option of retiring. She had previously enrolled in the state's Deferred Retirement Option Program. Her final date to retire with the benefits the program brings would have been in another three years.
Wilson's departure now brings to a total of administrative vacancies at the school district to eight.  A posting for her job is now on-line at the school district's web site.
Wilson said she told the students recently and it was difficult to say the words.
Just Monday, she received her first retirement card.
"I've been doing this for so long, it's become who I am," she said.
Under Wilson's leadership, Beachland Elementary has been awarded a Grade A by the state each and every school year. 
Her replacement could come under fire from Central Beach residents who in recent months have been clamoring to save the oak hammock on the school property from being cut down. 
The school district had previously planned to cut two swaths through the woods to build roads for parent and school bus pick-up spots. 
After a huge public outcry, that plan was halted.
A new plan to reroute traffic off of Indian River Drive and use neighboring streets of Date Palm and Mockingbird was also criticized by residents.
"My retiring has nothing to do with the trees," said Wilson.
Wilson said this week that she has no idea what the future will bring, but she looks forward to being able to travel at her own schedule and not be confined to a schedule set by school holidays.
One of her orders of business as a new retiree, she said, will be go on a fall foliage trip.
"I'm a little apprehensive, but I think God has a plan for me," she said. "I'm not sure what it is right now, but I think it will be good.  And if not, that's OK."