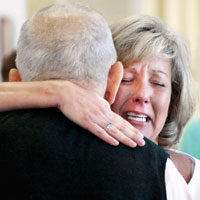 Brown termed a 'dangerous sociopath' who stalked ex-wife
STORY BY EILEEN KELLEY, (Week of May 3, 2012)
Photo: Natalie Holtom Brown with investigator.
The shackled man in the orange jail-issued jumpsuit lowered his head as the fourth and final woman walked to the front of the courtroom.
For more than an hour last week, other women – most relative strangers he had stolen money from  – told the judge how they hated Richard Brown for ruining their lives.
Finally, it was Natalie Holtom Brown's turn to talk.  "I am not a scorned wife," she said.  Then she unleashed a torrent of powerful words and images at her ex-husband – a local hotshot lawyer, now disgraced, disbarred and headed for a long stretch in prison – painting the portrait of a narcissistic sociopath who turned the last few years of her life into a time of terror.
Brown stalked her, she said. He ruined her financially. He tried to ruin her both as a mother and a business woman.
"While he was stalking me, he sent me a text message saying, 'You're always being observed," Holtom Brown said.
In perhaps an attempt to show that the familiarity they once had is no longer there, each time Holtom Brown mentioned her ex-husband, she referred to him as Richard Brown, not Richard or Rick.
She described him a man of many faces.  "He was able to switch personalities like a Jekyll," Holtom Brown said.  "He is an abusive master manipulator and cannot be trusted.  He's a dangerous sociopath who camouflaged himself as a husband, father and attorney."
Some 30 minutes after Holtom Brown's let loose her ire, Brown was sentenced to 15 years in prison after being found guilty of intercepting more than 14,000 of Holtom Brown's e-mails, stealing several hundred thousands of dollars from clients and laundering the pilfered money.
Holtom Brown said narcissism, greed and power motivated her ex-husband.
Her words and images, images of a man hell-bent on winning at all costs, cast a starkly different picture of her life with Brown than the island couple portrayed to friends and acquaintances not so long ago.
By all accounts, it had seemed the Browns shared a picture-perfect life both on the barrier island at their Summerplace home and in New England where Brown grew up.  They were a handsome couple, impeccably dressed. They had a daughter, pure-bred dogs and thriving businesses.
Brown's head remained lowered, hanging toward his lap during Holtom Brown's long, emotional statement to the court.
They bought an old 1800s inn, the very inn where they were married in New Hampshire in 1996. His law practice was doing well as was her interior design business.
They shared their good fortune, beauty and success with the world when their Summerplace home and the New Hampshire inn were featured in the pages of Good Housekeeping and other magazines.
But about 12 years into their marriage, what appeared to be a bucolic life came unhinged.
Richard Brown declared war when he and his wife separated in 2009, Holtom Brown said.
Police were called to the Beachland Elementary School when the acrimony over their daughter spilled into the school yard. They were called time and time again because of Brown's outbursts and fits of rage, Holtom Brown said.
Each time, police and other law enforcement officers who responded were reminded Brown was a lawyer, Holtom Brown said.   "He thought he was above the law and would never get caught," Holtom Brown said.
Because of that, Holtom Brown, told Judge Robert Pegg, it appeared her ex-husband was winning the battle.
The couple lost their toney New England inn and Holtom Brown said she ran up more than $100,000 in legal fees.  She told the judge she had no idea that Brown was stealing money from his clients.  People in the courtroom could be heard crying as Holtom Brown spoke.
After she spoke, Brown addressed the court.
"I accept responsibility for the money I have taken," said Brown, who remained seated when he addressed the judge before sentencing. "…The truth is, I am terribly ashamed."
At noon, 2½ hours after the shackled Brown was led into court, he was led away to prison. If released in 15 years, he will be 60 when he is freed.
"It's over now," said Eva Walko, one of Brown's many victims.
Legally, yes.  But for Holtom Brown and his other victims, the scars remain fresh and raw.