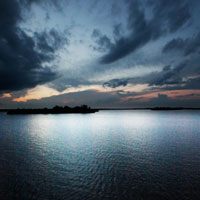 Politicians passing buck on initiatives to help save lagoon
STORY BY STEVEN M. THOMAS, (Week of May 24, 2012)
Commissioners Peter O'Bryan and Bob Solari have said for months they support education in place of regulation as a way to reduce fertilizer pollution scientists say is damaging the Indian River Lagoon, killing sea grass, fish and dolphins. But neither one has one has put any new educational initiatives in place so far.
"I have one I have worked on that has stalled because I am running a campaign," said Solari, who is in a contested race for a second term on the county commission.
In February, O'Bryan said he planned "to get in touch with the Environmental Learning Center to see if they can help develop an educational road show to go around to schools and neighborhood associations to teach people what they need to know about correct fertilizer use." But to date nothing has come of that effort, either.
O'Bryan met with environmentalists at the center and ORCA – the Ocean Research and Conservation Association. He said the outcome of those meetings was an understanding the organizations would work individually or in concert "to come up with some kind of plan or proposal to get some grant funding for an educational program."
According to O'Bryan, the ball was in the environmentalists' court and he stood ready to employ county staff to draft an official grant proposal the county would submit, probably to the Florida Inland Navigation District which is responsible for maintenance and management of the Atlantic Intracoastal Waterway.
But those who met with O'Bryan offered a distinctly different take on what occurred at the meetings.
Heather Stapleton, education director at learning center, laughed when she heard O'Bryan's description of the meeting with him and its outcome.
"There has been some type of miscommunication," she said in regard to the idea the center was supposed to be preparing a grant proposal. "As far as I knew, the meeting was just a preliminary discussion – basically a brainstorming session. We have been here since the 1970s and have one of the longest-running lagoon education programs and Commissioner O'Bryan talked about educating the public in regard to fertilizer and runoff. He was the one who was supposed to be in charge of coordinating any specific effort."
ORCA Managing Director Warren Falls had a similar reaction when asked about his meeting with O'Bryan. "We had a meeting with him on March 28 in which he said he wanted to support education but nothing has materialized. I wasn't aware he was waiting on us to come up with a proposal."
"I think they have it a little bit mixed," O'Bryan said. "There must have been some misunderstanding."
In any case, there was no effective outcome from the meetings and nothing concrete seems to be in the works, though Falls and ORCA founder Edie Widder said they would be glad to develop a grant proposal if that is what O'Bryan needs to proceed.
Solari said the goal of his stalled initiative is to have "one-sheet that describes best fertilizer management practices for residents. It would list the benefits of slow-release nitrogen fertilizer over fast release and the fact that no phosphorous is needed. It would also include information about the best timing for fertilizing your lawn and the idea of migrating from grass to other types of foliage that don't need as much fertilizer."
Solari says the sheet, when composed, could be distributed at county commission meetings, displayed on the county website and possibly included as an insert in utility bills mailed to residents.
On another track, Solari said he has talked to the manager of Home Depot in Vero Beach about the possibility of stocking more lagoon-friendly fertilizers in the store. No agreement has been reached.
The issue of fertilizer regulation heated up last year after ORCA mapped high levels of nitrogen pollution between the Barber Bridge and 17th Street Causeway.
The results of that study set off alarm bells for residents and politicians across Indian River County and the cities of Vero Beach, Sebastian and Indian River Shores have since passed fertilizer regulations to help protect the estuary that Vero Mayor Pilar Turner said contributes $800 million annually to the county economy.
Fertilizer contains nitrates and phosphates that feed grass and help it grow. It is widely and sometimes indiscriminately applied by homeowners, lawn care professionals and workers at golf courses and parks. When fertilizer is over-applied and during rainstorms, dissolved nitrogen and phosphorous run off lawns and fields directly into the lagoon or into gutters, sewers and canals that lead to the lagoon.
Chemicals also enter waterways when grass clippings that have sucked up the organic chemicals are swept or hosed into sewers and ditches.
The runoff and clippings cause something called nutrient overload in the waters where Indian River County residents and visitors boat, fish, swim and delight in wildlife. Instead of feeding lawns, the nitrogen and phosphorous feed the growth of algae that consumes oxygen and makes lagoon water murky and slimy, cutting off sunlight to sea grass and starting a domino effect of ecological degradation.
County commissioners have refused to pass an ordinance to protect the lagoon for a sometimes shifting list of reasons.
Solari said he is against an ordinance because government rules are corrosive to the human spirit and because he thinks more education will do the job.
O'Bryan said earlier in the year he was waiting for the state to act, which would be better than independent county action because it would avoid a "hodgepodge" of local regulations that might inconvenience lawn-care companies.
More recently he said the county commission is resisting the idea of an ordinance because the state has acted – issuing a model ordinance and mandating all local jurisdictions pass fertilizer regulation by the end of 2013.
"If we have to pass something at that time, we will," O'Bryan said. "But that doesn't mean we want to."
O'Bryan also opposes a county ordinance because he thinks it would be unenforceable and because, like Solari, he believes education is an adequate solution.
Both men said they still plan to push ahead with educational initiatives designed to reduce the flow of poisonous chemicals into the lagoon but, in the face of what scientists consider a crisis, neither displays a sense of urgency nor offers a clear timeframe for action.
"The lagoon is at a tipping point right now," said Widder, a world-renowned marine biologist who has observed the Indian River Lagoon since 1989 and studied pollution in its waters full time since founding ORCA in 2005. "Pushed any further, it will collapse into an algae-dominated pollution-laden system that is unhealthy for fish, dolphins and humans alike."
Forty-nine bottlenose dolphins died in one incident in the estuary in 2009 and the most likely culprit in their demise was toxic algae fed by excess nitrates and phosphates.
According to Jim Egan, who has studied the lagoon for 14 years as executive director of the Marine Resources Council, last summer's ugly lagoon-wide algae bloom was unprecedented, lasting longer and extending over a wider area that ever before, and it was unquestionably fueled in part by fertilizer runoff.
The most recent scientific studies found more than 50 percent of bottlenose dolphins in the estuary are ill and that they live, on average, only half as long as their free-ranging kin out in the relatively clean Atlantic.
"We were shocked," said Stephen McCulloch, head of the Marine Mammal Research and Conservation Program at Harbor Branch Oceanographic Institute, referring to results of a dolphin health study.
"What we are seeing is not just concerning, it is alarming. Nowhere else do you see this combination of known and unknown diseases, including viral, bacterial and fungal diseases and cancers."
"If we don't take steps to correct this, we will be leaving a terrible legacy for our children," said Turner. "As the nitrates build up, you have a mucky mess and a health hazard instead of a beautiful lagoon. Unless pollution is stopped, you are not going to be able to catch a fish or eat it or even go sailing or swimming."
"Bottlenose dolphins are the sentinel species for the Treasure Coast," said McCulloch, who has conducted research on the health of animals in the lagoon since 1996. "They are the 400-pound canary in the coal mine."
"What happens to them happens to us," said Widder.