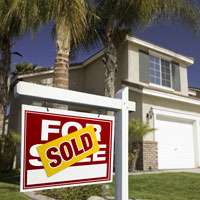 Island housing market turns corner; prices edge up as inventory tightens
STORY BY BY STEVEN M. THOMAS, (Week of May 31, 2012)
The number of homes on the market on the barrier island and throughout Indian River County has declined dramatically, as brisk housing sales the past few months have seen buyers competing for ever fewer available houses.  The result:  a modest uptick in prices.
"It's very clear now that the housing market has turned a corner," said Richard DeKaser, deputy chief economist at Parthenon Group LLC in Boston. "The only question is how strong the rebound is going to be."
In April, there were 1,800 single-family homes on the market in Indian River County, down from 2,782 a year earlier, according to the latest market report from the local Realtors Association. Condo inventory saw a similar dip, dropping from 1,160 in April 2011 to 759.
"This time last year, if I took someone out to look at a condo, there were 19 or 20 different options. Now there are 10 or 12 to choose from," says Grier McFarland, a Realtor with Dale Sorensen Real Estate Inc. "It seems to me there were about 80 oceanfront homes for sale this time last year. Now it is more like 40.
"For the first time since I have been in real estate, I find myself looking at the new listing 'hot sheet' every day to see what is available. If something has come on the market that might suit one of my clients, I want to get there before anybody else does."
Bob McNally, president of Palm Coast Development, says his company has sold four homes in the past 45 days in River Club, where he is the exclusive builder.
"We sold our furnished model, which we have leased back, plus three homes that will be built on newly purchased lots," said McNally. "All of a sudden, there is a little bit of smile on my face."
Mike Lafferty, owner of the Lafferty Group and president elect of the Realtors Association, says the "supply of single-family homes went down from 16.6 months to 7.8 months.  Condo inventory is down from 21 months to 12 months."
The months' supply figure indicates how long it would take to sell the current inventory of homes at the present rate if no new houses or condos came on the market. Fewer homes on the market tends to mean quicker sales and higher prices as buyers compete for a diminishing supply.
"Time on the market is shorter," McFarland says.
The local trend mirrors what is happening statewide, and in most parts of the country.
According to Florida Realtors there were 106,000 single-family homes for sale in the state in April, down from 162,000 in April 2011, a 34-percent decline. The supply plunged from 10.2 months of inventory to 5.8 months, a 43-percent drop.
There were 55,000 condos and townhomes on the market in April, down 38 percent from 90,000 a year earlier. The supply of condos fell by almost half, from 10.2 months to 5.7 months.
What is happening in the state is part of a nationwide phenomenon. Despite lingering problem areas, the U.S. housing industry is showing strong signs of recovery.
Americans bought 400,000 more previously-owned homes in April than they did a year earlier, according to the National Association of Realtors, purchasing 4.6 million houses and condominiums.
In another sign the U.S. housing market is gaining traction, a report from the Federal Housing Finance Agency showed home prices rose 2.7 percent in the 12 months through March, the biggest year-over-year gain since November 2006. Values increased in every region.
Builder confidence rose to a five-year high in May, with the National Association of Homebuilders/Well Fargo sentiment gauge rising to 29. The measure had been as low as 14 in September. A measure of sales expectations for the next six months rose to 34 from a revised 31, and the gauge of buyer traffic increased to 23, the highest since April 2007, homebuilders reported.
 "It appears that the housing market has moved into a new and stronger phase of recovery," Douglas Yearley, chief executive officer of Toll Brothers, the largest U.S. luxury-home builder, said in a statement.
"The spring selling season has been the most robust and sustained since the downturn began."
Builders broke ground on more homes than anticipated in April, a Commerce Department report showed. Housing starts rose 2.6 percent to a 717,000 annual rate.
The last time residential construction contributed to economic growth was in 2005, when it accounted for 0.4 percentage point of the 3.1 percent increase in gross domestic product. From 2006 through 2009, the homebuilding slump subtracted 0.8 percent point from growth on average. The declines diminished over the past two years.
Lower borrowing costs are helping underpin demand. The average cost of a 30-year, fixed-rate mortgage fell to 3.79 percent last week, an all-time low, according to a Freddie Mac survey of lenders.   
Bloomberg News Service contributed to this report.