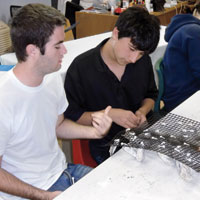 School kids making oyster mats for reefs
STORY BY STEVEN M. THOMAS, (Week of May 24, 2012)
Photo: Indian River Charter High School students Drew Fisk and Daniel Tirico making an oyster mat.
Those who enjoy slurping them off the half-shell in restaurants may not think of oysters as ecological heroes, but scientists say they are "a keystone species" essential to the health of the Indian River Lagoon.
To get word out about the amazing mollusk's environmental benefits and begin to restore them to their historical levels, biologist Jody Palmer is enlisting Indian River County school kids to make oyster mats.
The ingenious devices invented by University of Central Florida Biology Professor Linda Walters consist of oyster shells fastened to a plastic mesh. Placed side-by side to form reefs in strategic locations in the lagoon, the mats are quickly colonized by live oysters that filter and clean up estuary water and provide habitat for hundreds of other marine animals.
During a recent visit to Terry Linley's science classroom at Indian River Charter High School, Palmer led 59 students in making oyster mats while teaching them the biology of bi-valves.
"So often students learn about science in a vacuum," says Linley. "With this project they get to see science in action and learn what it actually consists of – collecting the shells, drilling holes in them, fastening them to the mats, placing the mats in reefs in the lagoon and monitoring the growth of live oysters.
"We don't have money to do field trips, but this is like having the field trip come to us."
The Oyster Reef Restoration Project is a partnership between UCF, the Nature Conservancy and the Brevard County Zoo, where Palmer works.
She has visited three IRC schools this year to make mats and teach kids about the ecology of the lagoon, and has more visits planned.
"We have had more than 28,000 volunteers participate in the program since it started in 2005," Palmer says. "They do everything from drilling holes in the shells, to making mats to going out and placing them in the lagoon. About 60 percent of outreach is to children in elementary, middle school and high school."
Students at IR Charter High School have to volunteer for 10 hours each quarter at some approved activity and Palmer actively recruited Linley's students to come out and help build reefs with mats like the ones they made in class.
"The students are our best volunteers" says Palmer. "They are young and impressionable. They enjoy making the mats, which is like an arts and crafts activity, and they are very interested to learn how oysters help the lagoon. If they help put down mats, they are always eager to know how their reef is doing when I see them again."
Thirty-six oyster shells are attached upright with plastic ties to each mat. Reefs, which are built where oysters already live, can include several hundred up to several thousand of the 16-inch square assemblies.
Because they are stationary, oysters mate by releasing sperm and eggs into the water where they link to create larvae. Oyster shells release a chemical signal that attracts the larvae to swim toward them and latch on.
After one year in the water mats have an average of 79 live oysters, according to Palmer. Since each oyster filters approximately 50 gallons of water per day, the colony on a typical mat cleans up 4,000 gallons of water each day. That is nearly 1.5 million gallons a year.
Multiply that times 2,500, the number of mats in a large reef, and the oysters will filter 3.75 billion gallons of water annually, using extracted sediment and minerals to build their shells, clarifying the water around them.
Oyster reef restoration efforts are under way in St. Lucie, Martin and Palm Beach counties, as well. About 85 percent of oyster beds worldwide and 80 percent of those in the lagoon have died off since 1940, destroyed by overharvesting, habitat degradation, disease, impact from boat wakes and a downward spiral of water quality.
"The bad news is most oyster reefs have been lost," says Vincent Encomio, a research scientist at Florida Oceanographic Society on Hutchinson Island. "The good news is there are a lot of groups and government agencies working to restore them."
A $4 million grant from the American Recovery and Reinvestment Act of 2009 paid for a range of oyster restoration efforts in Martin and Palm Beach County, including planting six acres of new oysters that when mature will filter 150 million gallons of water daily, according to the Florida Oceanographic Society.
"It is interesting how the mats work," says Drew Fisk, an 11th-grader in in one of Linley's Earth Space Science Classes. "The way live oysters attach to the shells and grow."
Fisk is a boater and fisherman, licensed to pilot watercraft in Florida and Canada. He and his mat-making partner, Daniel Tirico, both say they are considering careers in marine biology.
The Oyster Reef Restoration Project is funded by grants from the Nature Conservancy, Indian River Lagoon National Estuary Program, St. John's River Water Management District, the National Oceanic and Atmospheric Administration (NOAA), the Southeast Aquatic Resources Partnership (SARP) and SeaWorld's conservation fund.
The program has restored more than 50 reefs in the northern Indian River Lagoon.
"People amaze me on a daily basis," says Palmer. "They are eager to help restore the lagoon."