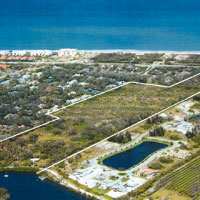 Last big ocean-to-river parcel is sold
STORY BY STEVEN M. THOMAS, (Week of May 3, 2012)
The last large ocean-to-river parcel available for development in Indian River County sold last Thursday for $10.9 million, about half of what it was first listed for in 2009.
The seller was McGough, a broad-based, financially sound construction and development company headquartered in St. Paul, Minn.
The buyer was Beachlen Development, which has two $18-million homes under construction in the South Island estate section.
Premier Estate Properties represented both buyer and seller in the cash transaction. Kay Brown and Clark French had the listing; French and his partner Cindy O'Dare were the selling agents.
The 38-acre tract in Indian River Shores is bordered by the Ocean Pearl Subdivision on the north and by Palm Island Plantation and the Carlton on the south. It was assembled from grove land in 2004 as the real estate boom was ramping up and sold to Vero Beach Estates Development, LLC for $16.5 million.
McGough, which controls Vero Beach Estates Development, hired Orlando planning and architecture powerhouse The Evans Group to design a high-end island community called Providence that would take full advantage of the gold-plated location.
"We saw this as an incredibly unique piece of property in an incredibly unique community," says Greg Munson, vice president and director of project management at McGough. "There aren't many parcels like this left anywhere."
The Evans Group came up with a plan that included 12 opulent condominiums and 11 townhomes in five buildings on the land between A1A and the beach. On the river side they envisioned 21 courtyard homes, 33 single-family homes and seven riverfront estates.
The plan was approved by Indian River Shores, a glossy package of virtual reality building renderings, floor plans and aerial photography was printed, and Munson says there was "significant interest from the community."
"I had nine people lined up to buy condos," says Brown, now with Premier but a principal with Norris & Company at the time. "They had put down deposits and were looking forward to moving in."
McGough's roots in construction go back five generations, though, and it saw the significance of the shift taking place in the real estate market in 2006 more clearly than some other developers.
"We saw economics speaking loudly in the marketplace and decided we did not want to start a community that would end up partially built," says Munson. "We were in a position to carry the property, so we decided to cool our heels and bring it back when conditions were more favorable."
McGough hedged its bet by offering the parcel and approved plan for sale. Munson listed the property with Brown and French in November 2009 for $20.9 million. In 2010, the price dropped to $19.9 million. The most recent asking price was $14.9 million.