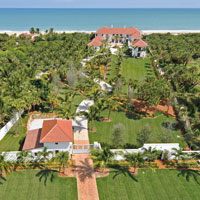 Barrier island estate is sold for near-record $15.6 million price
STORY BY STEVEN M. THOMAS, (Week of May 17, 2012)
A 22,000-square-foot compound on a 15-acre ocean-to-river estate sold last week for a recorded price of $15.6 million, the biggest sale of the year so far on the barrier island and one of the largest ever.
The actual amount of money that changed hands in the cash transaction was almost certainly a couple of million more than the recorded amount, including closing costs paid by the buyer and the value of the home's high-end furnishings, which were part of the deal.
The property was listed for $25 million by Cindy O'Dare and Clark French, broker associates at Premier Estate Properties. Alex MacWilliam Inc. real estate agent Roger Smith brought the buyer to the transaction.
"The buyer is from the Northeast," says Smith. "He wanted a beautiful oceanfront home in Florida and had been looking in Broward and Palm Beach counties. He decided to come up and take a look at what we have to offer because his financial advisor lives in Vero Beach. He was immediately very impressed with Vero compared to Palm Beach. The low density, low traffic and ambiance of the community appealed to him."
"The buyer's decision speaks to two things: The value of our real estate and the quality of our lifestyle," says Buzz MacWilliam, owner of Alex MacWilliam Inc. "He had a condo in south Florida but he was tired of the hustle and bustle. He didn't know anything about Vero Beach, but as soon as he came here he fell in love.
"The home he bought probably would have cost him twice as much in Palm Beach."
Smith says the buyer first came to town in February. When he returned to take a second look at the property a couple of weeks later, he was ready to deal.
"We were able to negotiate the deal in a day's time," Smith says. "It went about as quickly and smoothly as you could ask for."
"Both principles are highly successful people who know how to negotiate," says French. "It was a very pleasant transaction."
It was also a career milestone for Smith, a Vero native relatively new to real estate.
"I have been with Alex MacWilliam for two and a half years," he says. "Before that, I was a commercial construction subcontractor. This was definitely my biggest sale so far!"
Smith says he was introduced to the buyer by the buyer's financial advisor, Jim Hart, a senior vice president of wealth management with Morgan Stanley.
"Jim is a friend of mine and the buyer is a very good client of his. He wanted somebody professional and knowledgeable who would represent his client effectively and take good care of him.
"Jim was instrumental in bringing the buyer to Vero and he worked with us in a very helpful way throughout the whole process right up to closing."
Sellers Harvey and Teresa Wilson bought the property, known as Palmeraie, for $11.4 million in October 2009.
It includes approximately four acres on the ocean side of A1A and 11 acres on the river side of the highway. The main house is a 16,800-square-foot Mediterranean-style mansion with limestone and walnut floors, eight fire places, a library, a screening room, a chef-designed kitchen and a club room with billiards and a full sit-down bar. It has five bedrooms and 9½ bathrooms.
The estate also includes a 2-story, 2-bedroom, 2½-bath guesthouse, a gatekeeper's cottage and a citrus grove.
The buildings were designed by well-known Vero Beach architects Mark Vigneault and Tom Hoos, the same team that designed the Wackenhut estate, and were built by Water's Edge Development. Ocean Estate Ventures II, a company created by French, who was the developer.
"There is nothing else quite like it," says Smith. "It is truly one of the nicest oceanfront estates on the east coast of Florida. It has superb construction and is in absolutely great, like-new condition."
"We started with the most significant estate lot on the island and built one of the finest houses," says French. "It is something special."
French and O'Dare have sold many of the most expensive properties in Vero real estate history but this was a big deal for them as well as Smith.
"It is in the top 10," French says.
Besides illustrating the desirability of Vero's barrier island to the kind of people who can plunk down $15 million or more in cash for a home, the sale of Palmeraie adds fuel to the market's acceleration, especially at the top end.
"Sales like we have had the last few weeks breed confidence for high-end buyers," French says. "If they see others spending $10 million or $12 million or $15 million for properties here, they realize there must be real value in the market.
"It validates the value of other properties and becomes a self-fulfilling prophecy."
French and O'Dare recently represented the buyer in a $10.9-million land purchase in Indian River Shores. French and Premier Estate Properties broker associate Kay Brown had the listing.
"Premier Estate Properties has six offices in Florida," French says. "Even though Vero Beach is the smallest community where we have an office, we are very often the busiest.
"Cindy and I have clients who are choosing Vero over places like Jupiter and Naples and Delray and Palm Beach.
"This is the most exciting season I have ever had in real estate in over 30 years," says O'Dare.
"This sale is obviously very positive for our market," says MacWilliam.