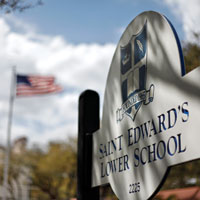 10 homes planned on Riomar site of old St.Ed's school
STORY BY STEVEN M. THOMAS, (Week of May 17, 2012)
George Heaton, developer of the Vero Beach Hotel & Spa, says he has finalized plans that envisions tearing down the old St. Edward's Lower School in Riomar and turning the property into a 10-lot subdivision. 
"It is very similar to the plan we developed in 2010," Heaton says. "There will be 10 half-acre lots. Prices will range from $750,000 to $1.25 million. We expect to sell mainly to end users who will then select their own builder."
Heaton says the subdivision access road will be the old sand road already on site, which will remain unpaved.
"We will move eight or 10 of the biggest live oak trees on the property to line the road and make a canopy like you see on other streets Riomar."
The 1928-vintage school on the site is not protected by any official historic designation and Heaton plans to demolish it.
In a tip of the hat to school history and neighborhood tradition, he says he will salvage usable wood and stone from the demolished buildings and store it for the use of residents who want to incorporate the material into their new homes.
"We think there is a lot of good material that people will want to use," Heaton says.
"The only thing we would require prior to any demolition would be the opportunity to document the building and look at possibly relocating parts of it," says Vero Beach Planning and Development Director Tim McGarry. "Our preservation ordinance gives us a 30-day window to take photographs and record information about the structure before it is torn down."
The property occupies a highly desirable location, surrounded on three sides by fairways of the Riomar Country Club golf course. Like the rest of neighborhood, the site is zoned R1-AA, which permits homes as large as 6,600 square feet to be built on the 22,000-square-foot lots Heaton has in mind, according to city officials.
Vero Beach engineering and land-planning firm Schulke, Bittle and Stoddard LLC developed the site plan for Heaton.
Vero Planning Manager Hank Flores says planning officials have met with Phil Stoddard and Joseph Schulke to informally review the subdivision.
Heaton hopes to have his plan approved by September and expects to begin site development shortly thereafter.
According to public records, Heaton has not closed on the property yet but Kay Brown of Premier Estate Properties, who listed the 5.5-acre parcel for Wells Fargo in November, says the property is under contract with no contingencies and all earnest money deposits are complete.
Heaton said he intends to "cooperate with all the Realtors on the island" in selling the homesites.  "They will bring buyers and we will pay them a full commission for any sales," he said.
Children were educated at the Lower School up until 2010, when St. Edwards consolidated all its classrooms at its campus on South A1A.
Facing financial difficulties resulting from an overly ambitious expansion plan launched in 1999, the school put the parcel at 2225 Club Drive across from Riomar Country Club on the market for $4.9 million.
It did not sell at that price and the property was taken over by Wells Fargo Bank in November as part of a debt settlement.
The most recent listing price was $3.995 million.