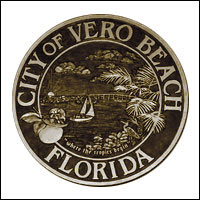 Study: Vero staffing numbers similar to other cities
STORY BY LISA ZAHNER, (Week of May 31, 2012)
The City of Vero Beach has compared five of its smaller departments – which employ 20 people at a cost to taxpayers of $2 million annually – to those of eight similar-sized Florida cities to see where cuts could be made without reducing services to the public.
Overall, the study arrived at the same conclusion as a March comparison of the much larger police, public works and recreation departments – that Vero's staffing numbers are generally not much higher than the cities top Vero managers selected for the study.
A look at how much Vero spends on these departments compared to other cities may have been more useful for budgeting purposes than staffing numbers, but the study did not attempt to analyze spending.
Vero's human resources department has one-half person greater than the average of the other eight communities, and the city clerk's office employs two more than average, but one of those is a television production person. Staffing for the city manager's office and the planning department were about average.
Vero Beach, which spans 11.44 square miles and is home to 15,220 residents, was compared to Cocoa Beach, Dania Beach, Maitland, New Smyrna Beach, Marco Island, Punta Gorda, Safety Harbor and Stuart in the benchmark survey. Those eight communities have populations of 12,000 to 29,000.
According to the U.S. Census, Vero lost 14 percent of its population from 2000 to 2010, dropping from 17,705 to 15,220 people. Property tax revenues have also declined $1.1 million or 21 percent since 2007, down from $5.2 million to $4.1 million in 2011.
The 2008 budget lists the number of City of Vero Beach employees as 600. The same figure for 2010 was 508 and the current number is 435. Without the electric utility, Vero would have 354 employees.
The eight cities that Vero Beach managers for the comparison have a total employee base of 90 to 237 staffers, and some of those such as Cocoa Beach with 184 employees have their own fire departments.
Vero's planning and development department is budgeted to employ seven full-time people, including two in charge of code enforcement and has a budget of $626,000, the largest of this batch of departments.
"There have been staff reductions in the planning department since 2008," said City Manager Jim O'Connor. Two fewer people work in that department now than in 2008 and three fewer than at the height of the construction boom in 2006, according to previous years' budgets.
Those staff reductions helped shrink the budget from $754,000 in 2009.
The city manager's office consists of O'Connor, who was hired at $145,000 per year but took a 5 percent pay cut this year, and his assistant Joyce Vonada who earns about $60,000 annually (see related story). Inclusive of their benefits and other expenses, the current year's budget for the city manager's office is $289,940 – a reduction from the $327,000 former city manager Jim Gabbard spent in 2008.
Vero Beach City Clerk Tammy Vock manages her office with a total of five employees, including a part-time technician who films and produces the televised and live-streamed public meetings. Vock's employees are charged with maintaining city records, preparing and distributing council agenda packets, responding to 400 public records requests per year, taking and typing minutes for 19 boards and commissions collecting various fees such as code enforcement payments and signing customers up for city cemetery services. City clerk employees also coordinate various community and holiday events sponsored by the city, in cooperation with the recreation department and public works.
That department's budget is $376,000, a full $316,000 of which goes for personnel costs. Of that, $192,000 goes to salaries, $76,000 to benefits and the balance to pay the city's share of social security and other payroll taxes.
In a public meeting this spring, O'Connor requested Vock come back with recommendations for cutting her budget by 15 percent in the coming year. O'Connor said, "I have not asked for a 15 percent reduction across the board of all departments," but instead is looking at each department and what cuts may have already been made there the past few years. Personnel expenses in the city clerk's office have actually increased by $30,000 since 2009.
The human resources and risk management departments with three employees each work hand in hand as they both deal with personnel issues, training and safety records. Human resources has a current year budget of $343,000 plus $366,000 for the operation of the risk management department.
Risk Management Director Barbara Morey and Human Resources Director Robert Anderson have both retired, so this year's budget will take the hit for all their banked sick and vacation time. The city has not yet advertised for replacements for Morey or Anderson, so it may be feasible to hire just one person to lead these two small departments.
The city council is expected to schedule a workshop in June to review this latest installment of the benchmarking study.