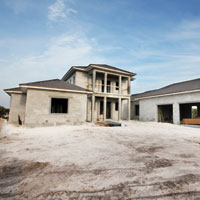 New oceanfront estates: A sign of better times
STORY BY STEVEN M. THOMAS, (Week of November 8, 2012)
Photo: Coastmark Construction is building this 10,000-sq.-ft. house at North Shore Club.
In another sign of better times in island real estate, six big estates are under construction along ocean from Wabasso Beach to just south of Round Island Park, a big change from recent years when nothing was going up on the water.
Three are custom homes being built for end-users; three are spec homes. A fourth spec is close to ground breaking.  The homes range from 6,500 to 18,000 square feet, and sit on lots of between .7 and 1.7 acres. Ocean frontage ranges from 100 to 200 feet.
Asking prices for the spec homes start at around $5 million and go up $18.8 million. Between them, the homes represent more than $70 million worth of real estate at the current asking prices and estimated values.
The northernmost house under construction is a custom home being built by Coastmark Construction for David and Harriet Dyer of St. Petersburg, Florida.
The Dyers bought a 1-acre lot in the North Shore Club development for $1.55 million in November 2011 and contracted with subdivision developer Coastmark to build a substantial concrete block home and and guesthouse on the property.
"There will be 6,500 square feet under air in the main house and guest cabana, 10,000 square feet under roof," says Coastmark co-owner Yane Zana.
Buyers in North Shore, which is immediately south of Disney's Vero Beach Resort, can buy a lot and find their own builder or buy a lot-build package as the Dyers did.
When the development opened last year, Zana was offering a 7,000-square-foot custom home with lot for $3.99 million. The price has gone up to $4.99 million, but Zana says his homes are still a bargain in Vero Beach.
"I think the least expensive oceanfront for sale on the island is Kevin Howells's house [at the southern end of the Conn Way board walk] that is listed for $6 million, so we are offering the best deal in town."
The one-acre lot next to the nearly completed framework of the Dyer home is under contract for the same price the Dyers paid: $1.55 million.
Zana says Coastmark will break ground soon on a spec home funded by an equity investor.
"The investor has identified a hole in the market in the $5-million price range and thinks there are buyers for the kind of house we will build. It will be 7,500 under air and more than 11,000 under roof."
Heading south, the next oceanfront estate under construction is a massive modernist home going up with amazing speed on Ocean Drive, midway between the southern end of the Conn Way boardwalk and the Spires.
The 18,000-square-foot house and guest house are being built by Katherine McConvey, founder of KMM Telecommunications, a billion-dollar company that provides material and logistics to AT&T and other telecom firms.
McConvey bought adjoining lots from two different sellers in November 2011, paying $2 million for each lot, $4 million total. The 1.4-acre parcel is 312 feet deep and has 200 feet of ocean frontage.
The site plan was approved by the city of Vero Beach in April and construction started in August. 
Kay Brown of Premier Estate Properties is McConvey's Realtor.
"Katherine bought a fabulous piece of property and she is going to build a fabulous house," says Brown.
The 18,000-square-foot, flat-roofed house is purely modernist in design, evoking the Bauhaus style with simple lines and a minimum of ornamentation. It will include five bedrooms, five full bathrooms, two half-baths, upstairs and downstairs laundry rooms, media room, office, living room, family room and kitchen as well as numerous patios and terraces.
The 168-foot-long, two-story structure is being built on pilings between the 1981 and 1987 coastal construction control lines; 6,500 cubic yards of fill was brought in to raise the lot and put the house above the reach of anything but a 100-year flood or storm.
The home's foundation is complete, the concrete-block and poured-concrete shell rising higher by the day. Completion is scheduled for next summer.
Continuing south, the next big oceanfront home is at 2338 Ocean Dr.  Built by Welton Construction as a retirement home for Robert and Patricia Hall, the 10,000-square-foot structure is 99 percent complete, with Welton's crew doing final touch-up.
The Halls bought the 1.2-acre lot for $3.1 million in September 2010, according to public records. Plans were approved by the county in February 2011 and construction started the following August. 
The first phase was bringing in 300 dump truck loads of sand to elevate the lot.
"That put the finished floor on the first level at about 17 feet above sea," Jack Welton said last fall.
"The house is CBC constitution with a lot of steel and poured concrete. It is designed to withstand 170-mile per hour winds. The Halls want to be able to feel secure that they can ride out a category 4 or 5 hurricane right here."
The main house rests on a foundation of steel reinforced concrete pilings two-feet in diameter and 40 feet in length that extend 20 to 25 feet below sea level and are tied together at the surface with a heavy grade beam.
"The pilings are engineered so that even if there was flooding and scouring and the sand was washed away, the house would still be intact," Welton said.
The three spec homes going up on the island oceanfront are all in the estate section near the south county line.
Two are being built by Beachlen Development, LLC, a company owned by Philadelphia businessman Brook Lenfest and run locally by Thomas Laboon.
Beachlen bought approximately 7 acres on the ocean from a bank in 2008 and held onto the land until it felt the market was ready for the spectacular products it had in mind.
Building permits for the houses, which are on adjacent lots at 2460 and 2470 South Highway A1A, were issued in April 2011 and construction started that summer.
The northernmost of the nearly complete homes is the second highest-priced home for sale on the island, a Mediterranean mansion offered for $18,875,000 by Michael Thorpe and Kimberly Hardin of Treasure Coast Sotheby's International Realty.
The estate, known as Splendida Dimora, occupies a 1.66-acre lot with 155 feet of ocean frontage. It has 16,140 square feet under air and more than 20,000 square feet under roof. There are a total of seven bedrooms, 11 full baths and three half-baths in the main house and guest cottage.
An underground four-car garage and 2,400-square-foot solar-heated infinity pool are among the luxury features.
Right next door is a Barbados-style palace known as Sandy Lane that is listed with Clark French and Cindy O'Dare of Premier Estate Properties for $17.9 million.
The concrete-block house with piling foundation sits on a 1.64-acre lot with 150 feet of beachfront.
The main house and guest cottage have 15,000 square feet under air, with another 6,000 under roof, for a total of 21,000 square feet of living space.
There are six bedrooms, nine full baths and two half-baths in the primary residence, with another two bedrooms and two bathrooms in the guest house.
"The outdoor spaces are exquisite, like what you find at the finest hotels and resorts," says French. "There is incredible stonework and cut coral that cost hundreds of thousands of dollars along with fireplaces, summer kitchens and complete electronic systems. They really are outdoor rooms."
The home also features a theater, a meditation garden and an enormous pool with waterfalls.
Laboon says the two houses will be finished by year's end and ready for sale in the upcoming season.
The third oceanfront spec house is half a mile south of the Sandy Lane estate, just across the county line in the Avalon Beach development.
Contractors employed by the Kentucky bank that owns the property are putting the finishing touches on a 7,000-square-foot home that was left as a shell when the previous developer pulled out. It is on a .7 acre lot with 100 feet of beachfront.
Avalon, which is listed with French and O'Dare, is under contract to a well-funded developer and slated to close in December.
If that happens, French estimates the oceanfront home – which is not currently for sale – will be offered for somewhere between $4 and $6 million.