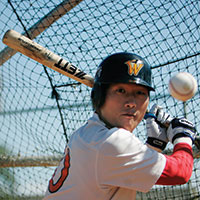 Dodgertown still Field of Dreams for Korean team
STORY BY STEVEN M. THOMAS, (Week of November 15, 2012)
The SK Wyverns, one of the top professional baseball teams in Korea, sends players half way around the world to Vero Beach for two main things: Warm weather and the inspiration to be drawn from training at what most international ballplayers still nostalgically think of as Dodgertown.
The weather motivation is obvious; the same lure Florida has always had in cold months for teams from northern climates. In November, average highs and lows in Vero are 20 degrees warmer than in Inchon where the Wyverns play ball from April to September each year in a stadium less than 20 miles from the DMZ.
The inspiration factor is less tangible but just as important.
"This is where Chan Ho Park trained when he played for the Dodgers and it was the land of opportunity for him," says Cha Hoon Son, head of operations for the team that has won the Korean national championship three times in the past six years. "Coming here gives motivation to young players who want to be like Chan Ho."
Chan Ho Park, who had an 18-year major league career, is the best known Korean player to make it in the American big leagues. He is now part owner of what is officially Vero Beach Sports Village and works to promote it as a training facility for Korean teams.
"Everybody in the sports industry still knows this place as Dodgertown," says Sports Village Vice President Craig Callen. "It has been at the center of international baseball going back to relationships the O'Malleys built with teams like the Tokyo Giants who practiced here in the 1950s. We hosted the first Korean team ever to come to America back in the 1980s, and we have had teams from China, Taiwan, Australia, Mexico and Italy, among other counties. The O'Malleys helped grow baseball internationally."
Cha Hoon says it took him a full 24-hour day to travel from his house in Korea to his room in the motel-style lodgings at the Sports Village.
A 7,600-mile flight from Seoul to Atlanta took 13 hours. The rest of the time was consumed in getting to and from airports, flying from Georgia to Florida and keeping an eye on the 55 other players and staff who are spending November working on baseball fundamentals in Vero Beach
But the long trip was worth it to arrive at a place that has been a catalyst in the worldwide cross-fertilization of baseball.   And the great American pastime is thriving in South Korea.
"Baseball is the most popular sport in my country," says Yun Park, 24, a first-baseman and team captain who has divided his time between the minor and major leagues over the past few years and hopes to become a fulltime big leaguer in the near future. 
Yun Park says his baseball-loving countrymen follow Japanese, American and Korean teams, appreciating the fine distinctions in national styles.
"Some people like the big style of American baseball, where they hit a lot of home runs and throw really fast pitches. Other people like Japanese style, where pitchers use more curves and change-ups and players hit for contact more," he says. "Korean baseball is a middle style between Japanese and American."
Baseball first gained popularity in Korean among schoolchildren after the Korean Conflict. Professional baseball launched in 1981 and quickly captured the national imagination.
"We have 12,000 to 15,000 fans at our games, including many female fans that bring their children," says Cha Hoon. "Our attendance last season was over one million."
That isn't an impressive number in the United States, where seven teams had attendance of more than three million in 2012, but South Korea's population is less than one-sixth that of the U.S. On a per capita basis, the Wyverns had double the number of screaming fans as the New York Yankees.
South Korean player salaries aren't up to American standards in raw numbers, either.
"They make about as much as American Triple-A players," says Cha Hoon.
But many players make the jump to Japanese baseball where salaries are higher and all of them have at least a distant hope of making it to the American big leagues the way Chan Ho did.
There is only one Korean player in the top tier of American baseball right now – Sin Soo Choo, an outfielder with the Cleveland Indians who hit .283 in 155 games last season – but there are 20 Koreans in the minor leagues and Wyvern players and prospects arrived in Vero just in time to read about the Los Angeles Dodgers $25-million bid to acquire left-handed pitching star Hyun-Jin Ryu from the Hanwha Eagles.
While waiting for their big baseball futures, the Wyverns enjoy practicing in Vero's balmy weather and shopping at Wal-Mart.
"Everything is much cheaper here than in Korea," says team translator Sean Kim, who studied sports marketing in Santa Barbara during his college years and wants to move back to the U.S.
Yun Park says the warm weather makes him and his teammates less prone to injury, a benefit appreciated by Seung Won Moon, the team's top pitching prospect. 
The right-hander has a 93-mile-an-hour fastball and Manager Yong Hee Kim says he will definitely be playing in the Korean Major League next season.
On hand to help the young pitcher with consistency and control is former Mets bullpen coach Guy Conti, another example of how baseball styles continue to evolve at the former Dodgertown.
Yong Hee's own American baseball experience started in 1993 when he came to Dodgertown as a manager trainee. He says the facilities are just as good now as they were back then.
Players don't have lot of free time or ready access to transportation so they spend most of their time at the Sports Village, where two Korean chefs prepare their meals. They enjoy lounging by the pool where Dodger greats like Sandy Koufax and Don Drysdale relaxed after practice.

Sean Kim says the players are looking forward to an Orlando excursion planned for the end of the month. After that they will go back to Korea where they will work on conditioning at their own facility before returning to Vero Beach next year for spring training.