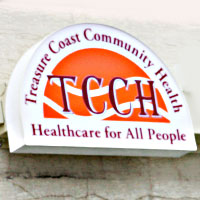 Mental patients may yet obtain discounted drugs
STORY BY EILEEN KELLEY, (Week of November 15, 2012)
In a change of signals, low-income patients who have been turned away from the Treasure Coast Community Health Care clinics now that it is closing its adult psychiatric and behavioral health programs may be able to utilize the facility's pharmacy after all to buy low-cost medications.
That change came after a Vero Beach 32963 story Nov. 7 detailed the area's growing mental health crisis. Treasure Coast had been providing mental health services to more than 400 patients.
But TCCH announced two weeks ago that it would have to eliminate the program because officials would not allow it to continue funding the programs from a federal grant.
Vicki Soule, the chief executive officer of Treasure Coast Community Health, originally said the patients being cut loose also would not be allowed to use its pharmacies for steeply discounted prescriptions for anti-anxiety and anti-psychotic medications.
She said they could not use the Treasure Coast pharmacies for these drugs  even if they found other mental health counselors to prescribe them.
But Soule said Monday – several days after an emergency meeting of the Mental Health Collaborative of Indian River County – that patients who still have a primary care provider at her clinic and will seek treatment from another agency's psychiatrist may be able to continue to have their prescriptions filled at Treasure Coast's pharmacy provided there is  collaboration between the two doctors.
Treasure Coast is unique among clinics in the area in being able to supply steeply discounted drugs to patients because it is a federally qualified program.
The Mental Health Collaborative – which typically meets just four times a year – called an emergency meeting last week after Vero Beach 32963 broke the story Nov. 1 that 438 mostly poor patients were being told they could no longer come to the Treasure Coast for their mental and behavioral health needs.
Michael Kint, the director of the collaborative who championed the effort to form it and serves as the chief operating officer of United Way of Indian River County, said the the group came away without any clear answers on how to keep the situation into forming into an even bigger crisis.
"I'm afraid we cannot say that we solved the all the issues here," said Kint.
He said the group will meet again in December in the hope of having a better understanding of where things stand.
In the meantime, he said he was going to try and keep tabs on the number of emergency psychiatric admissions to hospitals.
He said he would also be looking to  see if there has been a spike in a number of mentally ill who have been arrested.
By the Dec. 12 meeting of the mental health collaborative, many of the Treasure Coast patients who have not secured care elsewhere and therefore have not received new prescriptions for their anti-anxiety and anti-psychotic medications  will be running very low on their medications or will be out of them.
If and how Treasure Coast will notify its former psychiatric patients that they can still use the pharmacy should they qualify was not clear this week.
Instead, Soule expressed irritation that Vero Beach 32963 was continuing to report on the situation.
 "I'm not sure why (the need for) a third article," Soule said.  Soule said patients starting in October were sent away with a one- to three-month supply of medicine. 
Many of the patients cut loose from Treasurer Coast's program suffer from bi-polar disorder, schizophrenia or other mental health issues.
Medication to stabilize the mind is key to the successful treatment of many of these mental health issues, experts say.
"Medications are a crucial component of keeping them straight and level," said Kint.
While many of the patients are still having trouble finding affordable psychiatrists, the issue of affordability of drugs is a problem.
Drug prices at the Treasurer Coast pharmacy are far less than at regular drug stores. 
An insulin pen for example costs $5 at the Treasure Coast pharmacy while the price can be $250 at a regular pharmacy. Savings at Treasurer Coast for other drugs are substantial.
Anti-anxiety drugs can run from $12 to $24 depending on prescription size while anti-psychotic drugs can run from $12 to $24 or $20 to $54, depending on prescription size.
All of these prices are well below regular pharmacy costs.