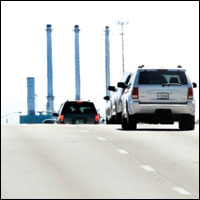 $3.2 million for turbine maintenance?
STORY BY EILEEN KELLEY, (Week of November 1, 2012)
The Vero Beach municipal power plant has only produced electricity 14 times out of the 149-day period that ended Oct. 26.
It's cheaper for the city to buy the power it provides its utility customers elsewhere than to generate it from the old blue plant that sits at the foot of the 17th Street Bridge.
But like a bridge or a classic car that needs regular maintenance, two turbines at the city's power plant will be undergoing routine maintenance next week to the tune of $3.26 million dollars.
That's a figure just for what the city knows it needs to do when workers crack open two of the massive turbines, the centerpieces of the electrical system, starting Nov. 3.
Those systems will be off line while the maintenance is done. Should the city be called upon to supply power, three other units can be used.
The maintenance overhauls are something that needs to be done every 10 years. In this case, the city is about two years behind schedule.
Having such a big expense come as the city is poised to get out of the utility business and sell it to Florida Power & Light frustrates many backers of the sale.
"It's the 500-pound gorilla," said Vice Mayor Craig Fletcher.
Fletcher spoke of the issue last week at a forum sponsored by the local tea party group. "We cannot afford to keep this power plant and we cannot afford not to sell this power plant," he said.
Regardless, the work must be done as much as it hurts to shell out that kind of cash, said City Manager Jim O'Connor.
Tom Richards, the city's power resources director, agreed. "It sounds like a lot of money," he said.
But to not do, he said, it could be risky. "There is a danger of it failing catastrophically. So how far do we want to push it?" Richards asked.
Opening up a turbine is a serious undertaking, and one that makes many an engineer aside from retired rocket scientist Fletcher giddy.
More than 200 bolts will have to come off to open up the 20 foot by 8 foot systems, said Richards. He's looking forward to seeing the mechanism inside once they are cracked open. "There aren't too many people that get to see that sort of thing."
Included in the 316 pages of documents given to City Council members for review before they voted last month to allocate the money for the service work is  a 60 or so page manual entitled "Major Inspection Disassembly Procedures" for one of the units.
Throughout the manual are words of caution informing the reader that some pieces weigh upwards of 7,000 pounds.
The Wood Group, of Alpharetta, Ga. won the bid, and is expected work on the turbines from Nov. 3 through Dec. 17.
The group's bid came in at $3.2 million, after a $43,100 discount that it applied.
That cost is just for it knows it will have to do.
The city allocated a total of $4.3 million for the project in the event unknown issues surface.
That troubles Fletcher.
"This is what I have been beating my hands about," Fletcher said. "Can you imagine what we could do with that money."