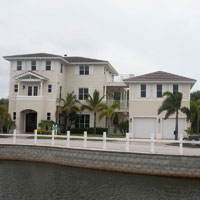 New luxury homes coming to island
STORY BY STEVEN M. THOMAS, (Week of November 1, 2012)
The barrier island's looming shortage of homes for sale is likely to be relieved by more than $300 million worth of new lots and homes poised to come on the market in five developments, according to brokers and developers interviewed by Vero Beach 32963.
This year has been a banner year for home sales on the barrier island, with many brokers approaching or surpassing their peak housing-boom dollar volume, but a dark cloud began to gather over future prospects as the year progressed because of drastically dwindling inventory.
At the high end of the market especially, Realtors seemed in danger of becoming victims of their own success, heading into 2013 with a recovering economy and strong housing demand but not enough homes to meet buyer needs.
Now that danger is dissipating somewhat as several hundred million dollars' worth of new luxury houses and condominiums are poised to come on the market over the next year or so.
"There has been virtually nothing new built on the water in the past five years," says Clark French of Premier Estate Properties. "But builders and developers are now coming back with a vengeance."
Old Oaks, East End, Avalon, Michael Creek and the Indian River Shores development formerly known as Providence all are slated to come online with lot and/or home sales likely in 2013.
Old Oaks, a 10-home subdivision in Riomar, will be one of the first out of the pipeline. It received preliminary plat approval and a construction permit last month and developer George Heaton says demolition of existing buildings on the site will begin by Dec. 1.
Heaton plans to sell mainly to end-users, homeowners who will buy lots and then find their own builder.
"We will work with all the island real estate agents to sell the lots and pay them a full commission," Heaton says.
Lots range from 19,000 to 22,000 square feet. Most back up to the Riomar Country Club golf course and will be priced from $795,000 to $1,295,000, adding at least $10 million in new sales inventory.
Plated home sites will be available for purchase in December and site work will be complete by late spring 2013, according to Heaton. If that schedule holds, new homes could be going up in the subdivision as early as May.
Homes will also be for sale in December at East End in Central Beach according to French, adding another $10 million in new inventory.
Water's Edge Estates LLC is developing the five-unit luxury townhouse-style condominium on the ocean two blocks south of Humiston Park.
Condo documents have been filed and accepted by the state and the developer expects "full approval and all permits from the city, St. John's and DEP by Dec. 1. Groundbreaking is planned no later than first week in January."
The two-story 3,200-square-foot homes start at $1,995,000 and are available in three different floor plans that will fit interchangeably in each of the five units. All plans feature 3 bedrooms, 3 ½ baths, large kitchens and expansive family rooms on the beach side. Two offer an optional elevator.
"We can also customize the floor plans to fit a buyer's needs," says Water's Edge co-owner Victor Lombardi. "If somebody wants four bedrooms, we can do that."
The West Indies-style townhomes will have individual detached 2-car garages on the land side with an additional bedroom and bath above, private courtyards with swimming pools and oceanfront patios overlooking one of the nicest beaches in Vero. Condo fees will be $12,500 per year.
"This is the type of product people are asking us for that the market cannot provide right now," French says. "There are a number of people who want an oceanfront home with a lock-and-leave element that doesn't cost hundreds of thousands of dollars a year to maintain."
Eight miles south of East End another $80 million in new inventory will soon be available at Avalon Beach, a long-dormant development that went belly-up in the housing crash.  It is now under contract with a well-funded developer and slated to close in December.
If by some chance the current buyer drops out, French and his partner Cindy O' Dare, who listed the 16.8-acre ocean-to-river parcel for the Kentucky bank that holds title, have multiple backup offers.
"The dam has broken," says O'Dare, referring to a surge of developer interest in the property that brought three offers in a single week.
"It shows how much stronger the market has gotten," says French. "Developers now are systematically going through and looking at all of the really good properties and trying to scoop them up before they are gone."
Contractors employed by the bank are now finishing a 7,000-square-foot oceanfront home that was left as a shell when the previous developer pulled out. That house will be for sale soon and there are seven other oceanfront lots where homes worth $4-$6 million will be built.
There are approximately 30 lots on the river side of the development, including three with finished homes that will be ready for purchase as soon as the new developer closes on the property.
"All the infrastructure is 100 percent complete and approved and the lots are pad-ready," says French.
Six miles north of Central Beach another ocean-to-river subdivision is being revived by Beachlen Development, a company owned by Philadelphia businessman Brook Lenfest and run locally by Thomas Laboon.
The 38-acre tract in Indian River Shores is bordered by Ocean Pearl Subdivision on the north and by Palm Island Plantation and Carlton on the south. It was assembled from grove land in 2004 as the real estate boom was ramping up and sold to Vero Beach Estates Development, LLC for $16.5 million.
The company came up with a plan that included 12 opulent condominiums and 11 townhomes in five buildings on the land between A1A and the beach. On the river side it envisioned 21 courtyard homes, 33 single-family homes and seven riverfront estates. A manmade lagoon, clubhouse, swimming pool and river dock were among the amenities.
The plan was approved by Indian River Shores and people started lining up to buy but the company put its plans on hold and listed the development for sale when housing took a nosedive.
Beachlen bought the parcel in May for $10.9 million.
 "On the ocean side we are thinking condos or condos and townhomes and on the river side estate lots with good acreage," Lenfest said in May. "We think there is a demand for larger lots than are typical in Indian River County. The houses we are building now [in South County] show the type of homes Beachlen focuses on."
Beachlen's south county spec houses, which are nearing completion, are listed for more than $17 million each.
If Lenfest and Laboon decide to build half a dozen similar houses on their parcel in Indian River Shores, that alone would add more than $100 million in new inventory, in addition to the value of all the other new homes in the subdivision.
"We are talking to Indian River Shores and the county and St. Johns, trying to figure out how many houses, condos and docks we can build," says Laboon. "Construction should begin about a year from now." 
That is similar to the timeframe contemplated by Ironwood Properties for its Michael Creek subdivision just south or Orchid Island.
"We are very anxious to get started up there," says Cary Glickstein, president of the 25-year-old Delray Beach-based development company. "It is a small, unique site, not a production site, very different from a large subdivision of several hundred homes. Our idea has always been to create something special there.
"We spent a lot of time getting the waterfront entitlements, and we have every intention to build out the community.
"We see the market improving in Vero Beach and see the improvement accelerating. There are no barriers to pulling permits and we have been discussing the possibility of going in there not this season but next season. Models are within striking distance."
The subdivision, which is planned for 60 homes, can be seen plainly when driving over the Wabasso Bridge onto the island. It sits on the right side of SR-510 behind a masonry wall, extending from the lagoon to the fire station.
Infrastructure, including roads, sewers and a central lake, has been in place since 2008, but no homes have been built.
Under the original plan, homes were priced from $800,000 for those on interior lots to $3.2 million for direct riverfront.
This time around Glickstein will offer less-expensive, possibly smaller homes "commensurate with the market."
The project seems likely to add at least $50 million in new for-sale inventory.